I have a bag problem. It's rivalled only by my shoes and my jacket problems. I collect the things. I throw away too much money every year on the quest for the perfect bag for travel, or every day, or evening, or conventions. I have four different bags just for lugging my camera equipment around. But I only have one backpack in regular use (the other is from school and covered in X-Files quotes). It's specifically a backpack for cameras, and unless I need to haul a multitude of lenses around it never leaves my closet.
There are myriad reasons why I hate backpacks. They are nerdy, ugly back wards, which is a fashion fact. Moreover backpacks are inconvenient in the city: they tend to be more difficult to get in and out of than a messenger bag or purse, and they're cumbersome in tight confines of underground carriage. Peak Design's Everyday Backpack, the subject of an Indiegogo campaign that follows up its wildly successful messenger bag Kickstarter last year, isn't ugly or nerdy, and it's even moderately acceptable for public transport. And best of all for me, it is one of the finest backpacks you can get for lugging around kilos of photography gear.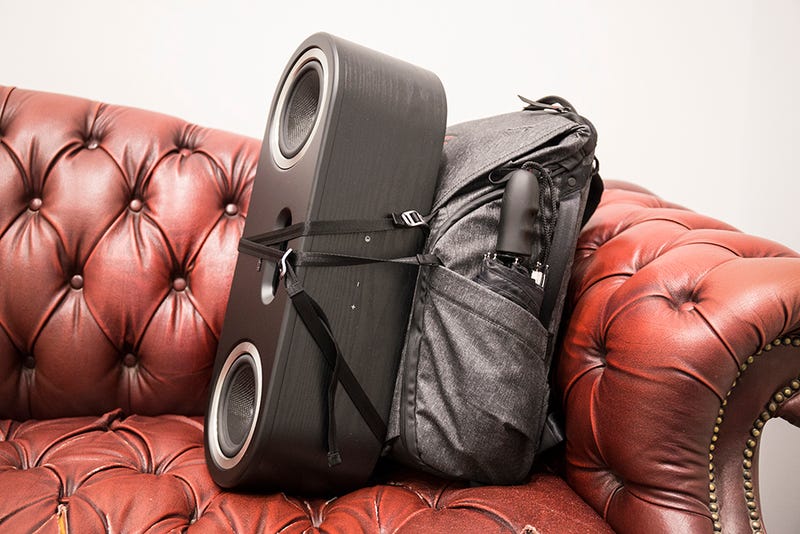 Or a speaker.
The photography backpack category is an especially bleak one. Most of these bags are bigger and bulkier than even the ones school kids use, which only works for gigantic people with long torsos. They're also hard to get in and out of and are usually festooned with supportive straps that are really only useful when hiking over the Continental Divide. When I'm commuting or running around a convention centre I don't want to be messing with straps. The Peak Design Everyday Backpack keeps the extra straps out of the way.
That cleanliness is a design element found throughout the pack. There are tons of extra accoutrements, but they're only there when you need them, and they neatly tuck away when you don't. The clean design extends to the side pockets (useful for holding water bottles, umbrellas, and wadded up rain jackets), the tie-aways (useful for tied a tripod or yoga mat to the outside of the bag) and even to the internal dividers.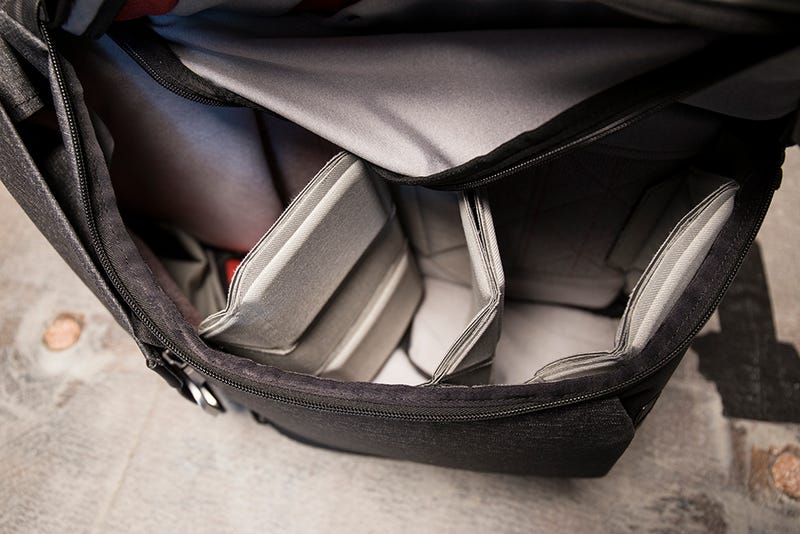 Like any good photography bag, the Everyday Backpack has a number of adjustable dividers in the main space. They're useful for keeping thousand-quid lenses from clanking against each other in transit, or for making sure your makeup bag steers clear of the eyeglass case you frequently confuse it for (I am very blind). What's special about the Everyday Backpack's dividers, besides they're ability to fold into one another origami style, is that they're not big and clunky and too soft like they are in most photo bags. I can toss a couple of kilos of camera equipment in and never worry about it slowly warping the dividers until they're useless bits of fluff crammed in my bag.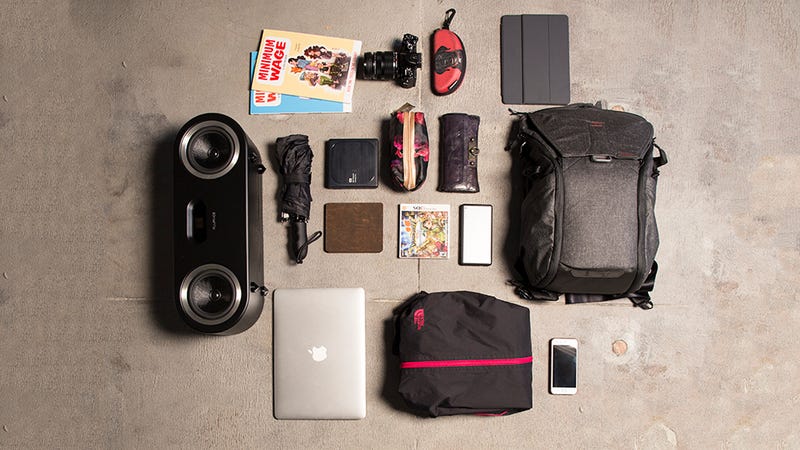 Everything shoved into the bag, with space to spare!
Besides the spacious 20-litre central space, the Everyday Backpack also has little pockets sewn into the various flaps, and a larger pocket in the back intended for laptops or tablets. Even when the bag is fully loaded, the shape isn't wrecked fashion-wise. It's still a very slick-looking bag. The clasp for the top flap ("It doubles as a bottle opener," one friend cried) is part of Peak Design's aesthetic and was previously seen in the equally excellent Everyday Messenger Bag. Besides having a fun look, it's also effortlessly easy to shut. When blindly reaching to close the bag I don't fumble nearly as much as I do with a normal buckle.
The major downside of Peak Design's Everyday Backpack is the price. The 20-litre version is currently available for preorder for $220 (£169.46). A comparable bag from Lowepro costs just £83. That's a major price difference that might be hard to stomach. Yet different bags have different uses. And I'd rather have a Peak Design pack on my back when heading to my next all-day event and need to bring my camera along.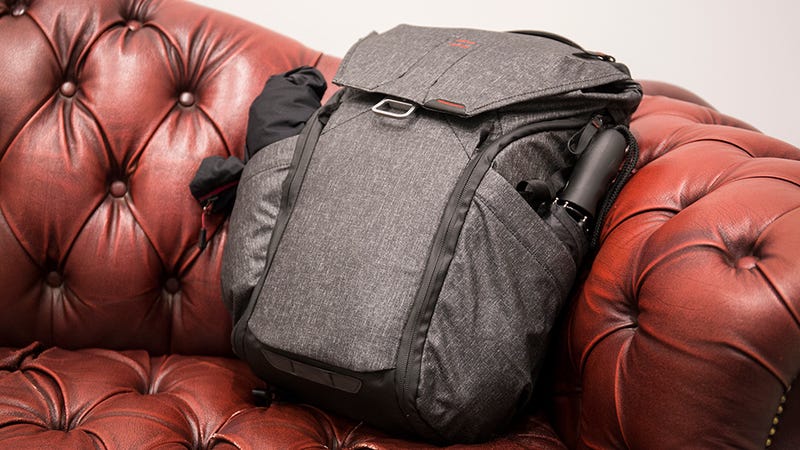 README
It is a backpack
That holds camera equipment or 20L of stuff you own
And looks great on your back
Currently $220 (£170) with an MSRP of $260 (£200)
There's a 30L version going for $250 (£192) with an MSRP of £223
Will ship in March 2017