Agricultural equipment manufacturer called Case IH, has unveiled a seriously intimidating-looking monster machine at the Farm Progress Show in Boone, Iowa. Called the Autonomous Concept Vehicle, the robotic tractor can be programmed using a tablet computer, presumably to destroy enemy farms.
This futuristic piece of agricultural equipment is drawing crowds at the annual Iowa farm show, and for good reason. Unlike conventional tractors, it has no cabin for a driver. Instead, it utilises cameras, radar, and GPS, which allows farmers to remotely control and monitor the machine with an app on a tablet computer. The machine can operate day or night and is designed to plant seeds and harvest crops, among other tasks.

Image: Autonomous Solutions Inc.,/CNH Industrial/Case IH.
Path planning technology developed by Case IH will allow farmers to manage their fields and oversee the overall operation of multiple vehicles simultaneously. The ACV is also capable of obstacle detection to prevent mishaps.
After the farmer triggers a command, the autonomous tractor can drive from a parking area along a private road to a field where it can commence its agricultural duties without any further human intervention. The tractor is also designed such that it can work in tandem with manned machinery.
The machine boasts a 419-horsepower engine and clocks a maximum speed of 31 mph (50 km/hr). It's now known how much it costs to build the tractor, or its intended retail price.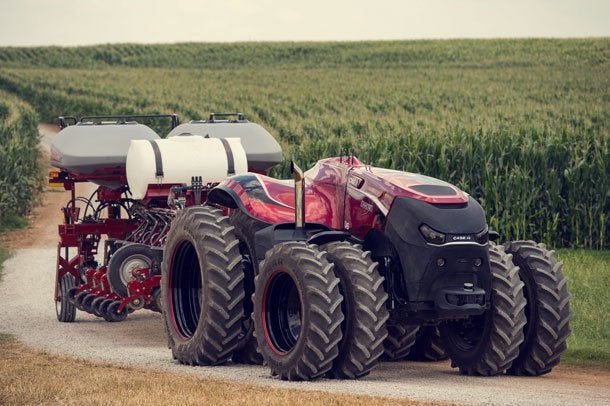 Image: Autonomous Solutions Inc.,/CNH Industrial/Case IH.
As cool as this machine looks, it's not immediately clear when it'll finally make an appearance on an actual farm. As reported in Bloomberg, the concept vehicle still faces legal hurdles before it can go on sale. There's concern, for example, about the legalities of having the tractor cross a publicly accessible road as it moves from one field to another. Experts say it could take years before these sorts of legal details are ironed out. [Autonomous Solutions Inc. via Bloomberg]