A Twitter user at Chicago's O'Hare airport just tweeted out the photo above, showing a plane on fire. Popular conservative columnist Michele Malkin also tweeted out her own photo from a plane where she just landed. Ironically this is the same day that O'Hare was conducting fire drills and telling people on social media not to be afraid if they saw anything unusual. But this one is legit.
@nbcchicago airplane engine caught on fire at ohare! pic.twitter.com/lDZntotnLW

— Donnadanooshhh (@Donnahdanoosh) October 28, 2016
All the passengers aboard the Boeing 767-300 have reportedly been evacuated safely, but emergency crews are still surrounding the plane. The FAA has confirmed that it was a blown tire that caused an aborted take-off. It's still not clear what caused the fire, but a witness told the local ABC affiliate that there was an "explosion" on the right side of the plane and smoke started to fill the cabin.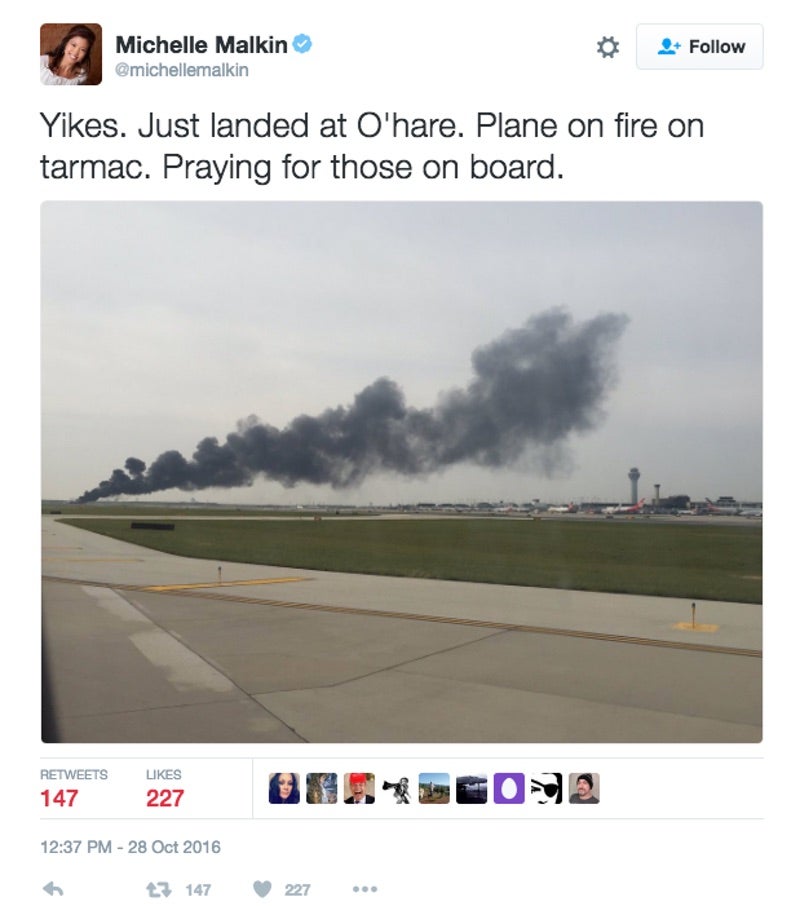 The flight was American Airlines Flight 383 to Miami. The FAA is reporting nine minor injuries. There's currently a ground stop at O'Hare and planes are not taking off.
More videos of the aftermath are popping up on Twitter:
Video of plane fire at O'Hare. @pzf @Breaking911 @Chicago_Scanner @SPOTNEWSonIG pic.twitter.com/0oIlDD83Bn

— Arturas Kerelis (@nwiajk) October 28, 2016
Update, 9.31 pm: New reports from American Airlines say that the plane had 161 passengers and nine crew members. They're now saying that it was an "engine-related mechanical issue".
Update, 9.38pm: There are now reports that of the nine minor injuries, two of them might be more serious. There are also more videos coming out online showing the perspective from inside the aircraft as people evacuated.
Updatem 10.16 pm: The ground stop has been lifted, but three runways remain closed. There are some delays for flights, naturally.