It's been almost two weeks since Hurricane Matthew ravaged Haiti, killing hundreds and setting the stage for disease and starvation. New photos taken from space reveal the extent of the damage and the disturbing amount of vegetation lost in the storm.
The Category 4 storm brought 107 mph (172 km/h) winds, torrential rainfall, and floods to the poorest nation in the Western Hemisphere, wiping out entire villages, and killing at least 1,000 people. Aerial footage revealed widespread destruction in the western portions of the island nation, but new satellite images taken by the Operational Land Imager on Landsat 8 are showing the true extent of the devastation.
Looking at the gif above, the first image—the one that's mostly green—was taken on September 26th, about a week before the storm. The second image was taken on October 12th, eight days after Matthew made landfall. The loss of vegetation is striking. It's as if the hurricane came through with a giant scythe and just cut everything down. These pictures show the seaport town of Les Cayes, which according to The New York Times lost more than 90 per cent of its buildings.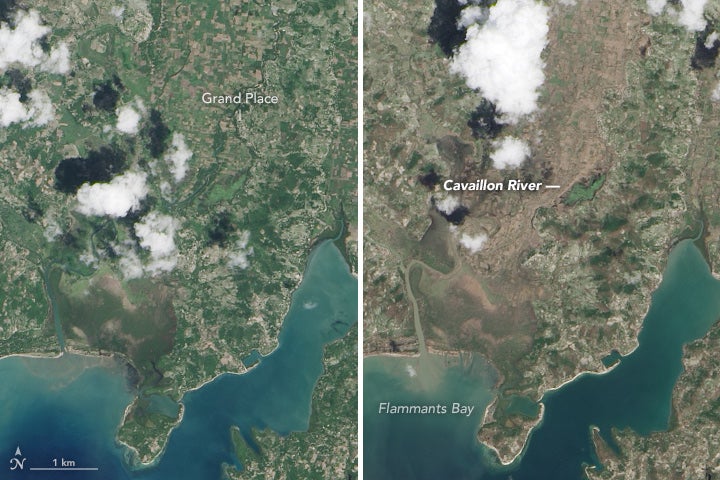 NASA Earth Observatory image by Jesse Allen, using Landsat data from the U.S. Geological Survey.
Even areas that didn't take a direct hit from Matthew experienced tremendous damage, as shown in these images (above) taken of the Grand Place region near the Cavaillon River.
Much of the damage occurred along steep slopes with vegetation and farms, which is a common sight in Haiti. "Generally in Haiti land is managed in very small patches, with a household having subsistence crops in a number of locations, often on steep slopes," noted ecosystems scientist Alexandra Morel at NASA's Earth Observatory. "When I look at these images, I see what seems to be seriously denuded hillsides, which I assume are from crops and fallows being washed away."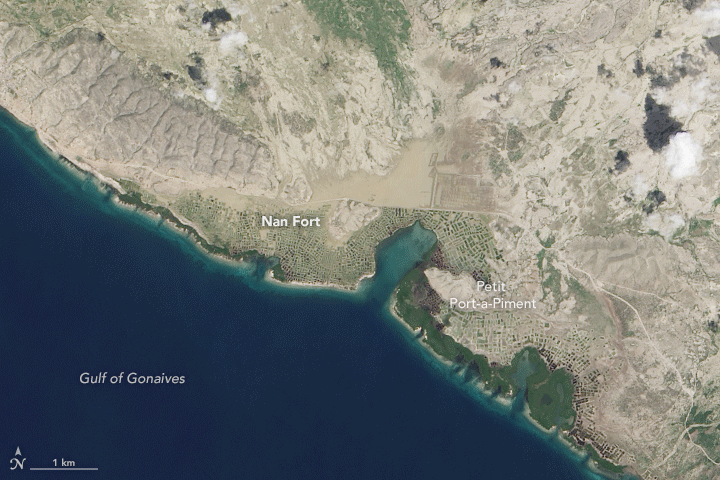 NASA Earth Observatory image by Jesse Allen, using Landsat data from the U.S. Geological Survey.UN is asking donor nations to respond to the disaster in hopes of curbing a potential cholera epidemic, and to help the many people left displaced, hungry, and injured by the storm. [NASA Earth Observatory]