Now that the new MacBook Pro is out (the one without the Touch Bar, anyway), a lot of Mac nerds are about to enter the realm of dongle hell. That's because the only connector the new MacBook Pro has is are Thunderbolt 3-backed USB-C ports.
Fortunately, Belkin is stepping in to offer a handy dock that connects to eight additional Thunderbolt devices. Unfortunately, Belkin will be charging around $430 (translating to £350, but likely more) for its new Thunderbolt 3 Express Dock HD when it launches soon.
Read more: I Just Stroked the New Macbook's Touch Bar
So what do you get for all that money? Well, you get a Thunderbolt 3 dock that can connect to gigabit ethernet, audio out, two USB-A 3.0 ports, 2 Thunderbolt 3 USB-C ports, DisplayPort (the full size), and a power connector (because this thing needs its own power supply). On the front it has a single USB-A 3.0 port and audio out.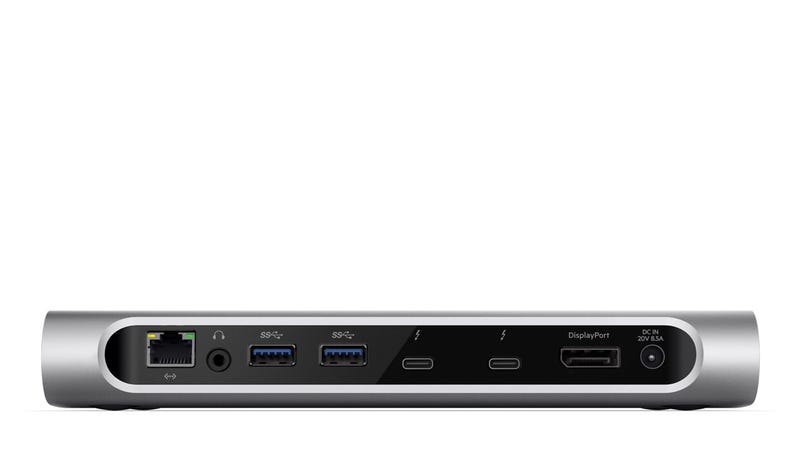 Image: Bekin
That's a LOT of ports, but £350 is a ridiculous amount of money. Now, on the bright side, the two Thunderbolt 3 ports run at full speed, so you could conceivably connect to 4K monitors to this thing. And Thunderbolt 3 does have insanely fast data transfer speeds (40Gbps), compared with the measly 5Gbps transfer speeds for USB-C.
But come on Belkin, £350? And you don't even have HDMI or mini-DisplayPort on the dock? Wow. [Belkin]