Offshore wind power is taking off in Europe, but we're still coming to grips with the environmental impacts of sticking gigantic steel towers in the sea. One impact of these clean energy behemoths, however, seems indisputable: sediment plumes.
Captured by the Operational Land Imager on NASA and the USGS' Landsat 8 satellite, these striking images show us what looks like a bunch of jet skiers zipping across the North Sea in mathematically precise formation. In reality, these are vast wakes and plumes of suspended sediment generated by three enormous offshore wind farms.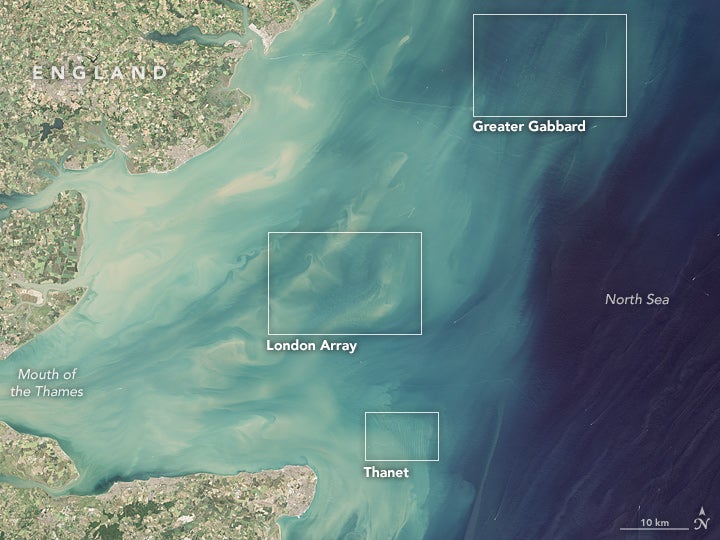 Location of the Greater Gabbard wind farm, London Array, and Thanet wind farm in the North Atlantic.
The London Array, pictured above, spans 40 square miles and produces up to 630 megawatts (MW) of power, enough for nearly half a million homes a year. To its north and south lie the Greater Gabbard and Thanet wind farms, respectively spanning 57 and 14 square miles and producing up to 504 and 300 MW of power. All told, wind farms in the North Sea account for roughly 70 per cent of the European Union's installed offshore capacity.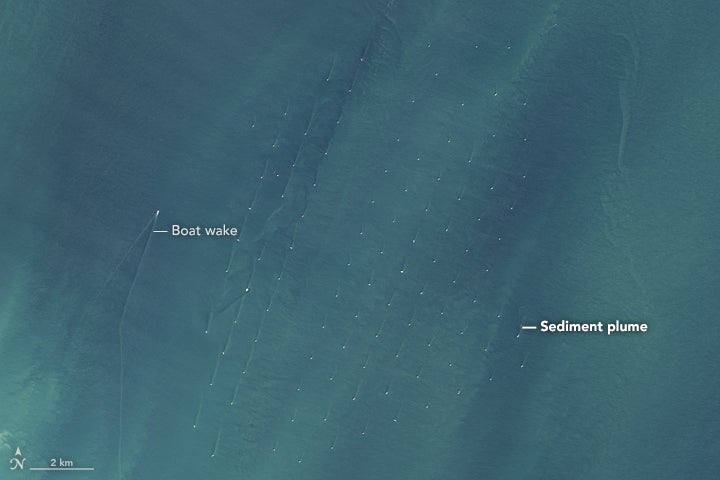 Sediment plumes and a boat wake at the Greater Gabbard wind farm in the North Atlantic.
A 2014 analysis found that sediment plumes from offshore wind farms, which tend to align with the tidal current, can measure anywhere from 100 to 500 feet wide and stretch for several miles. What effect, if any, these plumes have on fish nurseries and marine life living in the shallow offshore environments of the North Sea is unclear.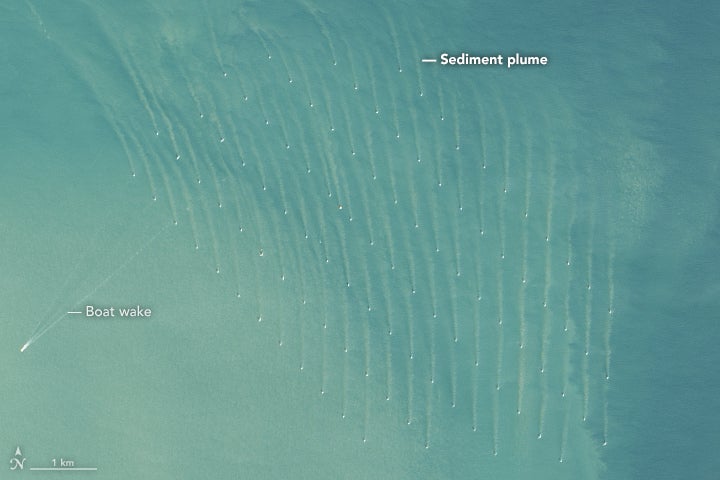 Sediment plumes and a boat wake at the Thanet wind farm in the North Atlantic.
Proponents of offshore wind power tend to downplay potential ecological impacts, which are arguably less of a concern than the continued release of giga-tonnes of carbon into our atmosphere by the fossil fuel industry. But if offshore wind is to play a significant role in Europe's energy future, the reality is that we're going to need many, many thousands of turbines. It's better we know what we're getting ourselves into. [NASA Earth Observatory]