Unprecedented wildfires in Tennessee's Smoky Mountains have killed three, forced the evacuation of thousands, and damaged hundreds of structures in the resort towns of Gatlinburg and Pigeon Forge. Residents are bracing for a potential fourth day of fires as the forecast calls for high wind and lightning.
High winds and severe drought conditions have created ideal conditions for wildfires that have been sweeping through the US Southeast for weeks. On Monday, strong gusts of up to 90 mph winds scattered embers across the Great Smoky Mountains National Park into nearby communities, spreading the flames into inhabited areas, including popular tourist attractions.
The fires spread dramatically over the period of 24 hours, taking officials off guard. More than 200 firefighters poured into the area, coming from as far west as Memphis. A number of evacuation centres have been opened, sheltering well over a thousand residents.

Above: Harrowing video as Michael Luciano narrowly escapes the flames (profanity warning).
As of this morning, the wildfires have killed three people and hospitalised 14, three of which are in critical condition with severe burns. Over 14,000 people have been evacuated in Sevier County, Tennessee. There are currently about 14 wildfires burning, and over 15,000 acres have been scorched. More than 250 structures have been destroyed. Governor Bill Haslam says it's "the largest fire in the last hundred years in the state of Tennessee."
YIKES! Wildfires seen this morning near Gatlinburg in Pigeon Forge, Tennessee. Photo credit: Bruce McCamish. #GatlinburgFire #TNwx pic.twitter.com/S277dmszRS

— Mark Tarello (@mark_tarello) November 29, 2016
The Sleepy Bear Motel burning to the ground. One of many businesses/homes in flames #GatlinburgFire @wvlt pic.twitter.com/KbhM2X6dCG

— Chynna Greene (@ChynnaGreene) November 29, 2016
Adding insult to injury, the strong winds knocked over power lines, causing even more fires and knocking out electricity in thousands of homes.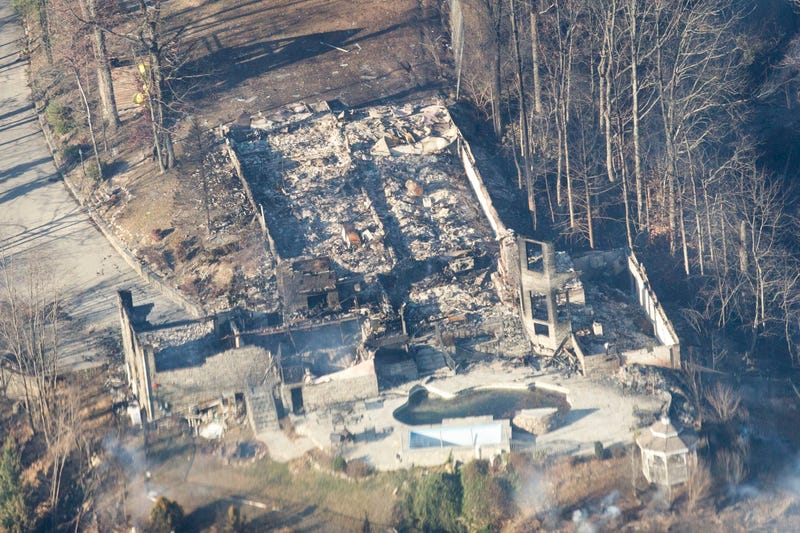 Burned structures are seen from a National Guard helicopter near Gatlinburg, Tennessee. (Image: AP)
In the resort town of Gatlinburg, a number of structures burnt to the ground, including Westgate Smoky Mountain Resort & Spa. Around half of the 10-square-mile town has been affected, with more than 100 homes and buildings damaged, including a 16-story hotel and apartment complex. Other resorts that appear to be affected include Westgate, Black Bear Falls, and Ober Gatlinburg, an amusement park and ski area.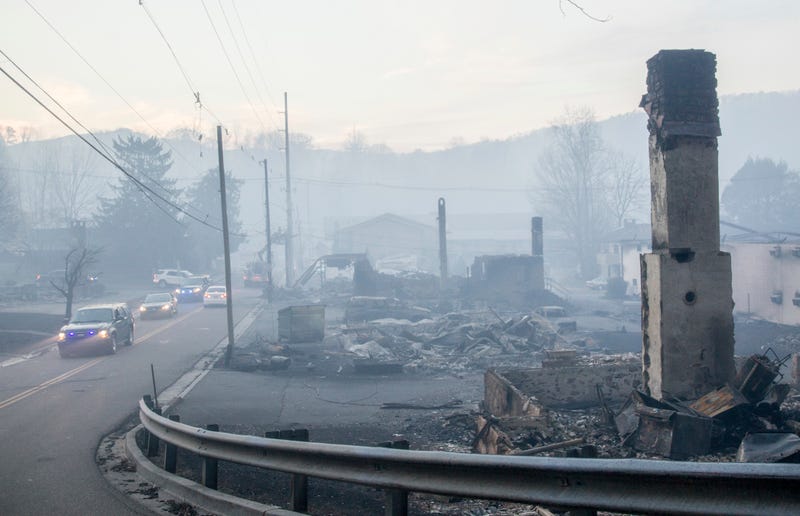 Law enforcement vehicles drive through the smoke near structures destroyed by wildfires in Gatlinburg, Tennessee. (Image: AP)
Nearly one hundred homes in the Cobbly Nob section were destroyed. "This is a fire for the history books," said Gatlinburg Fire Chief Greg Miller. "The likes of this has never been seen here."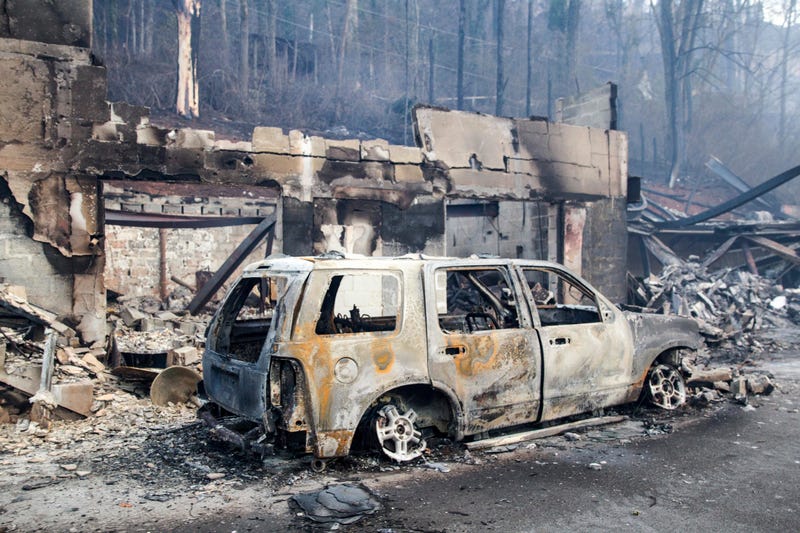 The resort town of Gatlinburg experienced extensive damage. (Image: AP)
Pigeon Forge is home to Dollywood, the theme park founded by singer Dolly Parton. Park guests were evacuated as the flames approached, but the park has (so far) been spared from any damage. Guests were also evacuated from rooms at the park's DreamMoore Resort and from 19 cabins on the property.
Video: A look at the devastation on roadway up to Ober Gatlinburg. If you can, please give to the Red Cross or local support agencies. pic.twitter.com/3hvfpwzuWr

— Mark Nagi (@MarkNagiTDOT) November 29, 2016
"I have been watching the terrible fires in the Great Smoky Mountains and I am heartbroken," noted Parton in a statement. "It is a blessing that my Dollywood theme park, the DreamMore Resort, and so many businesses in Pigeon Forge have been spared."
It's not clear what started the fires, but fire officials are hinting that it was human-caused. The worst may be over, but that depends on what happens tonight; the forecast calls for up to two inches of rain, which could be both a blessing and a curse. Lightning might start more fires, and the rains could produce flash floods. Gatlinburg Mayor Mike Werner called the forecast "ominous," saying: "We may spend this evening fighting more fires." The mayor is imposing a 6pm to 6am curfew, telling residents to boil their water.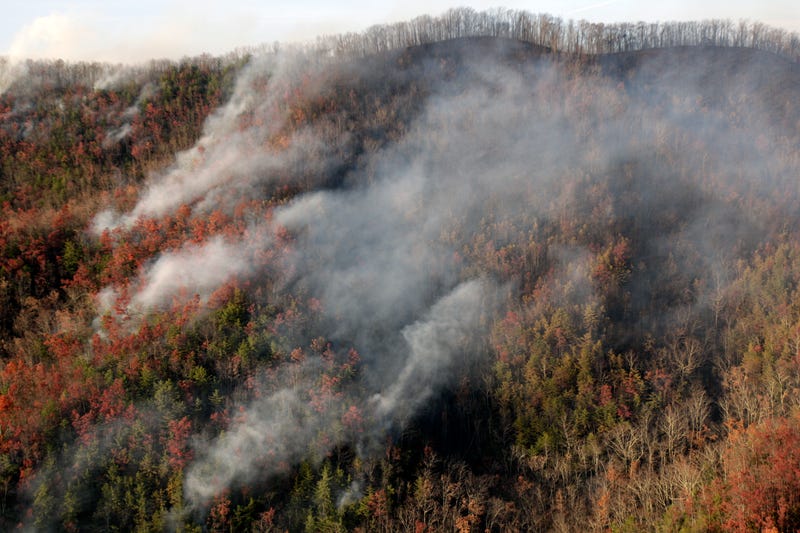 The fires spread when embers blew in from the nearby Smoky Mountains. Winds were as high as 90 mph on Monday. (Image: AP)
The fires in Tennessee are part of a larger series of fires that have been ravaging the southeastern US in October and November. According to the US Forest Service, more than 30 large wildfires have scorched areas in North Carolina, South Carolina, Georgia, Tennessee, Alabama, and Kentucky. [CNN, NBC, USA Today]