Yesterday, Google launched a fun little Twitter experiment that spits back search results in response to emojis. Naturally, I decided to throw some sex stuff at it.
According to Mashable, the feature "will work with over 200 different emoji for food, sites and activities near you." It's easy to use—simply tweet an emoji at Google's handle, and it tweets relevant search results back at you, like this:
@Nasser_alotibi_ Busy. Getting money. https://t.co/w5ybGKDguX pic.twitter.com/Y4NCi0tKGL

— Google (@Google) 6 December 2016
But that's boring! Mashable also says that Google is guaranteeing some "Easter eggs." If, like me, you thought those Easter eggs were banging-related, prepare to be disappointed.
In response to my combination of eggplant emoji and water droplets emoji—an unmistakable symbol for male ejaculation—Google gave me search results for babaganoush, a delicious food dish made with eggplant. Now, I love babaganoush as much as the next person, but that was not the result I was hoping for.
Next, I tried the kiss emoji and the peach emoji—clearly an arseplay motif. And once again, no dice from Google, though it attempted to humour me by providing the lyrics for the seminal Destiny's Child song "Bootylicious."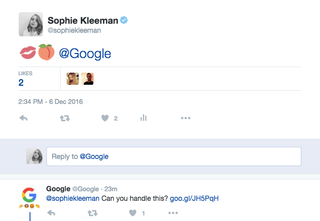 When my coworker Bryan tried a more direct route, Google wagged its giant, rainbow-coloured finger.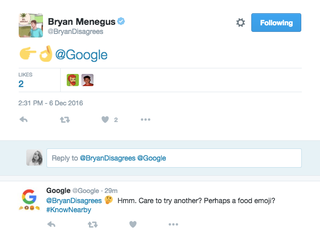 It's unclear whether the results are automatic or not—they appear to be, but we've reached out to Google to confirm—but they do give you localised results, which is nice, I guess. But Google didn't find me porn, and for that I assign its latest feature a failing grade.