Rescuers in Italy's San Grasso mountain region have pulled ten survivors from the snow and rubble following a horrific avalanche that ploughed through a four-star hotel earlier this week, Telegraph reports.
More than 40 hours after an earthquake-induced avalanche smashed into Italy's Rigopiano hotel, rescuers are finally pulling survivors from the rubble and snow. Of the ten recovered, three are children. At least four people have been confirmed dead, with another 20 to 30 still unaccounted for. Rescue teams have been working at the scene for well over 24 hours now in freezing mountain conditions.
The avalanche struck around 5:00 pm local time on Wednesday afternoon. The wall of snow turned the four-story, four-star hotel into tinder sticks, shoving it a reported 32 feet (10 metres) from its foundation. As much as 16 feet (5 metres) of snow covered much of what was left of the hotel. Two men who were outside the hotel when the avalanche struck managed to avoid the moment of impact, and were able to call for help.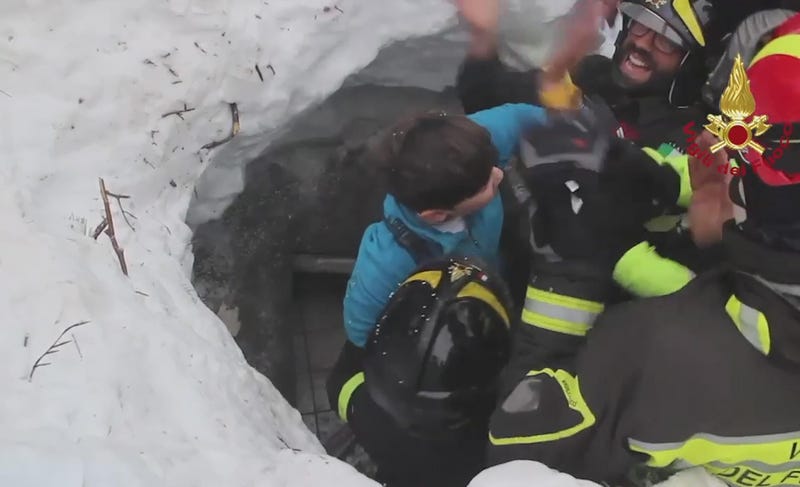 Italian firefighters cheer after pulling a child alive from under snow and debris of an hotel that was hit by an avalanche on Wednesday. (Image: Italian Firefighters/ANSA via AP)
Some survivors reportedly took refuge beneath a collapsed portion of the hotel, lighting a fire to keep warm. "It's hard work," said rescuer Luca Cari to Reuters by phone. "We're having to cut through the roof to get to them." He said the victims had been trapped in a bedroom for about 42 hours.
As reported in the BBC, some guests had gathered on the ground floor of the hotel to await evacuation following the earthquakes. The Rigopiano Hotel is located along a steep slope of San Grasso mountain, which features the tallest peak in mainland Italy south of the Alps.