Back in September 2016, two months before the election, The New Yorker ran an article imagining the worst possible future: a Trump presidency. The article was accompanied by a mocked-up photo of Donald Trump in the Oval Office. Well, that darkest possible future really happened. And oddly enough, ABC News just accidentally used the fake photo for a TV promo.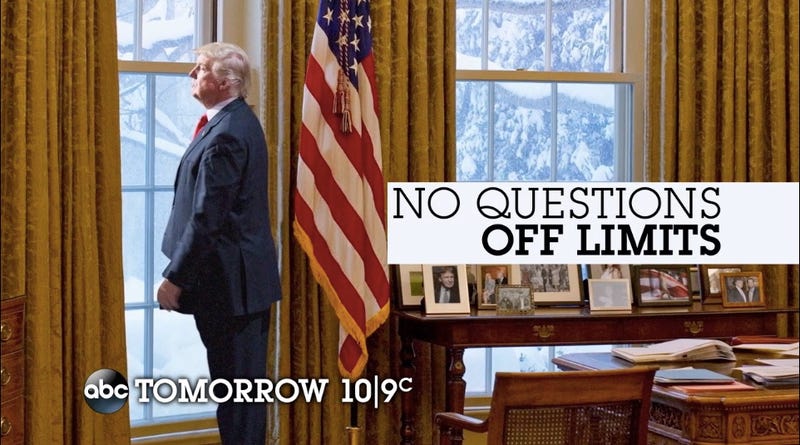 Promotional image for an interview with President Trump by ABC News that used a fake photo originally created back in September before he was elected
The photo, seen above, was created by Ji Lee for The New Yorker, accompanying an article titled "Trump's First Term." The entire piece imagines the devastation that would follow if Donald Trump were somehow elected. But someone at ABC News accidentally used the photo last night to promote an upcoming interview with Donald Trump. And sadly, we're now seeing that devastation play out in real time.
"When the marketing team created the promo, they included the wrong image by mistake," a representative of ABC News told Politico. "They updated it with a new photo as soon as they realised the error. We regret the mistake."
For what it's worth, we don't have any photos of President Trump stoically looking out the window in the Oval Office yet. It's just photos of him signing executive orders to roll back abortion rights, orders reviving the Dakota Access Pipeline, and an order to signal his intention to take away health care from millions of Americans. You know, the regular stuff that a man of the people does.
It really is living through the darkest possible timeline. Trump has already dismantled so much of what made America a great country in just a few short days. And it's Wednesday. Who knows what he can accomplish in the next four years if he puts his little mind to it! [Politico]