Parts of eastern and central Australia are in the midst of a horrific heatwave, with temperatures reaching as high as 116 degrees F (46 degrees C). Alarmingly, the record-setting conditions are expected to worsen over the coming weekend. While it's always hard to tie individual meteorological events to climate change, one can't help but consider the role our ever-warming atmosphere is playing.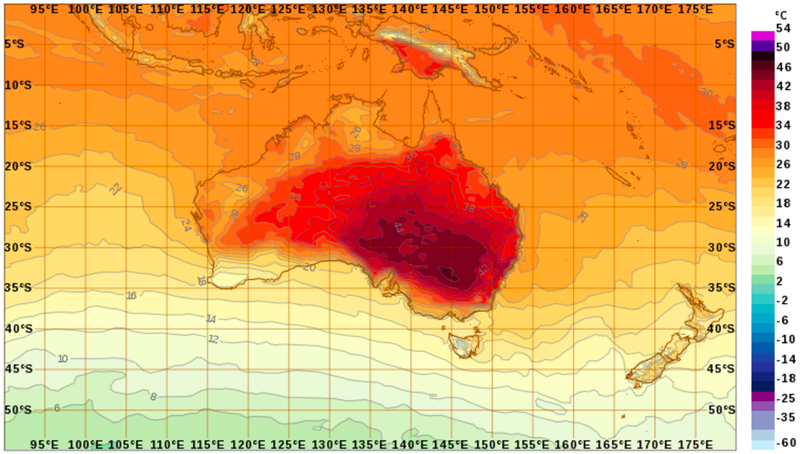 A monster heatwave is currently ravaging parts of New South Wales, Queensland, and Victoria. Earlier today, the temperature at Sydney's airport reached 109.2 degrees F (42.9C), a new record in that city for the month of February. Australia's Bureau of Meteorology says it's now officially the hottest summer in Sydney's recorded history, where temperatures have reached 95F (35C) or above of the course of 10 different days.
Hottest February day at #Sydney Airport today reaching 42.9C at 2:24pm, breaking previous record of 42.6C set on 21 Feb 1980. #heatwave

— BOM New South Wales (@BOM_NSW) February 10, 2017
Prepping for hot #weather in the #BlueMountains. Bird baths, pet bowls and water bottles filled. Stay cool. Pic: Bruce Stephens #heatwave pic.twitter.com/gOhTVBwalP

— Rebecca Lang (@Rebecca_Lang) February 9, 2017
In Penrith, a city just west of Sydney, temperatures reached 112.1F (44.5C), and at Ivanhoe Airport in the interior NSW, the temperature reached an unfathomable 116F (46.9C). Unusually high temperatures were also recorded in Canberra (102.2F/39C) and in Mildura (113F/45C).
#heatwave Camden South NSW pic.twitter.com/qtKHAOXMob

— JenniferB (@JennifahB) February 10, 2017
The heatwave is expected to continue over the weekend and into next week, with colder temperatures expected later next week. An approaching front is predicted to drag hot air southwards from the continent's central regions. Singleton and Cessnock, located in the wine-rich Hunter region, are bracing for 114 degree F (46C) temperatures tomorrow.
NSW's wind farms are generating over 400 MW. Running at 2/3's of full capacity. Would be more is there were more wind farms #heatwave pic.twitter.com/tzZb6ExtrF

— Aus Wind Alliance (@AusWindAll) February 10, 2017
As people turn to their air conditioners, some minor power outages have been reported. The country's energy minister, Don Harwin, is asking residents in the afflicted regions to reduce their electricity use. "Where you can please do your best to save energy—turn up your aircon to 26 degrees, adjust fridge temperatures, switch off unused electrical appliances and turn off lights where it's safe to do so," he said, adding that the government is doing its part to conserve.
A fire ban has been implemented throughout the affected provinces, and some national parks have temporarily closed. Australian officials say the country is currently facing "catastrophic" fire conditions.
As Australia swelters into the weekend, remember to look out for wildlife who aren't coping with the #heatwave and give them shade and water pic.twitter.com/Vwlbfyq4x8

— Wildlife Land Trust (@wlt_au) February 10, 2017
Health officials are asking people to plan ahead, avoid strenuous outdoor activities, and to take measures to prevent dehydration and heat stroke.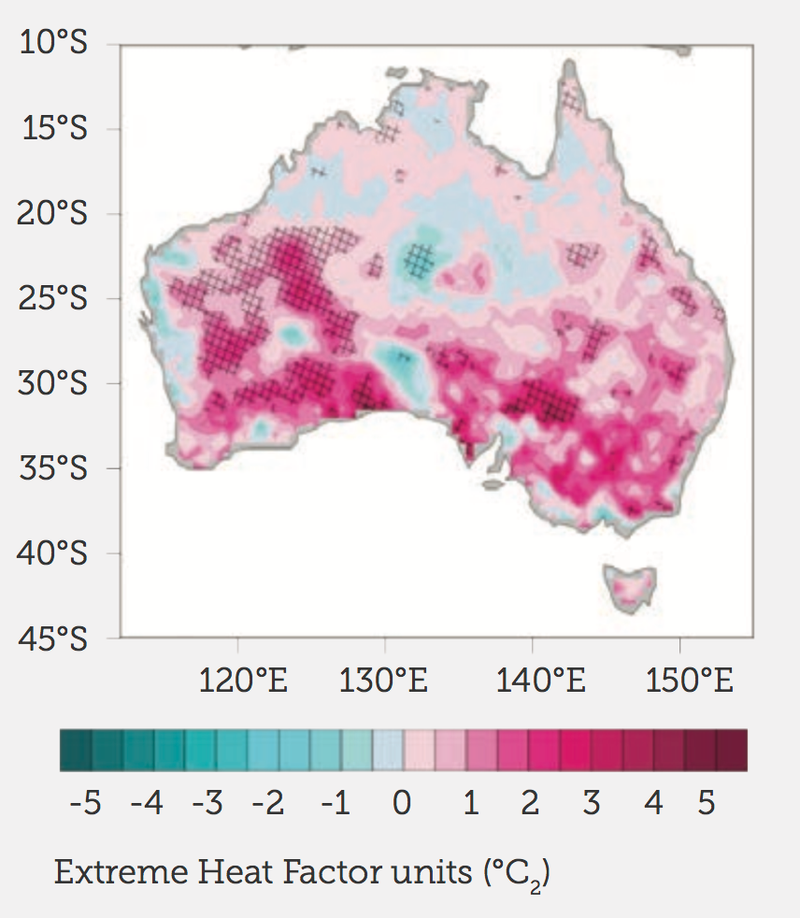 The hottest day of a heatwave in Australia is becoming hotter. Red shows increasing temperatures. (Credit: Climate Council)
The current heatwave comes just days after an alarming report warned that Australians should expect heatwaves to be hotter, longer, and more frequent on account of climate change. The author of the report, Australian National University climate scientist Will Steffen, says the number of hot days above 95 F (35C) should increase from 12 per cent to 18 per cent by 2030. In addition to worsening heatwaves, Steffen warns of increased droughts, wildfires, and coastal flooding.
Not surprisingly, people who live in areas threatened by climate change are more likely to believe it's actually happening. In Australia, where heatwaves, droughts, and wildfires are are regular occurrence, nearly 80 percent of its citizens believe climate change is occurring. As the latest awful heatwave attests, it's quickly becoming a privilege to think that human-induced climate change isn't real. [Sydney Morning Herald, Bureau of Meteorology, news.com.au]