Over the weekend, the Chilean government ended a state of emergency enacted last month in response to the worst wildfire season in the nation's history. The fires, which now appear to be dying down, have torched more than 900,000 acres—roughly four times the area of New York City—since January 15th.
Forest fires are a normal part of Chile's hot, dry, summer, but this year, the blazes have been exceptionally fierce and destructive. Since January, more than 100 wildfires have burned forests, destroyed plantations and vineyards, razed entire towns, and claimed at least 11 lives in in central and southern Chile, according to government and news reports. "Chile is living the greatest forest disaster in our history," President Michelle Bachelet said, adding that the country has "practically exhausted its capacity to fight the blazes," the BBC reported on January 22nd.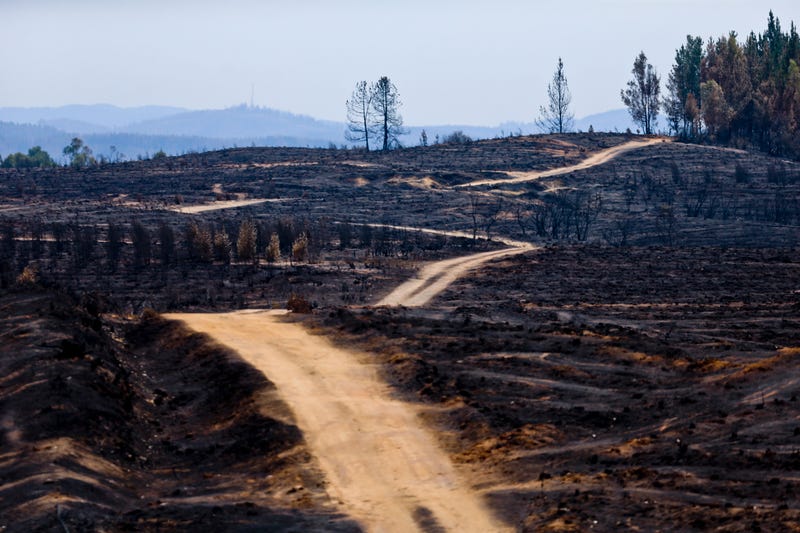 A barren landscape razed by wildfires in Chile's Cauquenes community, on Feb. 2, 2017. Image: AP Photo/Esteban Felix
A combination of a long-term drought and historically high temperatures set the stage for a very bad fire season this summer. But experts cite a multitude of other factors, too, including land use changes, inadequate firefighting resources, poor planning, and bad actors. More than forty people have reportedly been arrested and accused of arson in association with the fires.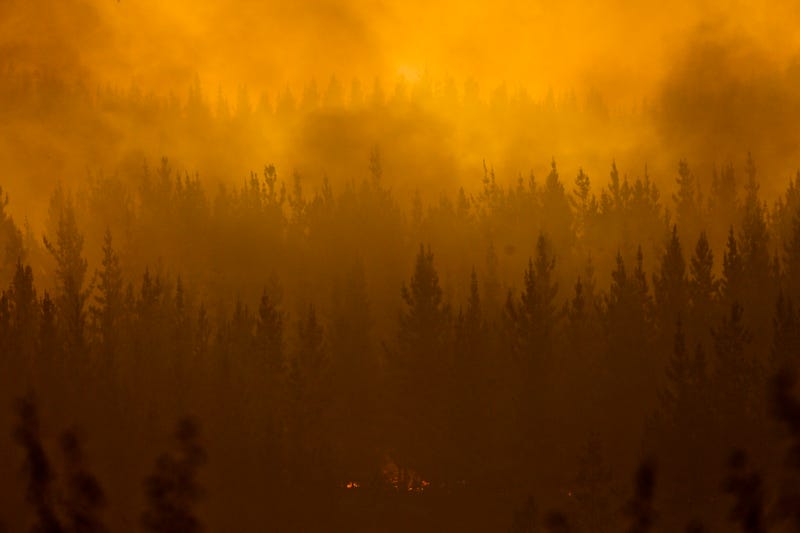 Wildfires burn in Pumanque, Chile on Jan. 21st, 2017. Image: AP Photo/Esteban Felix
Alex Fajardo, a forest ecologist at the University of Concepción in Chile's Bío Bío Region, told Gizmodo that the spread of large, monoculture plantations of highly-combustible eucalyptus and pine trees are enabling wildfires to become larger and more intense than they were historically. Fire brigades seem to agree.
"It's much easier to control a fire in a native forest—they're more humid and so a fire spreads more slowly," Gustavo de la Fuente Ortiz, the fire brigade chief in Chillan, told The Guardian. Other firefighters have expressed frustration in their inability to tame fast-spreading blazes in forest plantations, which are often located close to communities. Water-bombing aircraft from the United States and elsewhere were brought in to assist in the firefighting effort last month.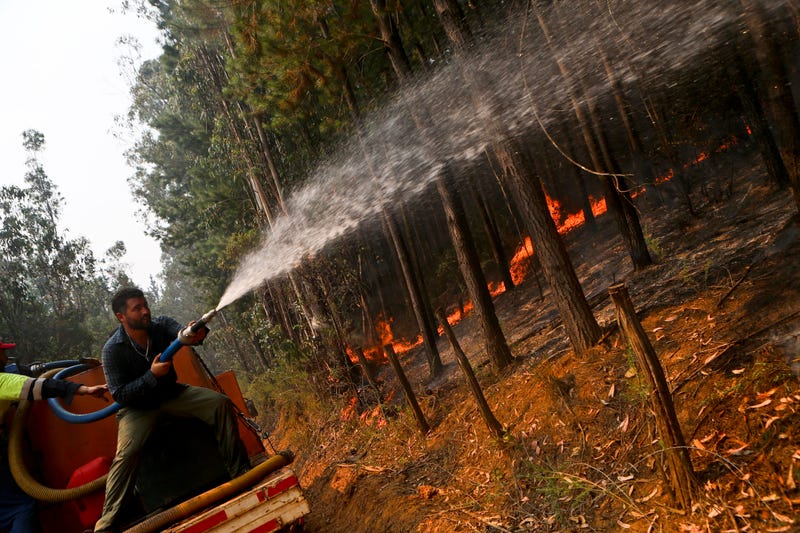 A man battles approaching wildfires in Hualqui, southwest of the Chilean capital, on January 28th, 2017. Image: Esteban Felix/AP
Thankfully, after multiplying for weeks, the fires appear to be simmering down with the arrival of cooler temperatures and much-needed rainfall in affected regions. On Saturday, Bachelet said that existing fires are now mostly under control, the Associated Press reports. "That doesn't mean, however, that we are letting down our guard," she added.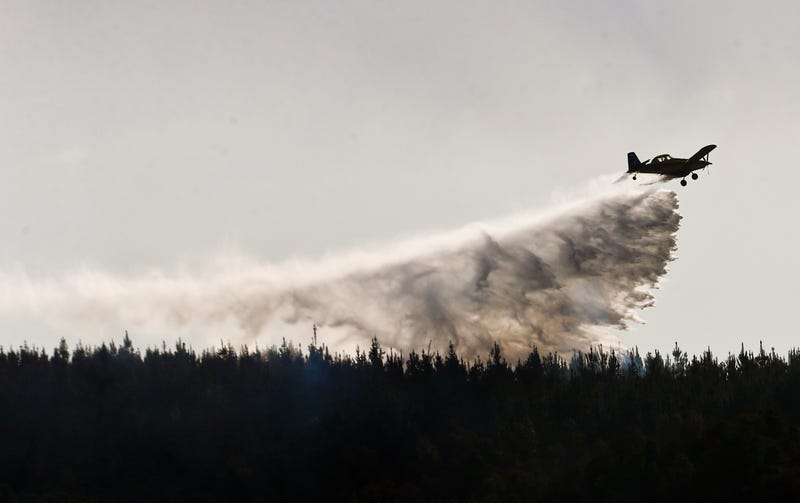 A plane drops flame retardant to extinguish a fire in Chile's Tambotinaja community, Thursday, Feb. 2, 2017. Image: AP Photo/Esteban Felix
With climate change expected to bring more hot, dry summer days to central and southern Chile, and land use shifts producing vast new swaths of combustible fuel each year, many feel the government should have taken steps to ensure fire brigades were better equipped. Of course, Chile isn't the only country that's been caught off-guard by a record fire season in recent years: parts of the western and southern United States, Canada and Australia have also grappled with once-unimaginable pyrotechnic devastation.
Across the world, fire season is being transformed by humans. Clearly, it's time we humans start to adapt.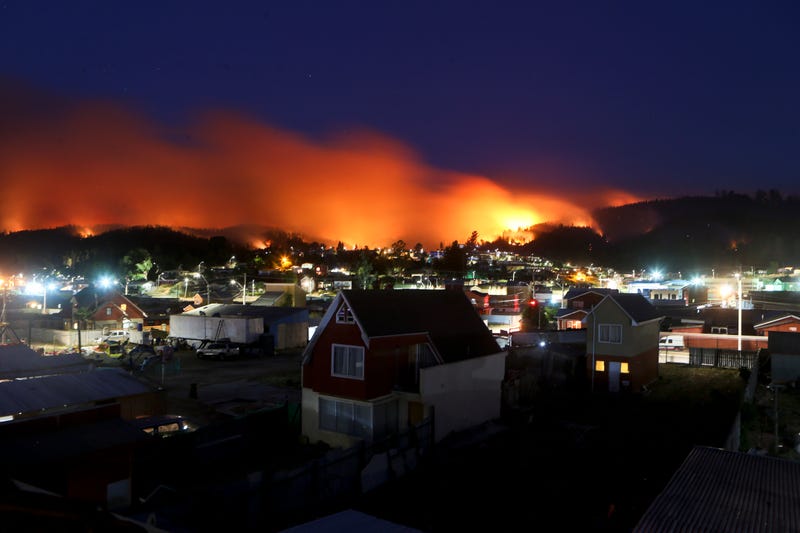 Wildfires threatened Chile's Dichato community on Jan. 30th, 2017, forcing the evacuation of over 800 families. Image: AP Photo/Esteban Felix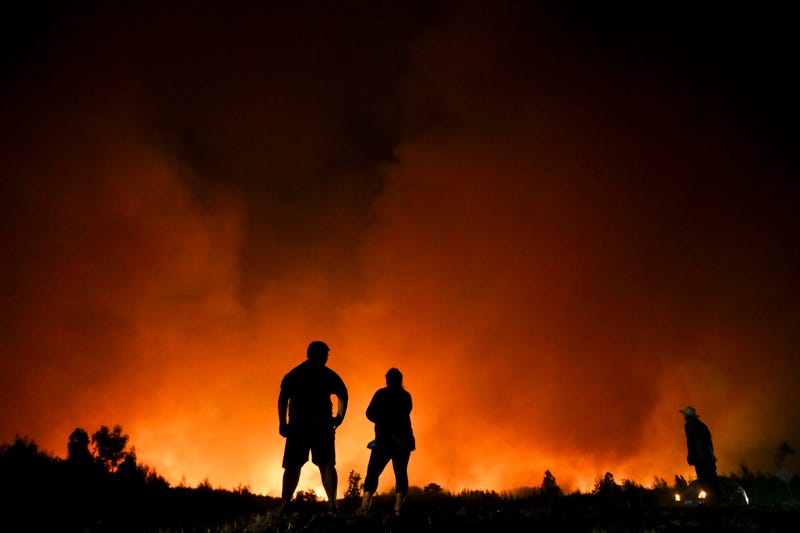 Residents watch as a wildfire sweeps through Portezuelo, Chile, on Jan. 29, 2017. Image: AP Photo/Esteban Felix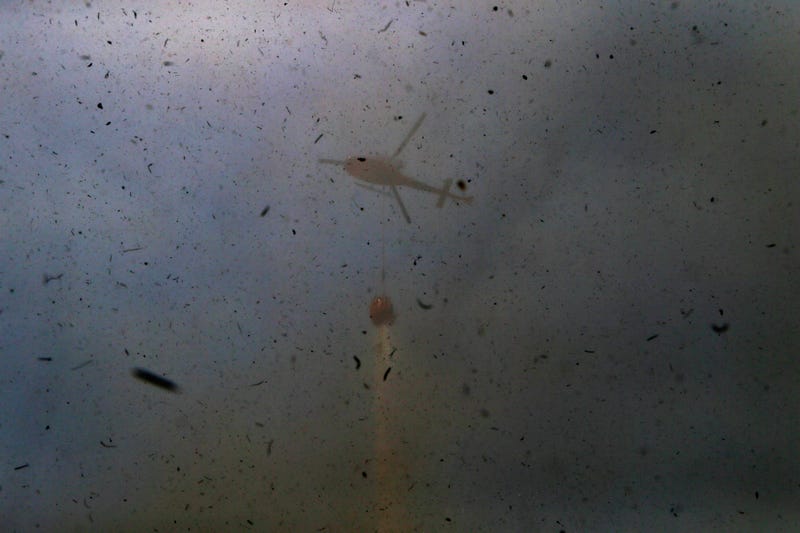 Debris kicked up by a helicopter dumping water onto a wildfire in Portezuelo, Chile on Jan. 29th, 2017. Image: AP Photo/Esteban Felix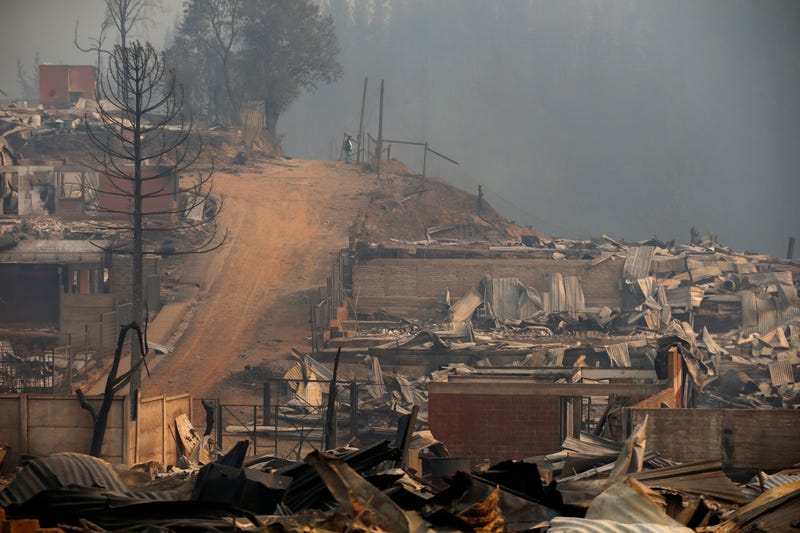 Wreckage of homes destroyed by fire in Santa Olga, Chile, on January 26th, 2017. While the entire town was consumed in the flames, the 6,000 residents reportedly escaped unharmed. Image: Javier Torres/Aton via AP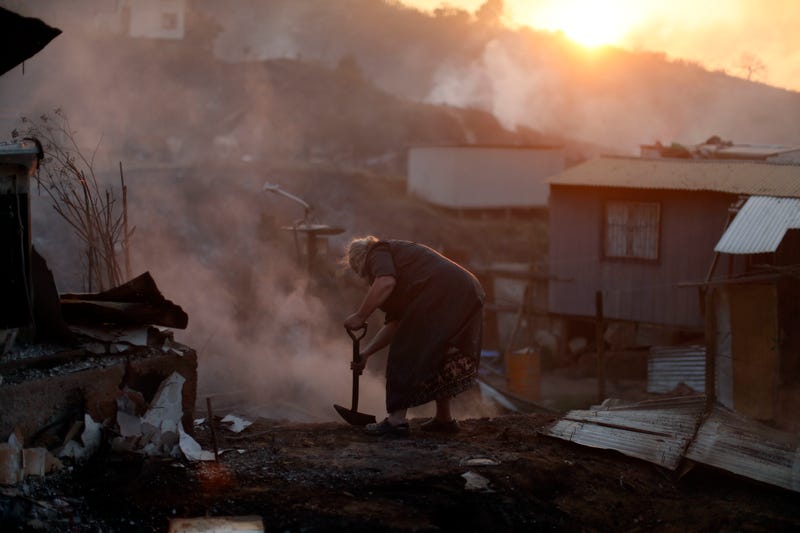 A woman tries to put out a fire on the remains of her burned land in Valparaiso, Chile, on January 2nd, 2017. Image: AP Photo/Luis Hidalgo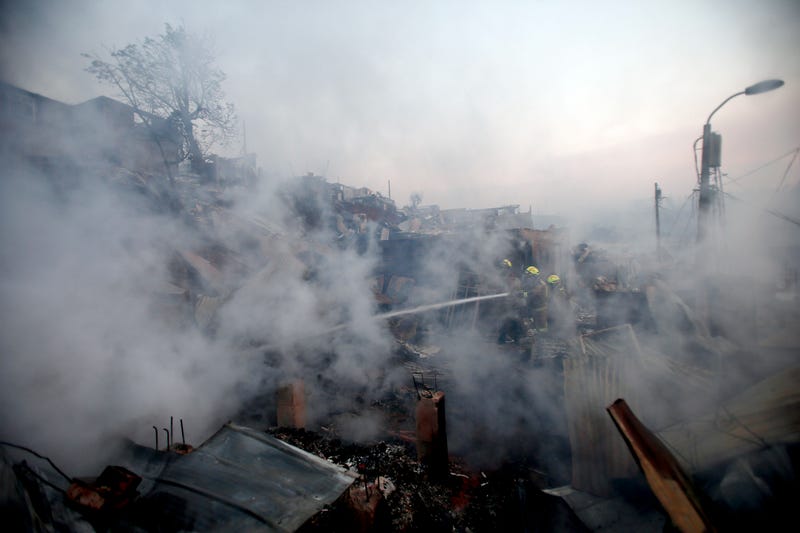 Firefighters work to stamp out fires that swept through Valparaiso, Chile, on January 2nd, 2017. Image: AP Photo/Luis Hidalgo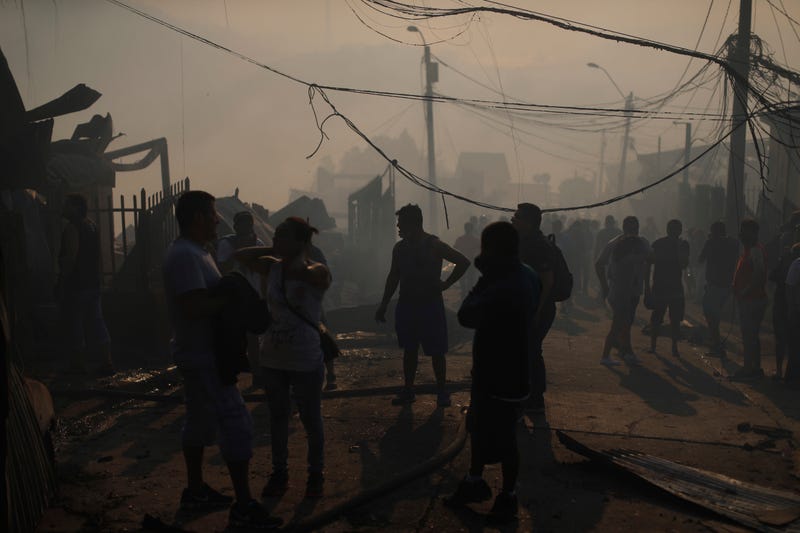 A group of people stand outside their homes in Valparaiso, Chile, Monday, Jan. 2, 2017. Image: AP Photo/Luis Hidalgo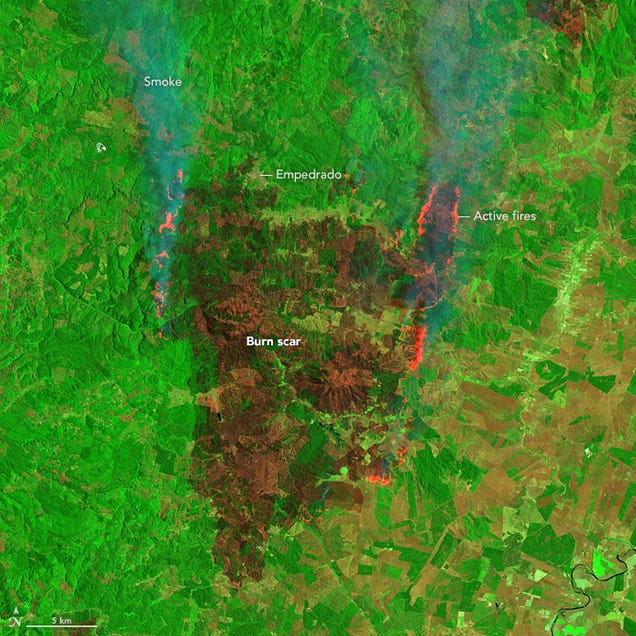 Wildfires left a massive burn scar near Empedrado, Chile, which was captured on January 24, 2017 by NASA's Landsat 8 satellite. Image: NASA Earth Observatory