Around 25,000 people living in north Queensland are being asked to flee as a powerful cyclone is set to make landfall. Tropical storm Debbie is expected to hit the coastline tomorrow with 170 mile-per-hour gusts and storm surges as high as eight feet.
Debbie was upgraded to a Category 4 storm earlier today, and it's intensifying quickly. The cyclone will make landfall at 9:00 am local time on Tuesday, and it's expected to bring extensive flooding to low-lying areas. Some 60 miles (100 km) of coastline is at risk, from Ayr, Bowen, and Hamilton Island to Airlie Beach, and Townsville. Debbie will be the most powerful storm to hit north Queensland since Category 5 Cyclone Yasi struck in February 2011.
Latest track map for #CycloneDebbie. Category 4 with gusts to 275km/hr. Recent motion has been more westerly. https://t.co/abjo0qiR5X pic.twitter.com/cs7YWB0Swz

— BOM Queensland (@BOM_Qld) March 27, 2017
The Australian cyclone season runs from November 1 to April 30, and on average features about five tropical cyclones. The current season has been weaker than usual, with five named storms appearing thus far—Debbie being the most severe.
Cyclone Debbie is expected to bring 75 mile-per-hour (120 km) winds and gusts reaching 170 miles-per-hour (275 km/h). Of particular concern are the storm surges, which could be as high as 8.2 feet (2.5 meters). The Mackay region of Queensland includes extensive low-lying areas, making it vulnerable to flooding.
Latest video from our room at 1600. About to move to a more protected room inward facing. #CycloneDebbie #DayDreamIsland #Whitsundays #Aust pic.twitter.com/G1DeXo2aJP

— Jessica Swann (@JessicaSwann) March 27, 2017
"Because of the intensity of the cyclone and the timing at the moment that it's due to cross land, we are very concerned at the moment about the prospective tidal surge in Mackay," said Queensland Premier Annastacia Palaszczuk at a press conference earlier today. "It's very clear the time for people to move is now. I would rather take these precautionary measures now than have people's lives put at risk."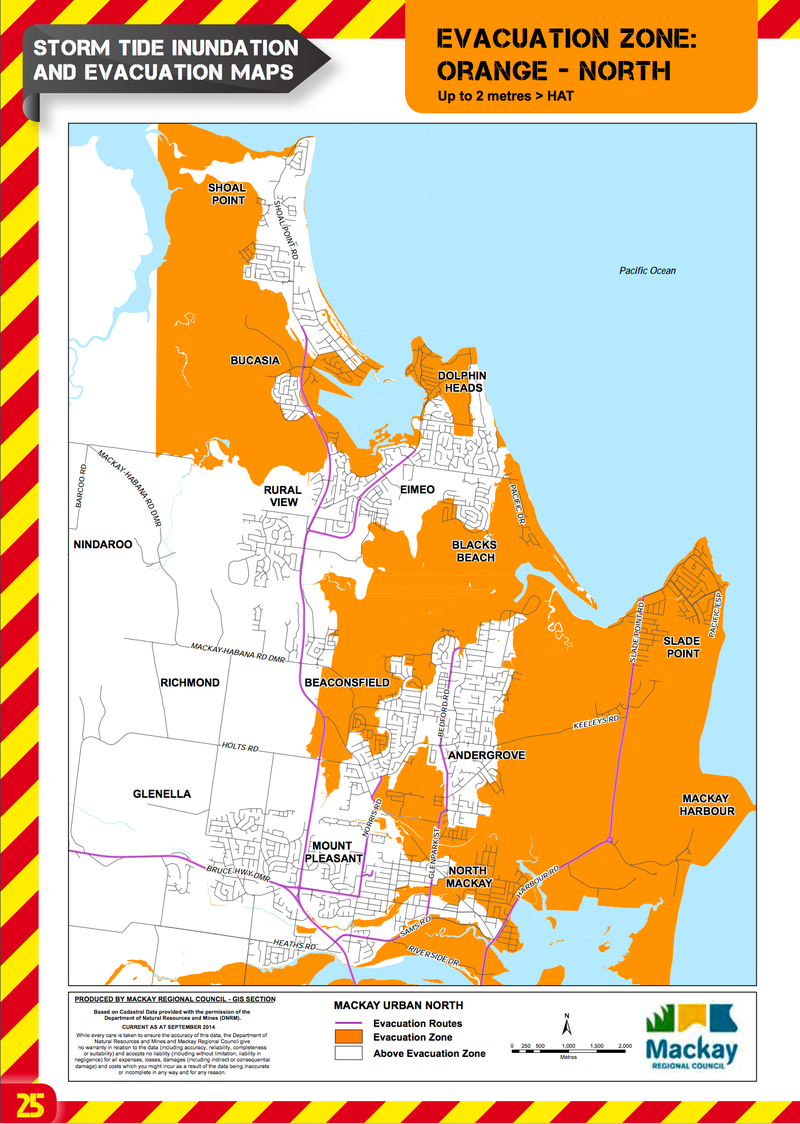 Flood maps showing regions at risk of 2 meter (8 feet) storm surges. (Image: Mackay Regional Council)
In response to the pending storm, the government has issued inundation maps, showing which regions are at risk. An estimated 25,000 residents live in areas threatened by flooding. The government has not issued a formal evacuation order, but it's hoping Mackay residents will take action and seek higher ground before it's too late.
Police Commissioner Ian Stewart advised residents to move out of low-lying areas immediately, telling them, "Don't wait until tomorrow because you will not be able to move probably past midnight tonight."
The government is currently setting up shelters for evacuees, and buses are transporting people from threatened towns. Over 100 schools have been shut down. Emergency service volunteers, police, and power employees have been dispatched to the region. The Prime Minister's office is working closely with the Queensland government, and it's sending in the Australian defence force to assist. [Sydney Morning Herald, Guardian]