In February, Gizmodo reported that many Discord users were facing abuse and were given no clear recourse. Among the issues endemic to the voice- and text-chat platform was the anonymous and unsolicited dissemination of child pornography, a problem which seems to have only gotten worse.
Though there has been no official statement on the service's blog or Twitter account, a number of recent posts on Reddit's r/discordapp have appeared in the past 24 hours relating to "CP [child porn] botnets," "porn image spamming," and server admins mass-alerting their communities to the presence of these nefarious users via copied-and-pasted messages such as this one:

Image: Centipede Central Discord server
"We're aware of the copy/pasta going around and currently determining the scale and next step to address it," wrote a Discord Customer Experience employee in response to one such Reddit thread. "In general, rather than spreading this copy/paste message, if you do receive DMs with illegally explicit material, please email abuse@discordapp.com."
In the time since Gizmodo first reported on the issue I've personally received three such unsolicited messages, one of which contained a particularly disturbing image of an infant girl. The user, whose handle was Good Weed, sent it with only the message "hi" and abruptly became unreachable.
On Discord, users can only direct message each other if they're friends or if they both share a chat server in common. These spammers are able to send messages such as this by joining a particular chat server, direct messaging the individual members, and then quickly leaving to avoid detection.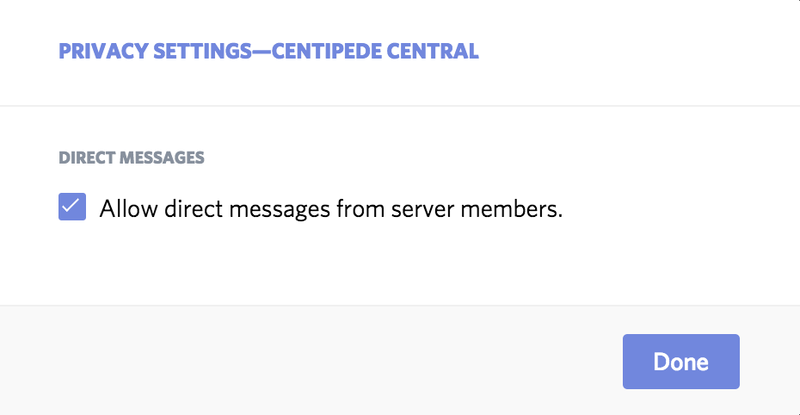 Image: Privacy settings
To our knowledge, the only recourse users currently have is to disallow direct messaging — a process which needs to be repeated for every single server a particular user is a member of.
We've reached out to Discord for comment and will update if we hear back.
If you've received such a message, email Discord's abuse support team along with the user's tag and ID, a link to the image, and whatever other relevant information you have. (Do not save or screenshot the images.) If you know of other ways to avoid these messages, drop us a line.