An archivist working at the Herbert Hoover Presidential Library has stumbled upon colour home video taken in the late 1920s by former First Lady Lou Hoover. Incredibly, this is very likely the first colour film to show a US President, the First Lady, and the White House.
Audio-visual archivist Lynn Smith was working on a preservation project at the library when she realised that seven reels of 16mm film from the Hoover collection were not black and white as originally assumed, but an early form of colour film known as Kodacolor.
"I realised some of [Lou Hoover's] home movies used Kodacolor film but, because it appears like black and white film, previous archivists assumed it must be black and white," explained Smith in a Hoover Archives release. Knowing that the former First Lady was fascinated by emerging technologies, and that she had access to Kodacolor film and camera, Smith decided to take a closer look at the film, wherein she came to the discovery.
Kodacolor film debuted in August 1928, and it looks like plain old black and white film. But when projected through a special filtered lens, called the Kodacolor Projection Filter, the colour embedded in the film appears on screen. A post from the National Archives explains how it works:
Kodacolor appears to the human eye as black and white images, but the base side of the film is embossed with hundreds of tiny lenses (called lenticules) that look like minuscule ridges on the surface of the film base. The lenticules captured the colour information from the scene while it was filmed through a colour filter with red, green, and blue-violet stripes. In order to see the colour the film then had to be projected back through a similar colour filter.
This format was expensive, and it was eventually replaced by Kodachrome in the 1930s, so colour home movies from this period are hard to come by.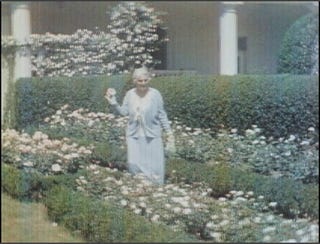 Lou Hoover in the White House Garden. (Image: Hoover Archives)
Like so many home movies, the Hoover films show some of the more private and unguarded aspects of family life. But what's particularly unique about this colour footage is that it shows the White House and its grounds, and other Washington, DC, attractions.
"The first Kodacolor home movies were shown by George Eastman on 30th July 1928, a mere seven months and four days before President Calvin Coolidge left office," said Smith. "The patent for the 'Optical System for Colour Processes' was issued 25th September 1928, just over five months before Coolidge left. As a retiring president, it seems unlikely that Mr. or Mrs. Coolidge would have taken home movies at the White House."
Lou Hoover modified the second floor West Hall into a room where she could show her home movies. The films show a fishing trip taken by the couple in late January 1929 when Herbert Hoover was still President-elect, scenes of playful grandchildren terrorising a collie, vacation trips taken by the Hoovers' sons, and touristy images of Washington DC. One of the more striking shots is that of Lou walking through the White House garden, which can be seen in all its colourful glory. The final reel of the film shows President Hoover engaging in his morning routine of tossing a medicine ball around—an activity that would eventually become the game known as Hooverball. [Hoover Archives]