His boss may be able to sell a shit deal with a smile, but Press Secretary Sean Spicer could barely muster a grin as he defended the now mercifully dead American Health Care Act, the GOP's rushed replacement for Obamacare. The AP confirms that Republicans, without the necessary votes, pulled the bill. Essentially, it got Old Yeller'd.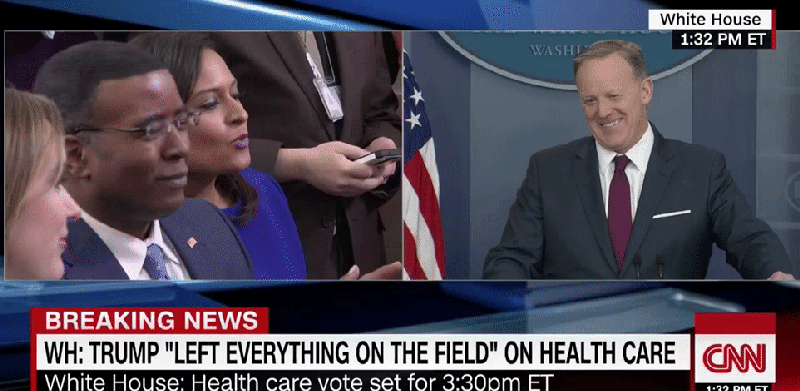 During Friday's press briefing, Spicer answered dozens of questions on Trump and Ryan's confidence in passing the Obamacare replacement, which, at the time, was on its last legs. The vote for the bill was set for Thursday, then hastily rescheduled because the GOP didn't have enough votes for passage. Spicer started the conference optimistically, joking with reporters and chiding them for being too negative in their coverage—his favourite subject.
Questioner: "If this fails today, is the President done…"@PressSec: "So negative…"https://t.co/xOVt3XRXkE pic.twitter.com/r7z64fUNbN

— CSPAN (@cspan) March 24, 2017
Essentially, Spicer was tasked with shifting the conversation from "Trump, the ultimate negotiator, will get this done without a doubt" to "Trump, still totally the ultimate negotiator, did everything he possibly could." It was as hard a sell as the bill itself and Spicer's frustration was palpable. Doomed from the start and without the necessary the votes, Spicer was forced to discuss the bill anyway while flashing a phony smile at the world.
Spicer says President Trump is confident he has done "every single thing possible" to pass the health care bill https://t.co/Lm9XXJu7oX pic.twitter.com/BiGCcumoDr

— Bloomberg (@business) March 24, 2017
Notably, Spicer's position on Friday was a complete 180 from his opinion the day before, when he assured reporters the bill would pass.
Q: Is there a backup plan if the health bill doesn't pass tonight?

Spicer: "No. It's gonna pass. So that's it." pic.twitter.com/fUo8BBnBPU

— Bradd Jaffy (@BraddJaffy) March 23, 2017
The bill was anathema to Democrats, and over the past week both hardline and moderate Republicans publicly came out against the AHCA. This prompted one reporter to ask Spicer on Friday why, if the votes still weren't there, they would even bother to vote. Spicer said they'd vote regardless. Which of course, isn't what happened at all. Reuters reports that Trump asked Speaker Paul Ryan to pull the bill before it could be killed on the floor.
Why vote on the health care bill if you don't have the votes?

Spicer: "I'm not going to discuss our strategy."https://t.co/GU9X21zWvI pic.twitter.com/lubj4BqCAh

— CNN (@CNN) March 24, 2017
The AHCA is dead. And while Obamacare has a number of issues, at least it won't deprive 20 million people of insurance.
Here, Sean, for you: