Shark experts are very upset with porn star Molly Cavalli. Last week, she appeared in a video produced by the live sex site CamSoda in which she claims a shark bit her foot. Based on every piece of confirmable evidence, however, it looks like the video is a complete hoax.
The video, which has garnered over 14 million views on YouTube, seems simple enough. A busty woman in a thong swimsuit jumps in the ocean with a bunch of sharks. And then it all goes wrong, with blood darkening the water as the woman begins to scream. Once she's back on the boat, Cavalli shows off a single gash on her foot that allegedly required 20 stitches. It should be noted that the actual attack is not shown in the video, which has been edited. You see Cavalli's face in distress around the 50 second mark, and then there's a wider shot showing what appears to be blood coming from her foot.
Now that the video's gone viral, however, multiple people are poking some very big holes in the story. Perhaps most damning are the claims of Bryce Rohrer, the owner of the Florida Shark Diving company, who says Cavalli and her CamSoda associates asked for his help producing a video featuring a fake shark bite two months ago. Y'know, one that would surely go "viral." (Apparently, that was the word she used.)
According to the Palm Beach Post, Rohrer claimed Cavalli "texted him an image of what the wound would look like with special effect makeup." Rohrer said his company "immediately declined" because they "want to show the importance of sharks, not villainize them." The Palm Beach Post published the image that Rohrer says Cavalli sent him, and it definitely looks like bad special effects. It also looks a hell of a lot like the images of Cavalli's foot in the video posted to YouTube.
Warning: Probably fake but still sort of graphic image to follow.
If Rohrer's account wasn't damning enough, the Palm Beach Post also spoke to several shark bite experts, all of whom denied that the apparent wound on Cavalli's foot could have been caused by a shark bite. "For a wound that deep, one would expect to see multiple parallel slashes from teeth, not a single slash," Stephen Kajiura, a shark researcher at Florida Atlantic University, told the paper. "It makes more sense that she was cut on the side of the cage, then blamed the sharks for the publicity."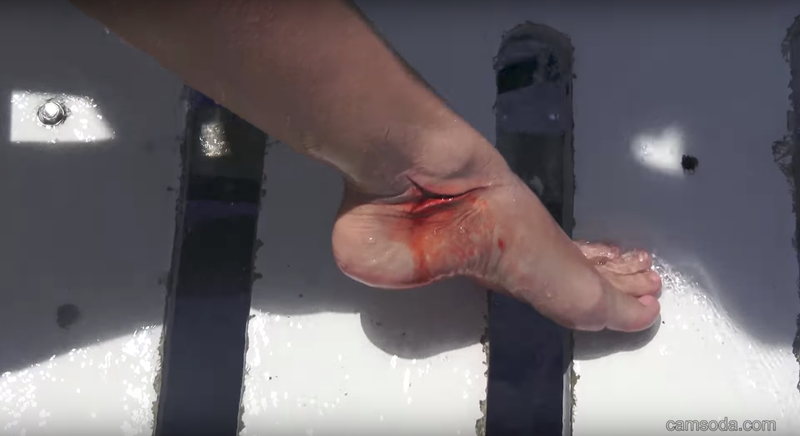 Molly's foot with a very fake looking shark wound (Image: YouTube / CamSoda)
Of course, it would make even more sense that Cavalli and the CamSoda crew used special effects to create a fake wound for their fake shark bite video, since they allegedly told one shark diving company that's what they intended to do. We've reached out to Cavalli as well as CamSoda for a statement on the allegations of fakery. But since these allegations have been flying for 24 hours now, and they haven't said a word, we don't expect to hear back. [Palm Beach Post]