Several states across the American Midwest are experiencing intensive flooding in the wake of unusually vigorous storm system that passed through earlier in the week. Images taken from above and on the ground show the extent of the record-breaking floods, which now threaten areas downstream.
From April 29th to May 1st, a volatile weather system spawned heavy rainfall, thunderstorms, and tornadoes across the Midwest. In some areas, total rainfall exceeded 10 to 15 inches, causing flash-floods and surging rivers. Extensive damage has been reported in Texas, Arkansas, Missouri, Mississippi, Alabama, and Tennessee. The floods have resulted in the closure of major waterways and hundreds of roads across several states. According to the Weather Network, at least 20 people have been killed in the Midwest since flooding began late last month.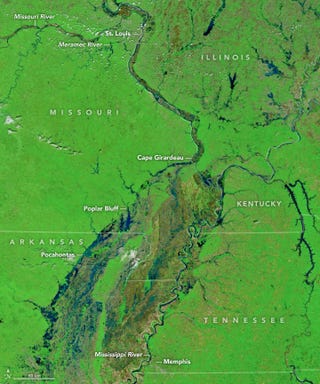 Flood waters appear in blue and black; forested areas are green; fields without vegetation are in brown. (Image: NASA Earth Observatory images by Joshua Stevens, using MODIS data from LANCE/EOSDIS Rapid Response)
On Tuesday May 2nd, NASA's Terra satellite snapped a false-colour image of flooding along several tributaries of the Mississippi River (above). For comparison, NASA provided an image of the same area on April 25th, 2017, before the flooding began (below).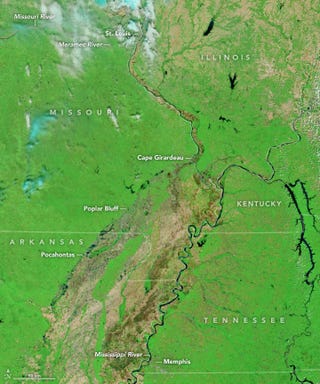 Before the flood. (Image: NASA Earth Observatory images by Joshua Stevens, using MODIS data from LANCE/EOSDIS Rapid Response)
The town of Pocahontas, Arkansas, has been hit particularly hard. On Wednesday, the nearby Black River breached a levee, triggering a flash-flood emergency for the town. As feared, the river spilled over, inundating the town of 6,5000 with flood water. Emergency responders had to rescue people from their flooded homes and cars.
Black River floodwaters have covered State Highway 37 between Cord and Tuckerman. #arwx #artraffic #arnews pic.twitter.com/4DDCsWAvQE

— AHTD (@AHTD) May 3, 2017
Levee breach at Pocahontas, Ar. #arwx pic.twitter.com/J2A9fuQoSK

— John Gardner (@aerial_patrol) May 3, 2017
All of this water is moving downstream, threatening areas along the Mississippi River south of St. Louis, including Cape Girardeau, Missouri, and Illinois. Flood waters could reach as high as 48 feet (15 metres) at Cape Girardeau by Saturday, which would be a new record. Adding insult to injury, the forecast is calling for more rain.
These floods are the worst in the US Midwest since 2015, and are likely the result of a persistent weather trend that's bringing warm, moist air up from the Gulf Coast—the same trend that's causing an inordinate number of tornadoes this year. [NASA Earth Observatory, Washington Post, Weather Channel, Reuters]