Yesterday, Pope Francis met with President Trump. And needless to say, the pope didn't look too happy about it. Maybe it had to do with the fact that Trump previously called the pope "disgraceful" and said ISIS will attack the Vatican, but who knows? The photo was surreal, and sure enough, people have been photoshopping the hell out of it.
The photo above was created by Canadian designer and illustrator James White. And if you haven't seen the original photo you might be confused about what part is even photoshopped. All White did was add the kid from the the classic 1976 horror movie The Omen. Spoiler alert: The kid, who's supposed to be the Antichrist, is adopted by the US president at the end of that movie. Seriously.
For context, here's the original photo: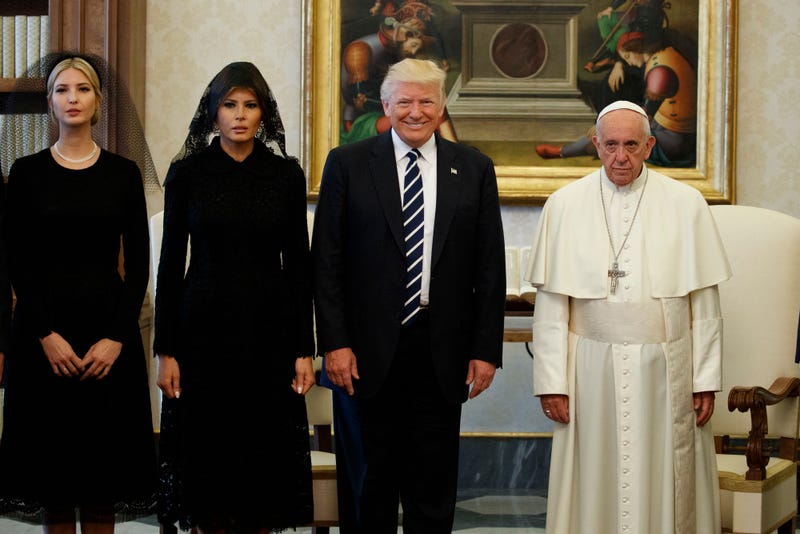 (AP Photo/Evan Vucci)
But White was far from the only one who saw an opportunity to spice up the photos from yesterday's awkward meeting at the Vatican.
@Signalnoise pic.twitter.com/DbKaI8Thu8

— wade h grimbly (@worldwidewade) 24 May 2017
I photoshopped the girl from The Ring into this pic and it isn't even weird. pic.twitter.com/Lt2DojQGVh

— the resa (@theresamakes) 24 May 2017
@Signalnoise @jeremyscahill I went for Vigo pic.twitter.com/nIcXFLJIf5

— Brian Mazmanian (@BtotheMaz) 24 May 2017
Some people even started riffing on White's addition of Damien, and couldn't help but keep adding things like the girls from The Shining, the nun from The Conjuring 2, Vigo from Ghostbusters II, and plenty more.
@Dailytakes @TheRickWilson @EdgeMessaging @LisaManna @DeibertEdge pic.twitter.com/GIRUQbGLam

— Chrome Dinette (@Chrome_Dinette) 24 May 2017
I had to add Vigo. pic.twitter.com/nZ3IKWplzT

— Peter S. Hall (@PeterSHall) 24 May 2017
Hey Benedict XVI, didn't see you there! (original via @Chrome_Dinette) pic.twitter.com/QdhqrkePSW

— Yorrike (@Yorrike) 25 May 2017
@Signalnoise I made a small addition. pic.twitter.com/0owSWHQ2qx

— Ted Harrison (@tedvid) 24 May 2017
@Merol_Master @martynpeel @Signalnoise @bloo pic.twitter.com/ATyhtQB031

— Nick Stevensab 48% (@NickStevenson63) 24 May 2017
@martin_kj @Signalnoise Adding my addition here too. Who to add next? This is fun! pic.twitter.com/Zcse2a4jGB

— Janelle Fine (@janellefine) 24 May 2017
Others went with an angle that included more fantasy, much like the photoshops of Trump's glowing orb in Saudi Arabia.
I PHOTOSHOPPED SARUMON IN THIS PiCTURE AND IT ISN'T EVEN WEIRD pic.twitter.com/tk6GG46tSj

— DAVY ROBOT ( ¦:z] (@DavyRobot) 24 May 2017
While some went with a more absurdist pop culture approach.
@Signalnoise Does this work? pic.twitter.com/iLBpTH2E7L

— Lucas Meyer (@meyer_lucas) 24 May 2017
I photoshopped Snooki into this picture of Donald Trump and the Pope and it doesn't even look weird. pic.twitter.com/aIyxulgbMG

— Alexander De Luca (@AlexanderDeLuca) 24 May 2017
@Signalnoise @scottdagostino I added Jar Jar. pic.twitter.com/UchkNPWfxI

— J.Bone (@gobukan) 24 May 2017
And others added White House Press Secretary Sean Spicer, a devout Catholic, who was reportedly very excited to meet the pope. But he wasn't allowed in for some unnamed reason.
@Signalnoise @aprilneo Poor Sean. Maybe he can get a print of this and hang it on his wall: it's almost as good as meeting the Pope. pic.twitter.com/zdvDFzd7Ez

— rotophonic (@rotophonic) 24 May 2017
"Wow. That's all he wanted," a source close to the White House told CNN when it was revealed that Spicer wasn't allowed to meet the pope.
President Trump is notoriously vindictive and petty so we have to assume the president didn't let Sean Spicer come to meet the pope because the president is simply a complete dick.
Other people added a bit more levity to the situation:
Pope Your Enthusiasm pic.twitter.com/joAC3sk5oe

— Seinfeld Current Day (@Seinfeld2000) 24 May 2017
But sometimes the unedited interactions said more than anything the internet could conjure up.
The Pope's expression is priceless. I CAN'T BELIEVE I AM STANDING NEXT TO THIS MAN pic.twitter.com/aAO2OczWLm

— Jeremy Vine (@theJeremyVine) 24 May 2017
When all is said and done, this might be the most meme'd trip a US president has ever taken, and it's not even over yet.
Between Melania's constant rejection of her husband's hand in Israel and Rome, to the completely surreal orb photo in Saudi Arabia, this trip has been red meat for the internet's jokesters and yuck-em-ups.
---
More Trump Posts: