This year has been a bit of an odd one, from a political standing. We just finished off a General Election, a mere two years after the country last went to the polls to decide who should, and shouldn't, represent us in parliament. The whole situation has been a bit... mental, to say the least. Now that everything is over, and with people wondering what happens next, we decided to look back at the whole election situation and re-enact everything with GIFs. Because GIFs are the superior form of communication.
So how did we get here? Well it's all thanks to that referendum we had last year, when the voting public took to the polls to decide whether or not the UK should remain a member of the EU or not. As we all know the vote was close, but 51.89% of voters opted to leave the EU. Cameron, who had supported the UK's membership in the Union, then announced his resignation.
So the Conservatives needed to find themselves a new leader, who would become Prime Minister and take charge of the Brexit negotiations. Theresa May, Andrea Leadsom, Michael Gove, Stephen Crabb, and Stephen Fox all threw their names into the ring. By the time two initial ballots had been conducted, the latter four had either withdrawn or were eliminated, leaving Theresa May to run unopposed. She took over as Prime Minister on 13th July, the same day Cameron's resignation was finalised.
Meanwhile the Labour party members had started fighting amongst themselves over Jeremy Corbyn's position as leader. This came about after the results of the EU referendum and local council elections. Corbyn lost a vote of no-confidence on 28th June 2016, but went onto win the resulting leadership election on 24th September anyway. Despite that, the part remained divided and squabbling continued.
Meanwhile the Tory party must have been looking on with glee, due to the perception that the Corbyn-led Labour would not provide an adequate opposition.
Then things went relatively quiet. The wheels of government continued to churn, and it seemed everything was back to normal. Aside from the fact that there was still some opposition to Corbyn from within the Labour party.
Then, on 18th April 2017, Theresa May announced that she would seek a new General Election on 8th June - shocking many since the Fixed Term Parliament Act of 2011 meant elections could not normally be held less than five years since the last one.
Instead it would require parliament to vote on the election, requiring a super majority (two thirds of the vote) for it to pass.  Jeremy Corbyn, Lib Dem leader Tim Farron, and the Green Party supported the move, while the SNP opposed it and abstained. In the end only 13 MPs voted against it. The move was not without its criticism with then-UKIP leader Paul Nuttall and Welsh First Minister Carwyn Jones accusing May of opportunism motivated by the strength of the Conservative Party.
We can only assume that the Conservative leadership looked a little bit like this at the time, or at least it did to critics of the election:
Meanwhile Jeremy Corbyn was likely revelling in the chance to prove himself to the naysayers.
But those who had little faith were no doubt terrified of the prospect of a Conservative-controlled government lasting at least two years longer than they had original anticipated.
Parliament was then officially dissolved on 3rd May. The week of the 8th of May was the start of the official campaign trail, alongside the release of party manifestos. Manifestos were delayed, but not until Labour's draft manifesto leaked on 10th May.
Labour released the final version of their manifesto on 16th May, followed by the Lib Dems on 17th May, Conservatives on 18th May, SNP and Green Party on 22nd May, and UKIP on 25th May. UKIP's manifesto was notable for banning all face coverings (particularly the Burqa) which led a number of people to demand to know whether this would adversely affect beekeepers. It was later clarified that it would not.
Following the initial call for an election, multiple party leaders called for television debates. Those were later ruled out by Theresa May, though, and Jeremy Corbyn announced he would not be taking part without Theresa May. Regardless the BBC and ITV announced their intention to hold debates, with or without May and Corbyn. The ITV debate took place on 18th May, with Nicola Sturgeon, Tim Farron, Caroline Lucas (Greens), Leanne Wood (Plaid Cymru), and Paul Nuttall.
Both Corbyn and May were criticised for not attending.
The BBC debate took place on 31st of May, with Corbyn changing his mind about taking part.
While he called on Theresa May to do the same, May insisted that she had plenty of experience debating Corbyn in the Commons and would instead use her time to meet members of the public. Instead Amber Rudd took her place, which didn't go down well among certain groups of people - and gave the other leaders plenty of fuel to criticise the Conservative leader.
Throughout the whole campaign process, however, Corbyn's Labour did what many people had assumed to be impossible with opinion polls showing a continual rise in public support. According to a compilation of opinion polls put together by Britain Elects, on 7th June 36.5% of people intended to vote Labour compared to 43.3% voting Conservative. On 18th May, the day the election was announced, those numbers were 26.2% and 42.3% respectively. Pretty spectacular for a party led by someone who many felt was an ineffectual leader.
Then election day came about, and as it turned out a whopping 68.7% of eligible voters headed down to the polling stations. Not as many as the EU referendum (72.21%), but it was still up by 2.3% from the 2015 election.
Then all we had to do was wait, and hope for the best.
Then, later on in the evening, the exit poll numbers came in. Surprisingly it said that Theresa May's Conservatives had lost 17 seats and the majority, but will had the most seats (316). Corbyn's Labour, on the other hand, had apparently gained 36 seats with a total of 266. The poll also claimed the Lib Dems had grown from eight to 14, and the SNP dropped from 56 to 34.
We can only assume this is how Theresa May felt at that moment:
Whereas Corbyn and his, erm, 'passionate' support base probably felt:
Though it became clear that Corbyn himself was utterly terrible at giving high fives:
The next morning a few constituencies still needed to submit their final counts, but the results were in. The Conservatives had lost the overall majority, but still held the most seats in Parliament. When the final results came in, the Conservatives had 317 seats, Labour had 262, SNP had 35, the Lib Dems had 12, the Democratic Unionist party had 10, Sinn Féin had seven, Plaid Cymru had four, the Greens had one, and UKIP had zero. 18 seats went to candidates that fell under the 'other category'.
In the end there were a total of 642 voting MPS (minus the Commons speaker, and Sinn Féin who abstain from all votes), meaning the Conservatives were four seats short of a working majority. We can assume that Tory HQ looked a little something like this at the time:
Whereas those who had actively voted and campaigned against the Conservatives were a little:
Needless to say, critics of the Theresa May-led government (inside and outside her party) were likely rather amused with the result of the early election.
But as it turned out, the Conservatives had a plan. Norther Ireland's DUP were very anti Corbyn, and word began to spread that the Conservatives were seeking an alliance in order to form some sort of working majority.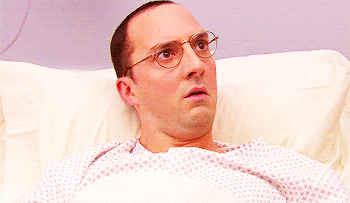 Meanwhile opposing forces weren't too happy, due to DUP's suspected ties to Unionist terror groups in Norther Ireland - as well as their perceived ultra-conservative policies.
Despite calls for her resignation, Theresa May has confirmed that she will continue as Conservative Leader and Prime Minister. Despite that there are murmurings of discontent within the party, and accusations that her government is 'toxic'. May's two top advisers have already resigned.
The only party leader to have resigned so far is UKIP's Paul Nuttall, which has led to Nigel Farage announced that he is ready to return to politics and serve as party leader again.
Meanwhile Jeremy Corbyn remains Labour leader, despite technically losing the election, and has vowed to rally the other parties together to help defeat the Conservatives in the Commons. If he's able to gain support from the SNP, Lib Dems, Plaid Cymru, and the Greens, that would produce a voting force of 314 to rival the Conservatives and DUP's 327.
That's about all we have right now. The election was only three days ago, and since then an awful lot has happened. As it stands Theresa May remains Prime Minister, and the labour party are probably feeling a lot more confident than they were two months ago. Unfortunately we aren't seers and can't see how things will turn out, so we'll just have to wait and see what the future brings.
Image: secretlondon123/Flickr