Over the last several months, SpaceX has been seriously diversifying its clientele: in May, it flew a spy satellite for the US National Reconnaissance Office (NRO). On Tuesday, the U.S. Air Force announced that in August, it'll be launching a reusable X-37B mini-space shuttle on board a Falcon 9 rocket. While some of the details are still shrouded in mystery (because the military), the USAF said it will use the launch to test some electronics and oscillating heat pipes aboard the spacecraft. Fun times!
"The ability to launch the Orbital Test Vehicle on multiple platforms will ensure a robust launch capability for our experiment designers," Randy Walden, the director of the Air Force Rapid Capabilities Office, said in a statement. "We are excited about this new partnership on creating flexible and responsive launch options and are confident in SpaceX's ability to provide safe and assured access to space for the X-37B program."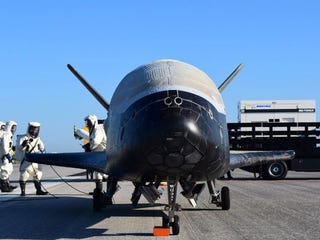 Image: U.S. Air Force
The X-37B is a nugget of a spacecraft, weighing just under five tonnes—for context, NASA's Space Shuttle weighed nearly 75 tonnes empty. On the craft's last four missions, the X-37B has been carried into Low Earth Orbit on United Launch Alliance Atlas 5 rockets, so this is quite the departure for the little guy.
Although SpaceX won contracts for two security missions with the USAF back in 2015, this X-37B launch hadn't been announced until now.
"The ability to launch the Orbital Test Vehicle on multiple platforms will ensure a robust launch capability for our experiment designers," Walden said. "We are excited about this new partnership on creating flexible and responsive launch options and are confident in SpaceX's ability to provide safe and assured access to space for the X-37B program."
Here's to tiny spaceplanes zoomin' around. [Spaceflight Now]
---
More Space Posts: