If you've ever wondered how a photographer managed to capture the exact moment of an incredible end zone reception or the instant a bird takes flight, the answer, in part, is that the photographer's camera also captured the garbage moments directly before and after that golden frame, with a very expensive camera rattling off photos at tommy gun speeds. For these professional sports and nature photographers there are two widely accepted options: The tippy top cameras from Canon and Nikon, with their big bulky bodies, incredible power, and the most advanced image sensors. Well, Sony finally has an answer to the incumbents in its A9. Not only is this full-frame, mirrorless camera smaller, lighter, and cheaper than the Nikon and Canon competition, it absolutely blows their doors off when it comes to speed.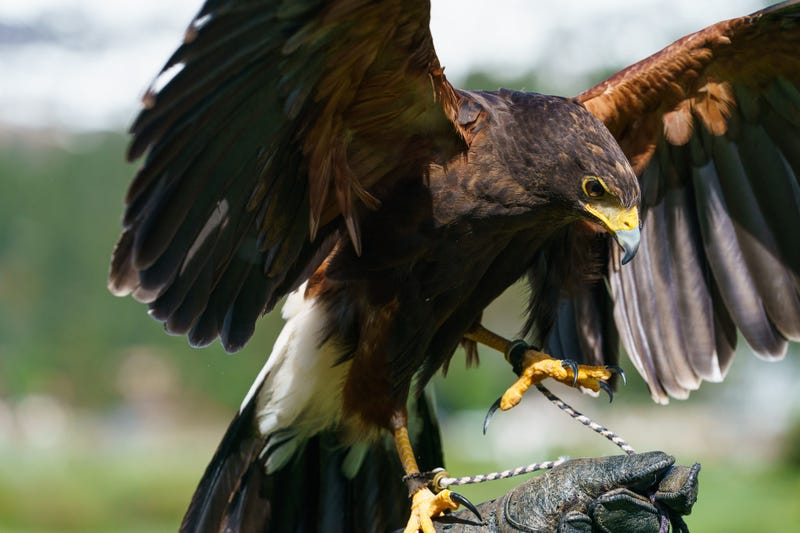 For those not entirely up on the high-end camera scene these days, here's a quick catch-up. In an arena that has been dominated by Canon and Nikon since pretty much forever, Sony's star has been on the rise. It had been making solid mirrorless cameras for a while, but when its A7 series came out a few years ago, that's when professionals really started to take notice. These were compact mirrorless cameras with sharp electronic viewfinders good enough to rival the optical eyepieces in DSLRs. They also had very sensitive full-frame image sensors that could capture beautiful photos. When we say full-frame, what we mean is a 36mm by 24mm sensor, which most closely approximates the size of the 35mm film cameras used back in the day. Basically, the bigger the sensor, the more light it can gather.
But while the A7 models and their successors could get professional results, they didn't quite have the power the most demanding photographers require. The A9 changes that. It's like the A7's track-star big brother—an undeniably pro-level shooter with a $4,500 price tag to match.
The first thing to know is that the A9 is real small. At roughly 4 inches by 5 inches by 2.5 inches and just 1.5 pounds, the A9 is only slightly bulkier than Sony's very svelte A7 series cameras. Canon's high-end sports shooter, the 1D X Mark II is 6.22 x 6.60 x 3.25 inches and weighs just under three pounds before you put it's battery in. Hell, even Canon's mid-range professional DSLR, the 5D Mark IV is substantially bigger and heavier than the A9, and the same can be said of Nikon's entries. It's amazing how much Sony has crammed into that little frame.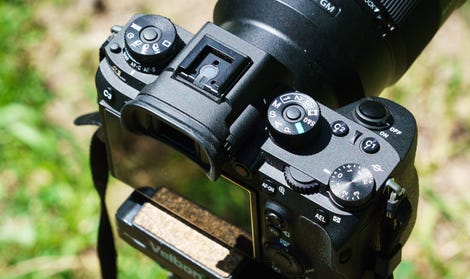 And of course, this thing is absurdly fast. It's capable of firing off full-resolution 24-megapixel JPEGs at a blistering 20 frames per second. It sounds like a Gatling gun, unless you turn the sound off, in which case it is literally silent thanks to the electronic shutter (more on that in a second). Even when shooting in RAW + JPEG mode, I was able to fire off an 8 second burst at 13.5 frames per second—that's 108 shots.
The A9 is equipped with a wide autofocus system that covers more than 90 percent of the frame. It is lightning fast and extremely accurate, even when shooting at its blistering top speeds. I tested it with running dogs and with people on a zip-line flying right at me. Even at a shallow depth-of-field (f/2.8) and while shooting 20 frames per second, the focus was recalibrated between every single shot and it was dead on nearly every time. Nothing else on the market comes close to this kind of performance. It's bananas.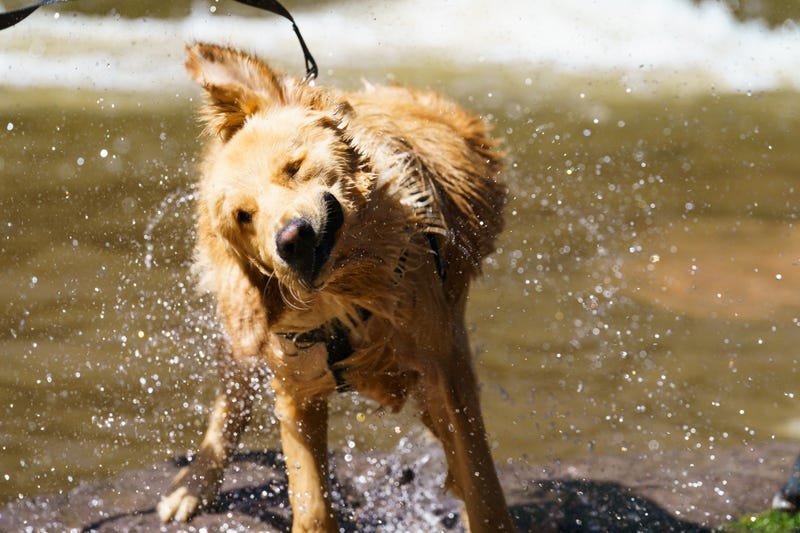 But let me try to explain what it's like to shoot with this camera. Not to get hyperbolic here, but it almost feels like you can't miss. An example: I was walking by a creek with the camera dangling off my neck, powered off. I saw a golden retriever emerge from the water and start to shake itself off. It has already started shaking before I'd hit the power button to turn the camera back on, and yet I was still able to fire off a burst of 14 shots, and in each one every hair on the dog's nose (and every water droplet flying off of it) was crystal clear. My A7S (which is by no means slow) wouldn't have even gotten a single shot off in that time. Using the A9 almost feels like cheating.
I loved shooting long-exposures with it, too. Unfortunately, there was always too much moon and too much haze for me to try a nice, clear shot of the Milky Way, but I'm confident it would excel there. I did get a handful of shots while driving down Highway 50 in Nevada (the so-called "Loneliest Road In America") that I was really happy with. The above shot was a single exposure taken with the electronic shutter around midnight. I was side-lit by the moon and backlit by an oncoming truck (relax, it was very far away). It was a 20 second exposure at ISO 800, f/2.8. Obviously, I did plenty of tweaking in Lightroom, but I use this to show you just how much dynamic range is captured in the RAW photos.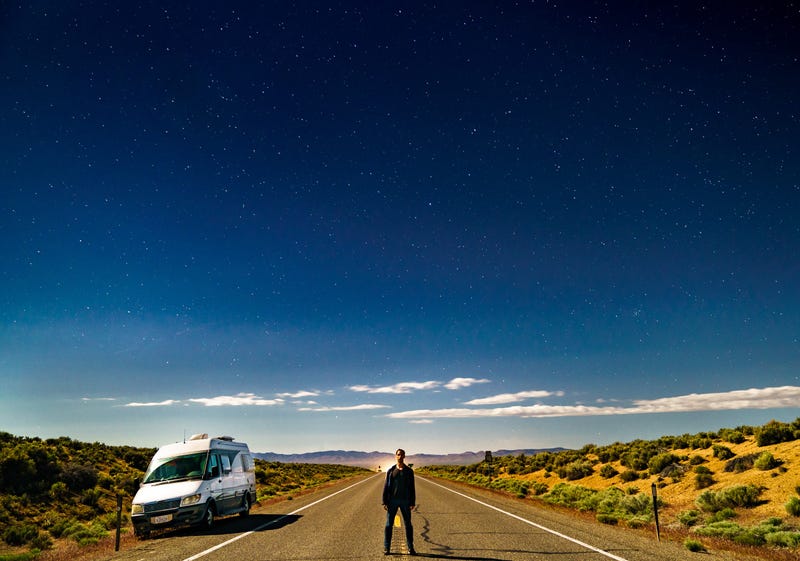 This was on Nevada Highway 50, aka the Loneliest Road in America. It's incredibly desolate so I was hoping to get a sweet shot of the milky way. The moon was way too bright, though. So, I just set up my tripod in the middle of the road, and shot a 20 second exposure. I couldn't believe how well it worked out.
In terms of low-light I find myself shocked to say it's nearly as good as the Sony A7S (which has been my main camera for the last two years). The low-light focused A7S is a hair brighter, but noise levels are nearly identical, and the A9 has twice as many megapixels to play with (24MP vs 12MP).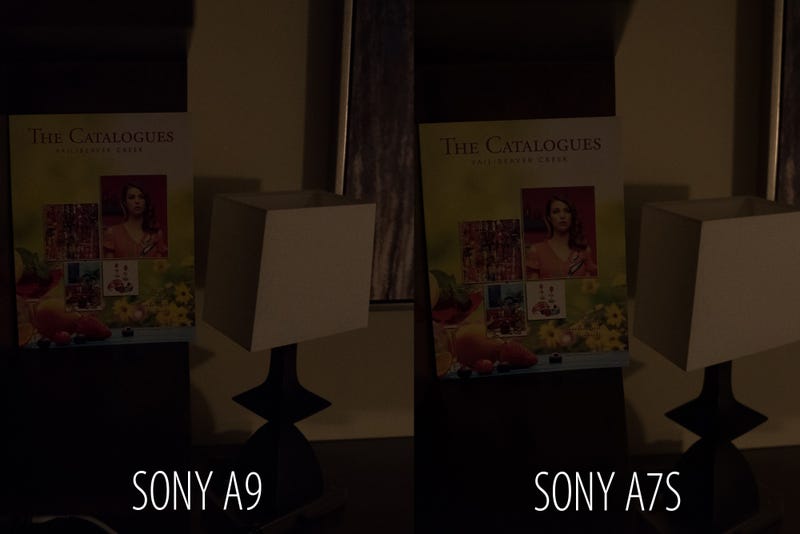 I expected the A7s to blow the A9 out of the water, because the A7s has about half the pixels on the same-sized sensor, so they're bigger and more light sensitive. But yeah, the A9 absolutely holds its own here.
Sony's image sensor does a great job of sucking up any available light even when you turn up the sensitivity that would ordinarily turn light into garbage. At ISO 6,400 there is almost no noise at all. Even ISO 25,600 is extremely usable, though you'll probably want to use some noise reduction in Lightroom. ISO 51,200 could maybe do in a pinch, but at that point things are starting to get fairly chunky. ISO 102,400 isn't the worst thing I've ever seen, but you're better off avoiding it unless you've got a rare shot at Sasquatch or something.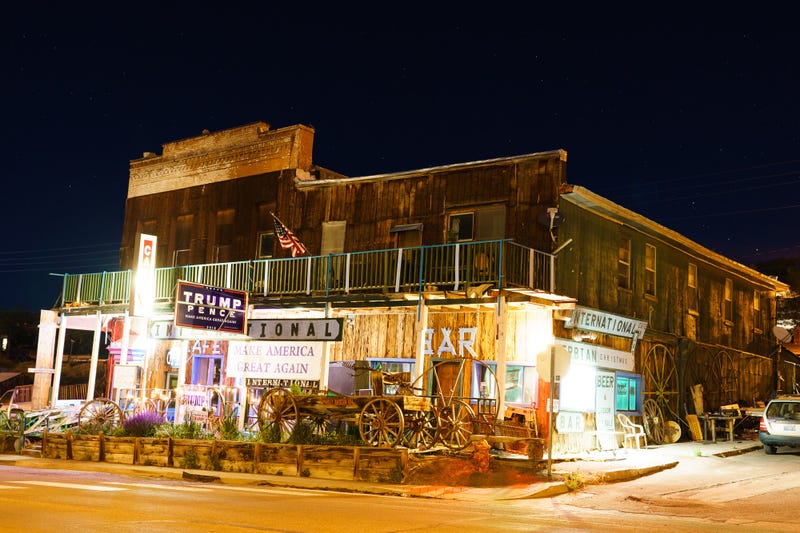 I was going to grab a drink at this legendarily terrifying dive bar in Austin, NV, but it was closed. Four second exposure at ISO 1600.
The A9 has mechanical and electric shutter options. You can manually select either, but I'd recommend leaving it in auto. When shooting a single shot or a low-speed burst (5 fps maximum) it will default to mechanical shutter, which gives you a bit more depth in your RAW images (14 bit vs 12 bit with the electronic shutter) so the images are slightly more tweakable in post. You'll also want to use the mechanical shutter if you're using an external flash (the A9 doesn't have one built in). If you're shooting medium or high speed bursts, the camera switches over to electronic shutter, which is also better for fast moving objects. When using the electronic shutter you can also shoot completely silently, which is almost eerie, but awesome.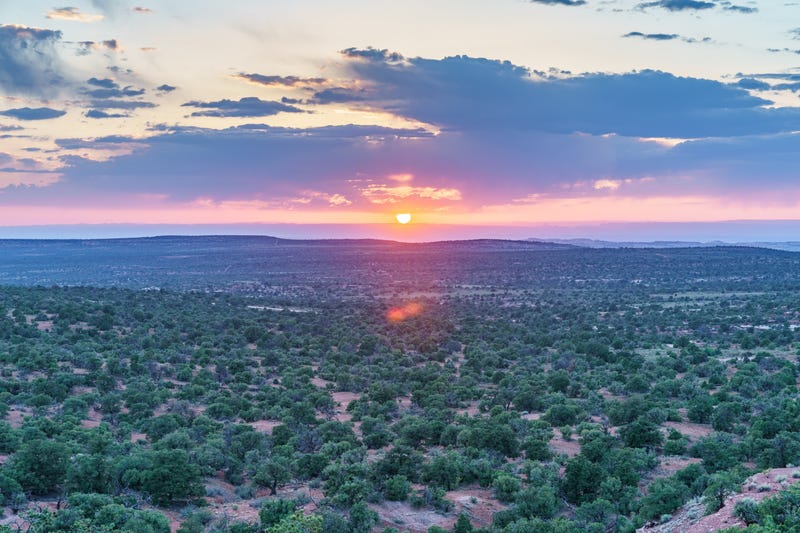 Sun setting over Moab. I used the camera's bracket feature to take three shots in rapid succession at different exposures, then I used Lightroom to automatically turn them into a single HDR (high dynamic range) photo. Did a nice job with the colors here!
The A9 does a solid job with video. It can shoot 4K at speeds of up to 30fps and 1080p at 120fps, for beautiful slo-mo shots.
I will say, my least favourite thing about the camera's design is that Sony put the video start/stop record button right next to the viewfinder. I mean, it's practically touching it. If you use your left eye in the viewfinder (as I was taught to do) your nose will absolutely, 100 percent block your access to that start/stop button, no matter how tiny your schnoz is. It's just about the worst imaginable place for that very important button to be.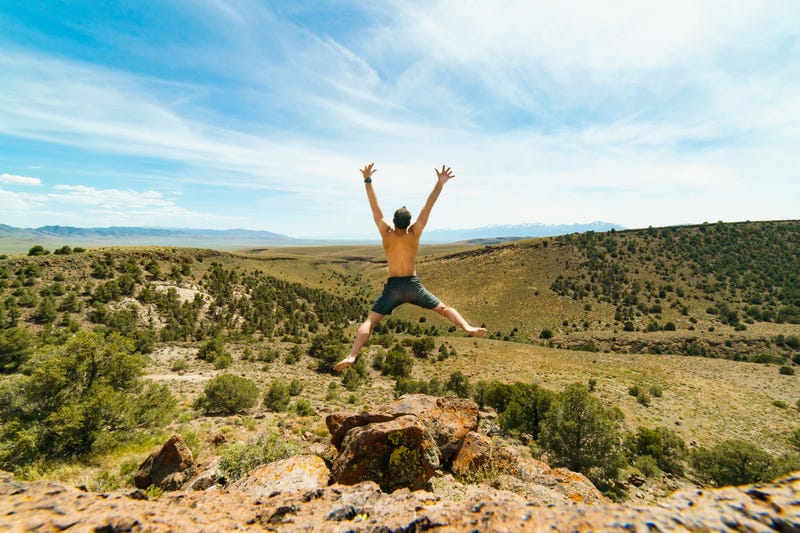 I cut the hell out of my foot getting this shot, but I think it was worth it. I was using the camera's 10 second timer, and it's tricky to get the timing just right. I ended up doing this about 10 times, and when I was done my foot was all bloody on the bottom. I superglued it closed and then put some duct tape on it to keep it clean.
There are some other annoyances, too. The A9 has two SD card slots, which is great, except for some reason only one of those slots supports UHS-II SD cards (i.e. the really high speed ones you want to be using in a professional camera). The other one is stuck at UHS-I. Also, the camera doesn't come with an external battery charger. You're supposed to just charge it with a micro USB cable. While that's a nice option to have (you can juice it up with a small solar panel or portable USB battery pack), it's crazy that a camera that costs this much doesn't come with a charger. If you're investing this much, I guess you might as well spend £90 the for the external charger, and get a few more batteries at £75 a pop. I recommend you do so begrudgingly.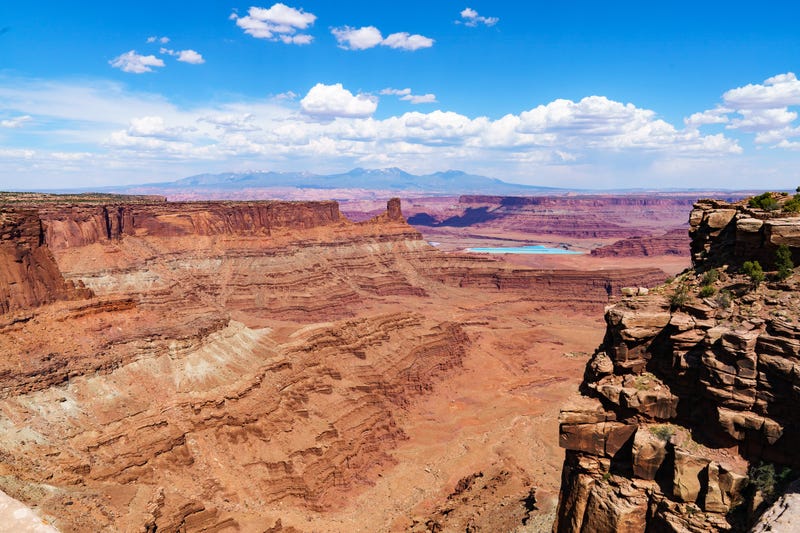 Moab, UT. Dead Horse Point State Park.
Other grievances? Sony's menu system is still extremely intimidating, to say the least. The menu is a whopping thirty-six (36!) tabs long, with up to six items per tab, and things aren't always labelled as clearly as they could be or grouped the way you think they ought to be. Also, after shooting about 18 minutes of 4K 24fps video spread out over 45 minutes, I noticed that I was getting an overheating warning on the screen. That's not good. It still allowed me to snap photos, but I'm not sure what would have happened if I kept pushing it. Other users have been complaining about this issue, and it's definitely something Sony needs to address.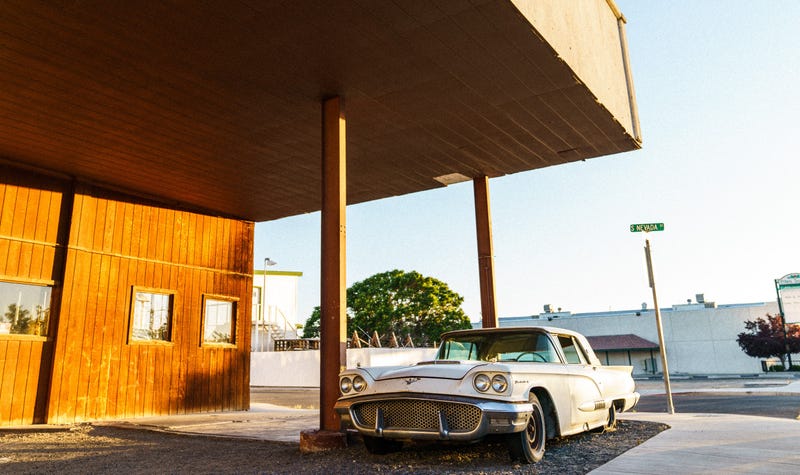 Fallon, Nevada. I was hungry, hot, and tired. So I pulled into the town of Fallon and found a dive-bar that served burgers. Met some really interesting locals and felt like I saw the pain of the town. It seemed that 1/3 of the buildings were abandoned. Anyway, this was across the street from the bar and I managed to catch it right at sunset. Almost seems like it could be another era.
So, all that being said, should you buy it? Well, do you have the need? The need for speed? If so, then you're not going to find a faster camera out there. The A9 costs £3,800 for the body alone. While that's cheaper than the Canon 1DX or the Nikon D5, unless you really, really need to be able to shoot fast-moving objects, then you're probably better off with one of Sony's A7 series cameras (get the mark II versions). These are also full-frame, mirrorless cameras that take excellent pics, they just aren't as fast. But if you're a budding sports photographer and you aren't already heavily invested in glass from another manufacturer, the Sony A9 is incredible in so many ways.
I had so much fun walking around with this little camera (and the G-lenses… oh, the G-lenses) that represented about ten grand worth of the most advanced photographic equipment that I totally cannot afford. My old A7S is feeling so slow now. Siiiigh…
README:
Unbelievable speed both in shooting and in focus.
No blackouts between shots for continuous subject tracking.
Pretty 'spensive and probably overkill for non-professionals.
Great for low-light and fast-moving subjects.
Some design annoyances.
---