For the past 12 years, the anti-whaling organisation Sea Shepherd has doggedly tracked and harassed Japanese whalers who it claims are working illegally in the Southern Ocean. Now, the group made famous by the documentary-style TV series Whale Wars says it's halting its sea-based patrols, claiming it cannot compete with the whalers and their "military grade technology."
Founded in 1977, Sea Shepherd's self-proclaimed mission is to "end the destruction of habitat and slaughter of wildlife in the world's oceans in order to conserve and protect ecosystems and species." To that end, the group deploys a number of "direct-action tactics" to investigate, document, and even confront what it deems as illegal activities on the high seas. Sea Shepherd claims to have saved thousands of whales since it began its anti-whaling operations in the Southern Ocean, but owing to the ever-increasing sophistication of Japan's whaling activities, it can no longer keep up the chase, according to a statement put out by yesterday by Sea Shepherd founder Paul Watson.
"Unfortunately, in an effort to prevent Sea Shepherd interventions, [the Japanese whalers] doubled their killing grounds which means that they have more time and more area to kill their lowered quota," said Watson. "What we discovered is that Japan is now employing military surveillance to watch Sea Shepherd ship movements in real time by satellite and if they know where our ships are at any given moment, they can easily avoid us....We cannot compete with their military grade technology."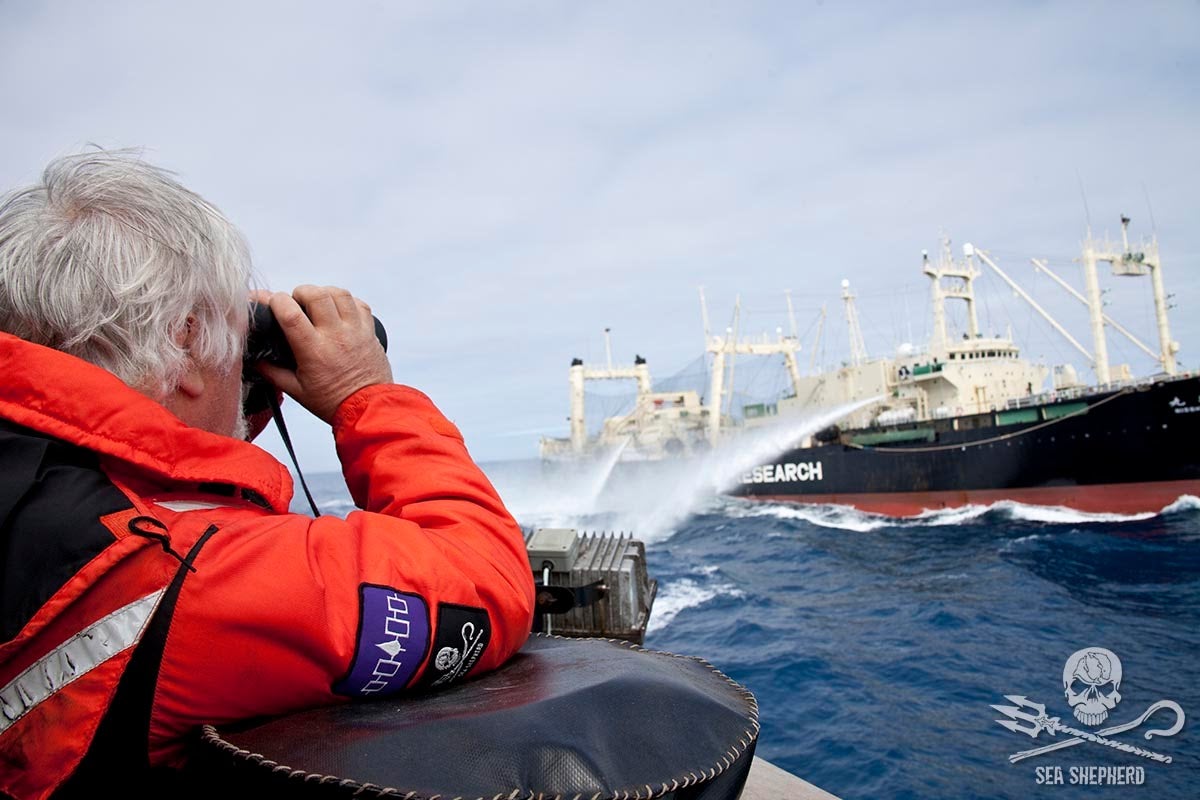 A Japanese "research" ship shoos away Sea Shepherd activists with water cannons while Paul Watson looks on. (Image: Sea Shepherd)
In 1982, the International Whaling Commission introduced a ban on commercial whaling, but scientific research was exempted. Sea Shepherd, with good reason, claims that Japan is using this exemption to justify its annual whale hunt. And indeed, a significant portion of the dead minke whales are sold, and the science gleaned from these expeditions is of no consequence. In 2014, an International Court of Justice ruling placed a temporary halt to Japan's whaling activities, saying its Antarctic whaling project is not a scientific endeavour. The prohibition lasted for one year, and Japan returned to its activities in the Southern Ocean in 2016 and 2017.
Sea Shepherd claims that Japan's whaling fleet has the "powerful backing of a major economic superpower," and that it's facing "hostile" governments in Australia, New Zealand, and the United States. Both Australia and New Zealand have denied Sea Shepherd its charitable status, making it difficult for the conservation group to raise funds. The group also claims that Australia is reneging on its promise to monitor Japanese whaling. New anti-terrorism laws, claims Watson, are "specifically designed to condemn Sea Shepherd tactics."
In response, Japan has tried to use the courts to shut down the anti-whaling campaign, claiming that the activists have rammed its ships, snared propellers with ropes, and harassed the whaling crews with paint and stink bombs. Two years back, Sea Shepherd agreed to pay out $2.55 million ( £1.97 million) to resolve civil contempt charges brought against them in a US court for attacking Japanese whaling ships.
Watson says that while Sea Shepherd's activities in the Southern Ocean have come to an end, the group is not abandoning the Southern Ocean Whale Sanctuary. "The decision we have had to face is: do we spend our limited resources on another campaign to the Southern Ocean that will have little chance of a successful intervention OR do we regroup with different strategies and tactics?" says Watson. "If something is not working the only recourse is to look for a better plan, because when a plan no longer works, the only alternative is an improved course of action."
It's not immediately clear what this new strategy might entail.
Japan's Fisheries Agency says it's sceptical of Sea Shepherd's latest announcement. "It's not clear what the real intention of their statement is and we don't know whether the organisation will stop its anti-whaling actions this year," explained an unnamed ministry official to Reuters. "We can't deny the possibility that other anti-whaling groups may take action, so we continue to closely monitor the situation and we're not making any predictions."
One thing that can be predicted, however, is Japan's next mission to the Southern Ocean. The fleet will leave its home port later this winter for Antarctic waters, and like its previous two "scientific" expeditions, the whalers will capture 333 minke whales as specified by a self-imposed quota. The Japanese whaling fleet, which goes by the Institute of Cetacean Research, is in the midst of a 12-year programme that will result in the slaughter of 4,000 whales. [Sea Shepherd, AFP, Reuters]
---
More Animals Posts: