The potential of striking gold at a charity shop can be very much dependent on where that store is located. Given NASA's Kennedy Space Center is just an hour away, a pair of college students in Orlando were lucky enough to find six vintage flight suits buried in a box at a Salvation Army shop that was going out of business.
Because the Salvation Army store was shutting down, Talia Rappa and Skyer Ashworth were able to snag the uniforms, which included a white suit worn by ground crew, and five blue suits worn by actual astronauts, for just 20 cents each — about 15p.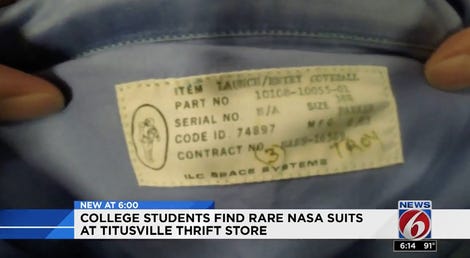 Still: ClickOrlando.com
The blue flight suits have since been verified by experts at the American Space Museum to have belonged to astronauts George Nelson, Robert A. Parker, and Charles D. Walker, who flew on shuttle missions between 1983 and 1985.
Rappa, who's studying astrophysics, and Ashworth, who will soon be starting a college aerospace program, plan to auction the suits with the help of the American Space Museum in November. Each of the blue flight suits is expected to sell for around £4,000, or even more, and the two students will donate some of the proceeds to the museum, and use the rest to pay for college. [ClickOrlando.com via Boing Boing via Vice]