German police confiscated some 5,000 orange ecstasy tablets shaped like Donald Trump's head last weekend. That's over £35,000 worth of fun drugs that European nightclub-goers will not be enjoying this August. Sad!
But seriously, the pills are really funny-looking. The design is clearly Trump's face, although it looks little bit like Trump's face mixed with the face from "The Scream" by Edvard Munch. Osnabrück Police discovered the pills during a traffic stop on Saturday in the vehicle of a 51-year-old Austrian man and his 17-year-old son along with a large but undisclosed sum of cash. The elder Austrian claimed that he and the young man were heading home from the Netherlands, where they had tried and failed to buy a car. Likely story, sure—but they might have had better luck telling the cops that the ecstasy-filled car was new, and they had no idea that it was full of drugs and money.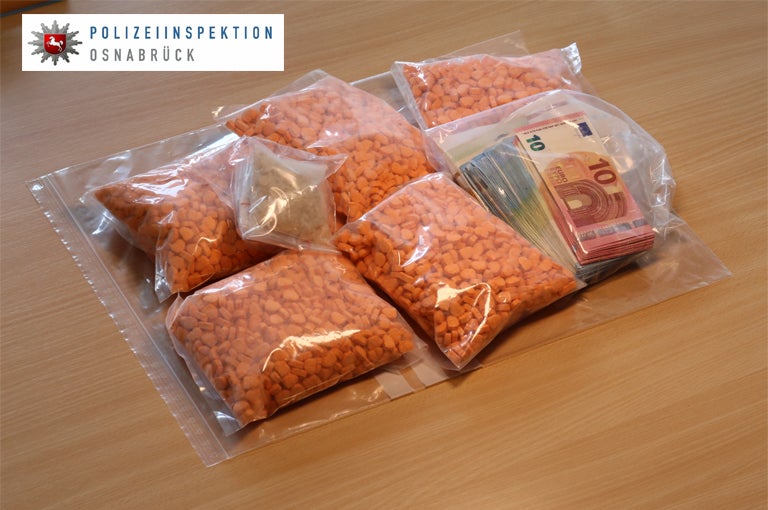 Image: Osnabrück Polizei
It now seems rather obvious that the two Austrian men picked up 5,000 ecstasy pills in the Netherlands. While Donald Trump's face is on the front of the pills, the backs are stamped "Trump" and "NL." Orange also happens to be the official colour of the Dutch Royal Family.
The two suspects remain in custody, as do the 5,000 Trump-shaped ecstasy pills. The presidential shape is already a hit amongst MDMA enthusiasts on the internet. Members of the MDMAzing community, however, have already voted the Trump visage as the best ecstasy pill design in the world. A "32GB iPhone" ecstasy tablet took second place, while third went to a square pill embossed the logo of Berghain, the most famous nightclub/sex dungeon in Germany. It's unclear if the MDMAzing community is the supreme authority on ecstasy pill design, but the user-generated images certainly are diverse.
So don't fret if you wanted to get your tongue on some Trump stuff. Popular pill designs tend to get copied in the fake smoke-filled world of ecstasy. Just be careful out there, because drugs are dangerous and illegal. The crap you buy in a nightclub toilet might also be filled with all kinds of trash that no sane human should be ingesting. But if you must experiment, don't try the Ikea ecstasy. That high-powered pill will probably land you in casualty. [Osnabrück Polizei via AP]
---
More Wtf Posts: