iOS 11 is finally available today for your iPhone and iPad, and among the many new features included in the update is Apple's ARKit framework allowing developers to more easily create augmented reality apps and experiences. Here are some of the best ones you'll want to try out after updating.
To date, augmented reality has been more of a novelty than a genuinely useful tool on your smartphone. Seeing virtual pocket monsters appear in real life certainly added to the enjoyment of Pokémon Go, but who plays that anymore? So hopefully, the same way the addition of the iTunes App Store made the original iPhone more interesting, ARKit will allow developers to help augmented reality find its true and useful calling.
---
Shopping
Browse DIY furniture with IKEA Place
Everything looks perfectly placed when you wander through IKEA's labyrinth-like showroom. But to ensure that new couch you've been eyeing will actually fit in your living room, the furniture-makers' new IKEA Place app lets you test virtual versions of its pieces in your home before they get delivered. It should also make it easier to decide on colours and finishes, and might even let you avoid battling weekend crowds at those massive Swedish warehouses altogether.
---
Confirm your dream will car will fit in your garage with Edmunds
Ensuring an IKEA couch fits in your living room isn't anywhere near as important as ensuring a brand new car will actually squeeze into your garage. So starting today, the Edmunds car shopping app will allow users in the US to scan their garage or parking spot and then place virtual versions of different vehicles inside to confirm they'll actually fit. [iTunes App Store]
---
Try a new look with ModiFace virtual beauty counter
If you're hunting for a new look that doesn't involve turning your face into a talking poop emoji, the ModiFace app will let users try on personal beauty products without having to even climb out of bed. The app creates a virtual beauty counter, similar to what you'd find in a department store, but filled with products customised to the user's preferences and likes. Users can see a specific product, such as a lipstick, applied to their headshot, and if they like the new look they can make a purchase right from the app. [ModiFace]
---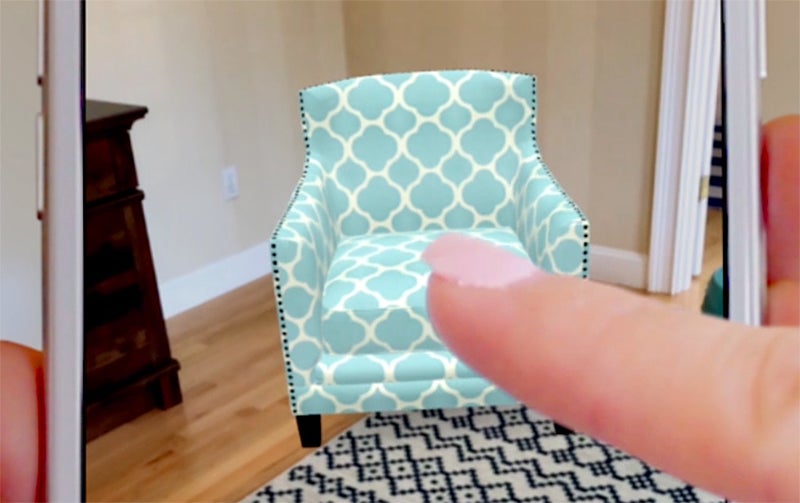 Preview a redecorated room with Wayfair
Repainting a room and replacing all the furniture and fixings to match is an expensive and arduous process. Why risk having the face-lift turn out terrible when Wayfair is finally introducing augmented reality-based 3D previews to the iOS version of its app? Everything from chairs to chandeliers can be virtually previewed in a room so you can see how they'll look against a freshly painted wall. You might even end up liking a new chair so much you'd rather repaint the wall again to match.
---
Creativity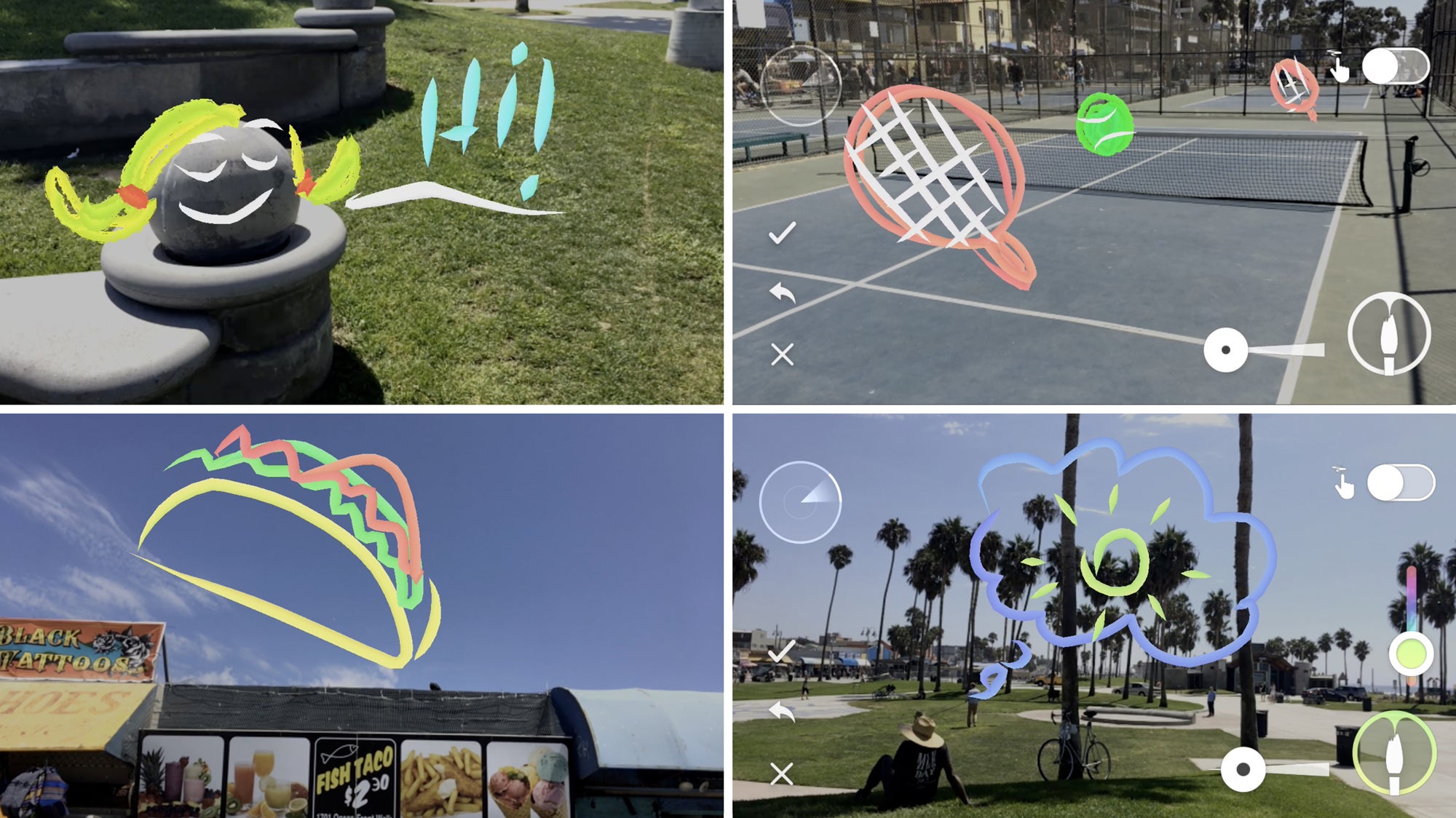 Make completely legal graffiti with World Brush painting app
Aspiring Banksys finally have a way to express their creativity by tagging buildings, parks, or anywhere on earth, without having to worry about vandalism charges. World Brush lets users create virtual paintings that are only visible to other users of the app who happen upon the location you tagged. The artworks are anonymous, but can be liked or disliked which will help the app's creators showcase impressive virtual paintings you'll need to hunt down in the real world. [World Brush]
---
Improve your architectural doodles with Morpholio Trace
The first step to renovating a room or a home is sitting down with a pen and paper and sketching out what you'd like the final results to look like. But for those of us who are artistically-challenged, Morpholio's new Trace app makes it easy to doodle architectural-quality floor maps and layouts by simply tracing overlaid perspective lines. It works on photos or a live feed from a camera, and might finally make you feel better about spending all that money on an iPad Pro and that fancy Apple Pencil.
Tools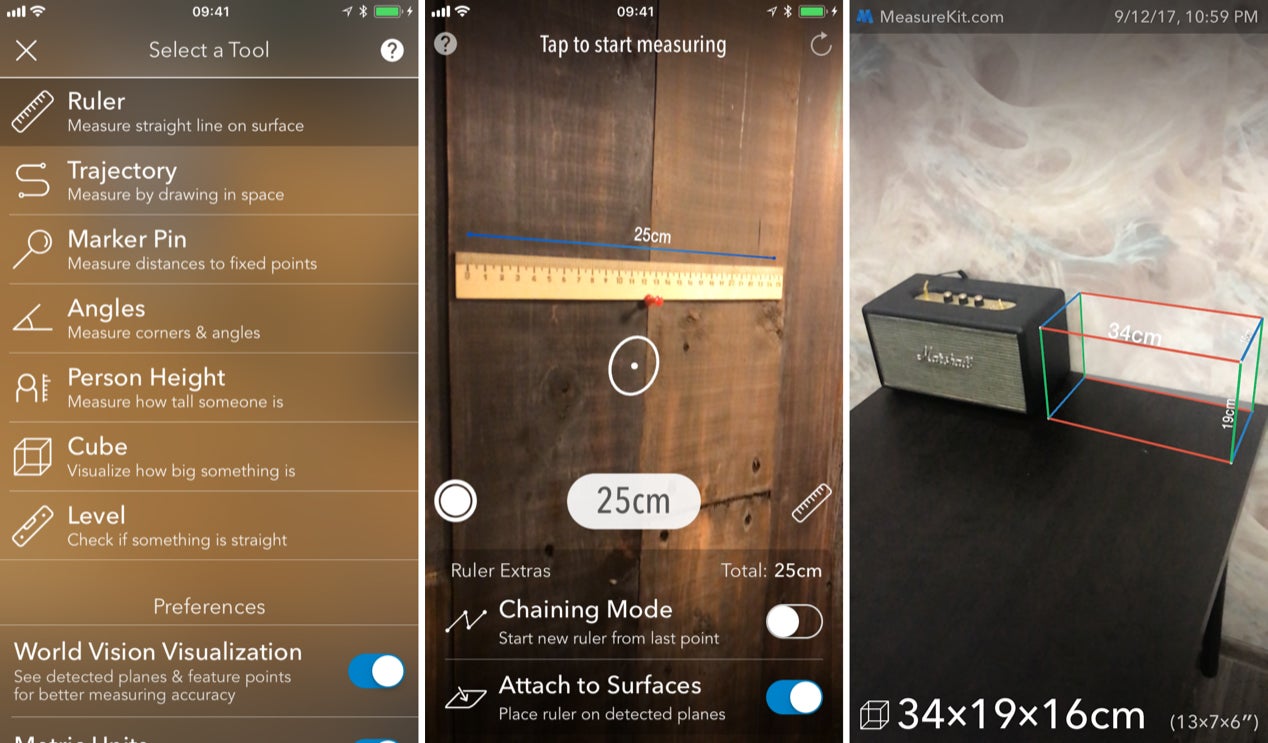 Measure small objects with MeasureKit
They won't be quite as precise or exact as grabbing a physical measuring tape, but with iOS 11 comes a bunch of new augmented reality tape measure apps, including MeasureKit, that will probably be good enough for what most users need in a pinch, but shouldn't be used to measure for drapes or anything else requiring precision. Want to make sure that new keyboard will fit on your desk, or if your child is tall enough to ride a roller coaster? Simply tapping on screen creates floating virtual anchor points that MeasureKit can use to tell you the approximate distance in-between, but also angles, levels, and trajectories. [iTunes App Store]
---
Find your lost keys with Pixie
There's an endless list of companies who make tiny Bluetooth trackers you can attach to objects so they're easier to find with the assistance of your smartphone. But Pixie's trackers will now take advantage of Apple ARKit to make it a lot easier to actually find something you've lost. Looking through your iOS device's screen you'll now see visual clues directing you to the lost object, instead of having to rely only on sound only like you're hunting for torpedoes in a submarine. [Pixie]
---
Send Star Wars-style holographic messages with Holo Messenger
Your planet doesn't necessarily have to be on the verge of destruction from a moon-sized space station to find a use for this ARKit app. Like the emergency message Princess Leia had R2-D2 deliver to Obi-Wan Kenobi, this Holo Messenger app lets you record short video clips that will be displayed as droid-projected holograms for whoever receives your message. Is it 100 times more complicated that simply calling or texting someone? Yes, but that's also why we're excited to try this one out. [Holo Messenger]
---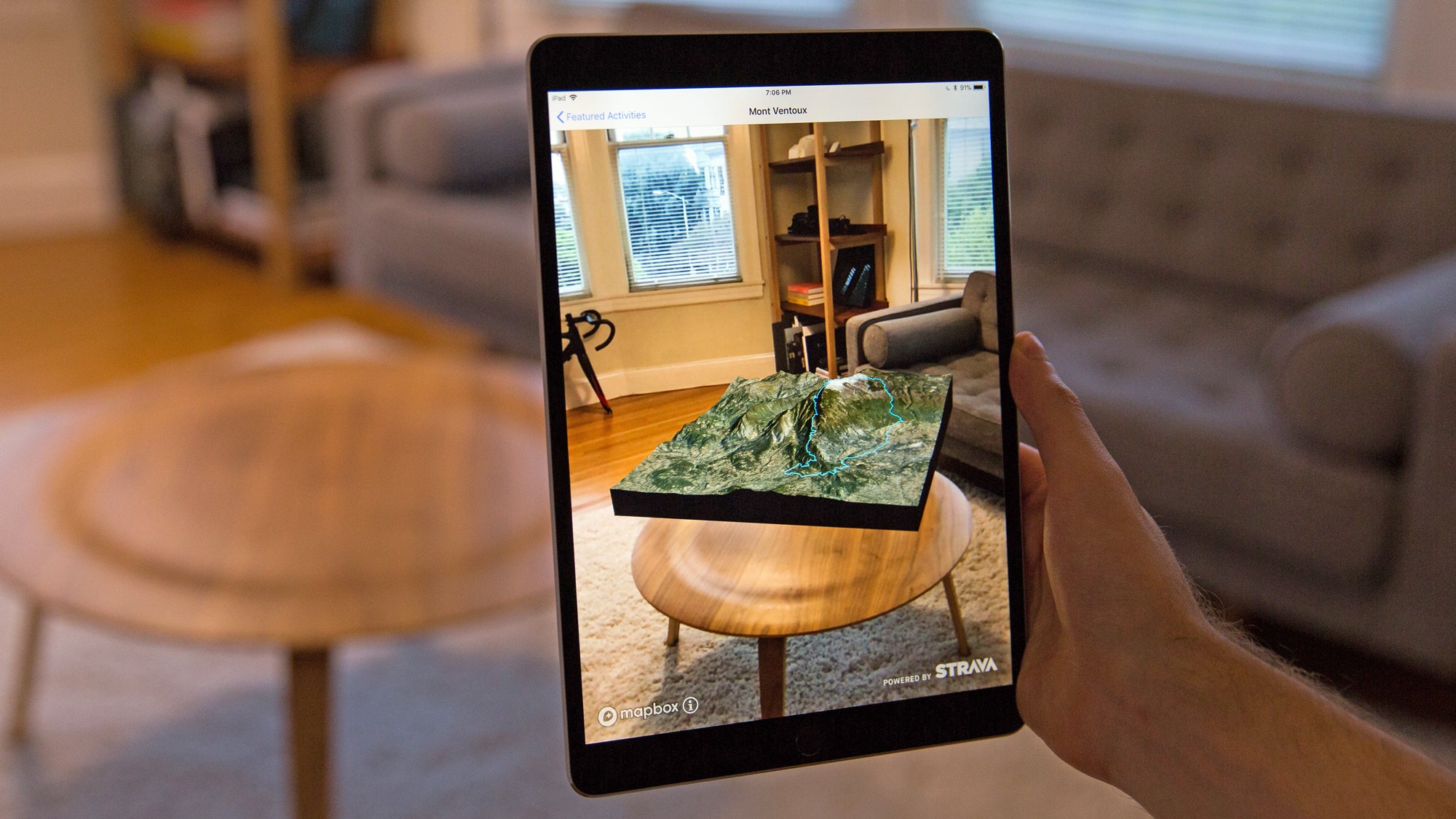 Show off your morning run with Strava Fitness AR
Smartphones, smart watches, and other wearable devices give athletes countless metrics when it comes to analysing their performances and workouts, but Strava is taking that one step further with its new Fitness AR app. Using an open source mapping platform called Mapbox and Apple's ARKit, Strava users can now visualise hiking, running, and cycling routes superimposed on 3D terrain, letting them see exactly how rigorous their workouts were. The app can also be used to virtually explore the terrain of other popular destinations, like a hike through Yosemite Valley. [Strava Fitness AR]
---
Games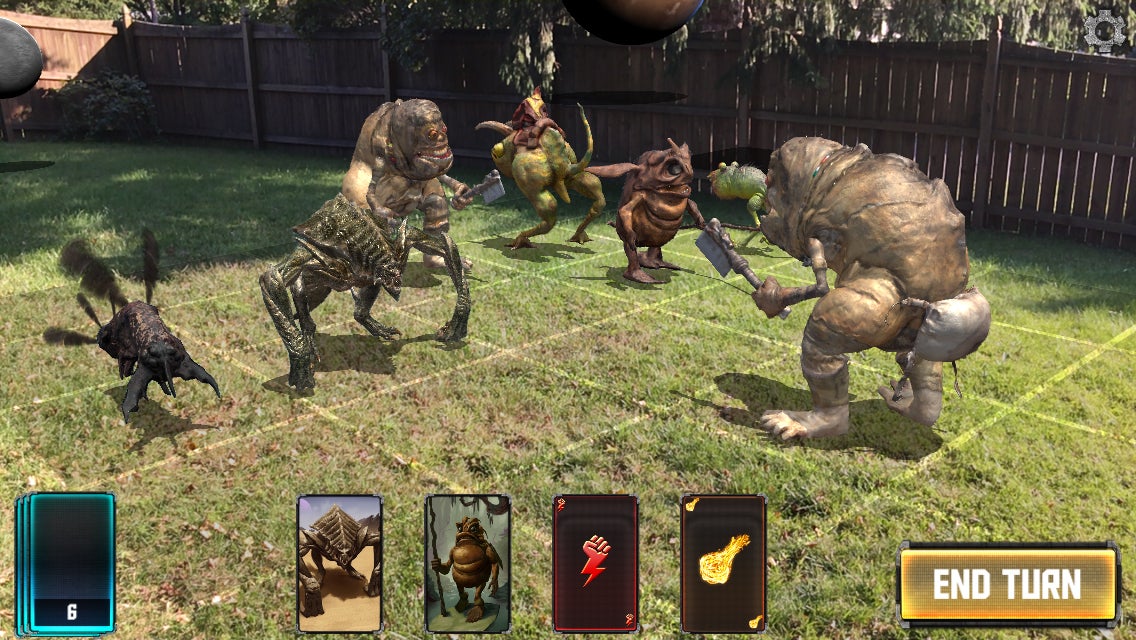 Play holographic chess with HoloGrid: Monster Battle
Remember the holographic version of chess (officially called Dejarik) C-3PO played against Chewbacca in the original Star Wars? Some of the visual effects artists responsible for that scene recently created a modern version of that game now called HoloGrid: Monster Battle. The app simulates holograms using augmented reality to place the game board in real world locations, and while previously only available on Tango-enhanced devices, it's now available on iOS devices running the latest version with Apple's ARKit improvements. [HoloGrid: Monster Battle]
---
Battle zombies with ARZombi

If there was one augmented reality iOS game that was inevitable, it would be a first-person zombie shoot-em-up. ARZombi looks like it's one of the first to deliver a satisfying experience where players try to protect their homes from hoards of slowly advancing undead humans by blasting them away with shotguns, grenades, and other weapons. You can also try to board up your doors and windows in the game to keep the zombies at bay, or just sit back, order a virtual pizza, and calmly wait for your own zombie transformation. [ARZombi]
---
Solve crimes with CS:AR
CBS' long-running forensics series doesn't need another spin off, but what makes CS:AR appealing is that you get to play the part of Grissom. The app is half crime scene investigation and half escape room, as everything you'll need to solve a case can be found in whatever room you're standing in. We're not the only ones who think that having a virtual dead body show up on your living room floor is little unsettling, right? [CS: AR]
---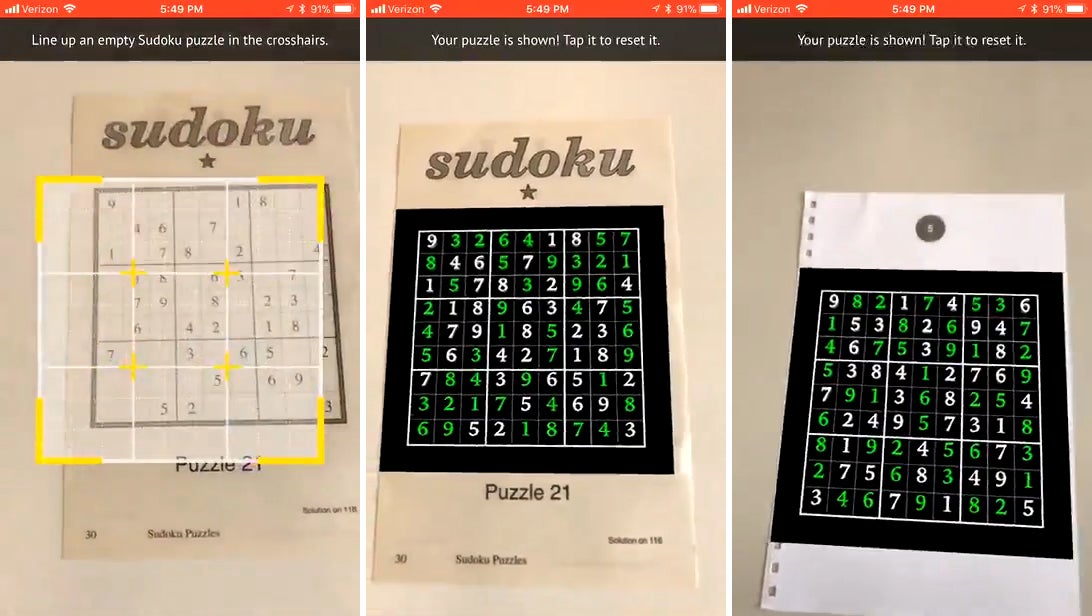 Solve Sudoku puzzles right on the page with Magic Sudoku
There's no shortage of Sudoku-solving apps on the iTunes App Store, but there's even more novelty to be had when it comes to cheating in augmented reality. Not only does Magic Sudoku figure out where all the missing numbers go, it displays the results mapped directly onto the puzzle you're working on. Let's hope there's a crossword version next so you can impress your friends with solved screenshots of the New York Times' latest mind melter. [Magic Sudoku]
---
More Apple Posts: