You know the old adage, "it's what's on the inside that counts." That's just what GoPro is banking on with its new flagship camera, the £499 Hero6. Physically, it looks identical to last year's Hero5 Black, and that's not a bad thing. Under the hood, though, there's a hell of a lot more power.
For starters, it's the first time GoPro has developed and used its own specialised processor, the GP1, which sounds like it packs a punch. In fact, it doubles the frame-rates of the Hero5 Black; it shoots 4K at 60fps and 1080p at a whopping 240fps. Practically speaking, that means you can play back your 4K footage at 40 per cent speed (if your final edit is at 24fps) and it will be nice and smooth. I'm more interested in the 10x slow-motion at 1080p, though—you can do some amazing stuff with that. It can also shoot 2.7K at 120fps, which should mean solid slo-mo with the ability to punch in or use additional stabilising software in your editing rig.
Speaking of stabilisation, GoPro says the Hero6 has the most advanced stabilisation of any of its cameras yet, but it's still electronic image stabilisation, not optical image stabilisation. Electronic stabilisation typically costs you a little bit of image quality, but the Hero6 can shoot 4K in a squarer 4:3 ratio (think your old tube TV), so it's possible that it could use that oversampling for stabilisation at standard 16:9 video, which would mean it wouldn't lose quality. Or as much, anyway. GoPro says it's three-axis stabilisation, which would use info from the accelerometer and gyroscope to correct the footage. We'll have to see how it looks. Currently, the only action cam that uses optical image stabilisation is the Sony Action Cam X3000R, which did a killer job stabilising 4K video without any drop in quality. It would be a feat if the Hero6 can match it.
GoPro claims the camera has improved dynamic range and low-light performance. I've actually always found the dynamic range on GoPros to be surprisingly good, so I'm definitely keen to see if it handles backlighting even better than before. The Hero cameras have never been known for their low-light prowess, so this is definitely a place where it can improve. The Hero6 will feature a digital "Touch Zoom," which I suspect will result in some quality loss, but it may be just what you need for a quick Instagram shot. There's also RAW and HDR photo modes.
The new camera also promises faster wireless transfer speeds via 5GHz wi-fi, which will be a big factor for GoPro's Quik app to automatically generate edits for you. GoPro claims its Quik Stories feature will now use "computer vision and machine learning" thanks to the GP1 chip, as well as more advanced sensor data, so it may be smarter about selecting the best bits from your clips. I tried the Quik Stories feature when it first came out in late spring, and I found that it struggled to select the best parts of my clips. If it actually improves here, it would be a big step.
Other than that, the Hero6 looks to be much the same as the Hero5 Black—still waterproof down to 33 feet without a case, still has that bright touchscreen on the back, still voice-controllable, still compatible with a gillion mounts, and it's available today. The Hero5 has been my go-to action camera for the last year, so I'm not mad that this seems to be, essentially, the same camera, just with more horsepower.
Fusion and Karma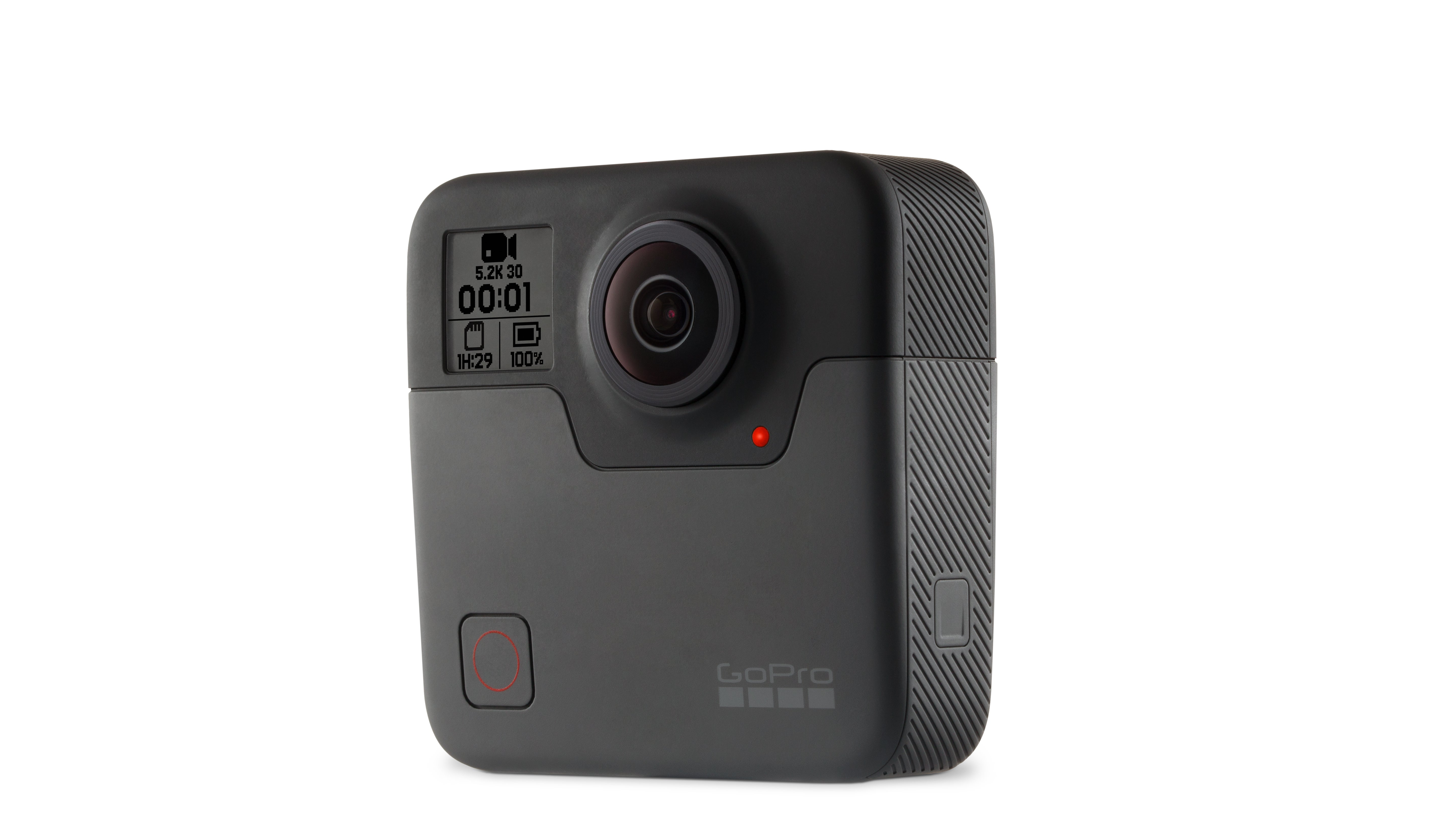 We got a couple updates on some of GoPro's other products, too. For starters, the Fusion, GoPro's first 360-degree spherical camera, is finally coming out and will cost £699. It starts shipping in November.
For those not up to speed on it, the Fusion is a dual lens camera that automatically stitches two extreme wide-angle shots together to make a spherical image which can be viewed in VR or scrolled through with your mouse or phone like a live-action Google StreetView. There are already several high-end and low-end players in the market (including Garmin's very nice Virb 360), but this is the first entrant from the most recognisable name in action cameras. It's been teased since the spring, but now it appears that it's finally here.
The Fusion is basically a tall, flat square, roughly three inches tall, three inches wide, and one inch thick. It doesn't seem particularly aerodynamic (or more importantly, hydrodynamic), but from the footage I've seen so far it shoots high-quality stuff. It's light enough to be easily handheld (and it has solid image stabilisation), but it also works with just about every one of GoPro's mounts, so it can be worn or mounted on whatever. It has 360-degree audio, which sounds pretty good, and it does a really solid job of stitching footage without big, ugly seams.
We already knew it would be waterproof, but now we have a number for just how waterproof: 16 feet. That's a bit disappointing. I regularly go deeper than that when I'm free-diving with a mask and snorkel, and I'm worried about how it will fare during a big wipeout while surfing. Even if it doesn't get pushed deeper than 16 feet, a wave can impart a lot of additional pressure. It shoots video up 5.2K resolution at 30fps and it takes 18MP spherical stills. It has voice control, GPS, Accelerometer, Gyroscope, Compass, wi-fi, and Bluetooth.
Fusion also features a mode called OverCapture, which basically lets you shoot spherical video and then pop out a 1080p frame and play director afterwards. You can zoom in and out, tilt and pan, and even do crazy bullet-time effects. There's the Angel View perspective, which is when a camera is mounted on an extension pole it crops out the pole so it looks like the camera is floating in front of you. There's also Tiny Planet, which allows you to create a little sphere of the whole 360 perspective. It looks incredible. We saw a skater create a video of himself by simply putting the Fusion in the middle of a dry pool, skating all around it, and then he was able to make a fluid video where the shot followed him flawlessly. You'll apparently be able to do that all from the mobile app, but that won't be rolling out until an update coming early 2018.
Obviously the Hero6 is the star of the show here, with its new chip and super slo-mo capabilities. I'm going to spend the rest of the day running around San Francisco and crashing into things with it, so look for our hands-on report later.
GoPro's Karma drone gets some upgraded smarts, too. It now (finally) has a Follow mode, which will follow the remote control via GPS (in contrast, DJI's drones use a visual follow mode), and a Watch mode, which will keep the drone in one place but have it turn side to side to follow you (again, via the remote's GPS). Having to keep the remote with you isn't totally ideal (it's kinda big), but it's better than no follow mode at all. We'll see how it works.
Karma's gimbal can also now look upwards, which is maybe cool. And lastly its Cable Cam mode now lets you set up to 10 waypoints for more complex shots. These will all be unlocked via a firmware update rolling out today.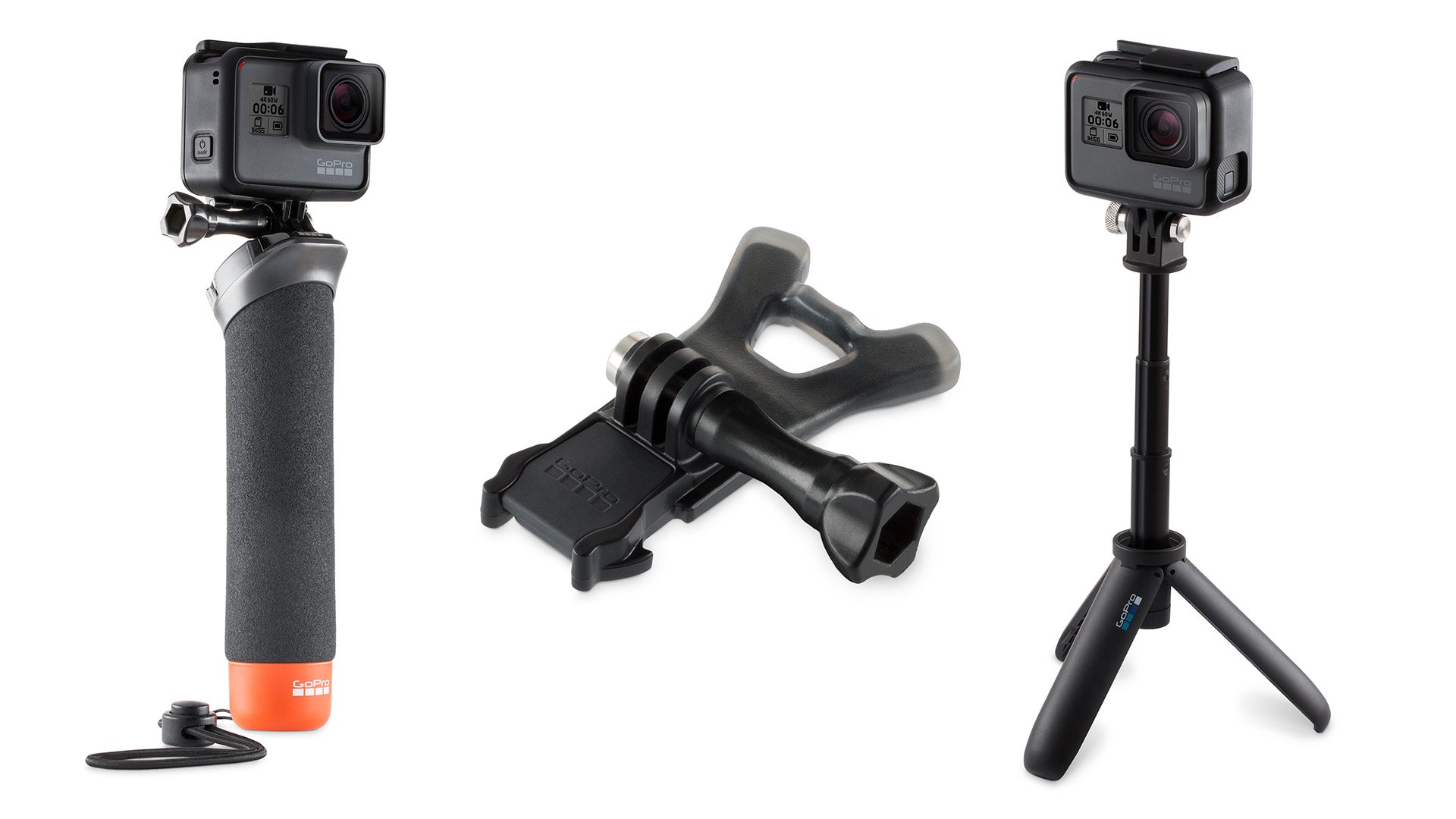 New Mounts
There are also a few new mounts. The Shorty (right) is a pocket-sized extendable pole and tripod. Looks kinda cute. The Bite mount is something that's made primarily for the surf crowd. It has a standard mount clip so you can attach it to your board, but then it has a rubber bite plate so you can put it in your mouth for a quick POV shot. Dental insurance not included. There's also a new floating hand-grip called the Handler.
Obviously the Hero6 is the star of the show here, with its new chip and super slo-mo capabilities. I'm going to spend the rest of the day running around San Francisco and crashing into things with it.
---
Brent Rose is a freelance writer, actor, and filmmaker, currently travelling the U.S. living in a high-tech van, looking for stories to tell. Follow his adventures on Instagram, Twitter, Facebook, and at ConnectedStates.com