Hurricane Irma is now expected to swing west, regain power and rake the state's west coast on its way north, the National Hurricane Center said on Saturday.
"On the forecast track, the core of Irma will continue to move near or over the north coast of Cuba this afternoon, and will reach the Florida Keys Sunday morning," the NHC wrote on Saturday. "The hurricane is expected to move along or near the southwest coast of Florida Sunday afternoon."
"Maximum sustained winds are near 125 mph with higher gusts," it added. "... Irma is forecast to restrengthen once it moves away from Cuba, and Irma is expected to remain a powerful hurricane as it approaches Florida."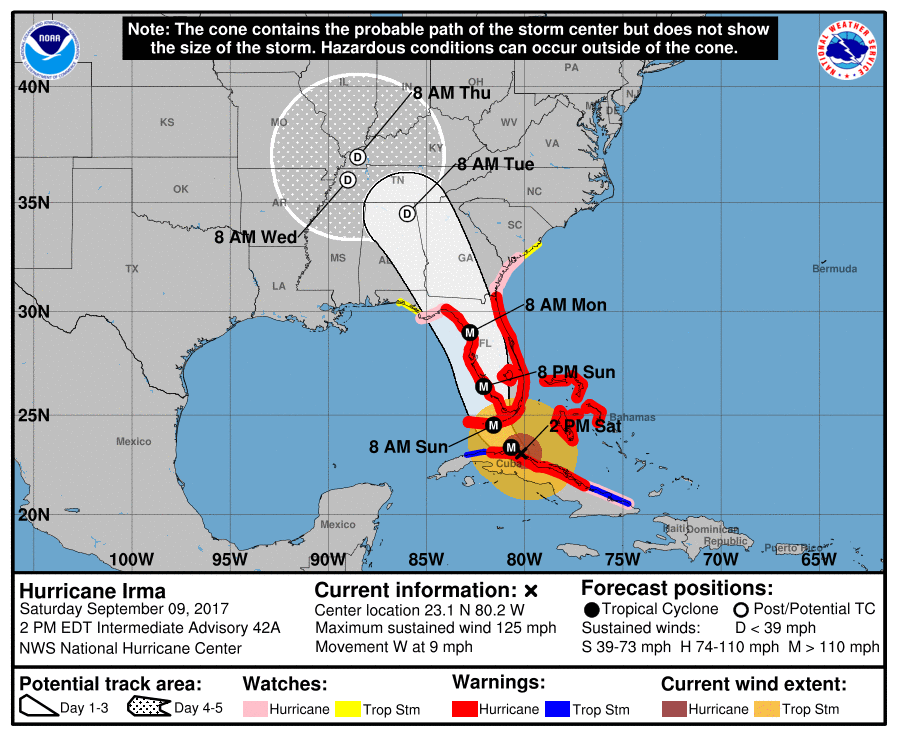 Image: National Hurricane Center
While the storm's eye wall is projected to make landfall today, the NHC cautioned Irma's huge size puts people and property at risk in a radius extending hundreds of miles.
"Hurricane-force winds extend outward up to 70 miles from the centre and tropical-storm-force winds extend outward up to 195 miles," it added. Storm surge of 10 to 15 feet is expected in parts of southern Florida, with four to 10 feet projected north of Florida's tip.
On Friday evening, the National Weather Service's Key West division warned that the storm was "as real as it gets" and begged locals in the islands to leave, saying "nowhere in the Florida Keys will be safe."
***THIS IS AS REAL AS IT GETS***

***NOWHERE IN THE FLORIDA KEYS WILL BE SAFE***

***YOU STILL HAVE TIME TO EVACUATE***

Please RT. #Irma pic.twitter.com/VWLMEDWoUs

— NWS Key West (@NWSKeyWest) September 8, 2017
By Saturday afternoon, Irma's ominous eye was visible on the weather centre's radar.
The center of Irma is now fully visible from @NWSKeyWest's radar. pic.twitter.com/hI227zDf2q

— Taylor Trogdon (@TTrogdon) September 9, 2017
News coverage is virtually universally emphasising that Florida residents are rapidly running out of time to evacuate or prepare—and for those in the southwest, it is likely already too late. Since the storm was originally projected to head up the east coast near the heavily urbanised Miami-Ft. Lauderdale-West Palm Beach corridor, many on the west coast believed the worst would pass them by and declined to leave.
Tampa may take a direct hit, its first brush with such a massive storm in nearly a century, according to the Associated Press.
"For five days, we were told it was going to be on the east coast, and then 24 hours before it hits, we're now told it's coming up the west coast," 52-year-old entrepreneur Jeff Beerbohm told the AP. "As usual, the weatherman, I don't know why they're paid."
Approximately 6.3 million Floridians were under mandatory evacuation orders, CNN reported, resulting in massive traffic on the highways leading north from the southernmost parts of the state. Those who took to the road now could find road closures, shut-down businesses and worsening storm conditions that may impede their ability to leave.
"Drivers need to be aware of changing weather conditions," state transportation director Mike Dew told the Herald Times. "... As tropical storm force winds approach, it's going to start to be unsafe out there, so pay very close attention and make sure you have a plan before you leave."
Florida Gov. Rick Scott warned those staying behind could be left without emergency assistance from authorities, saying "This is a deadly storm and our state has never seen anything like it ... Once the storm starts, law enforcement cannot save you."
The Florida Keys are deserted, NWS Key West manager William South wrote in the Washington Post, with businesses boarded up and hospitals shut down.
"This will be a devastating storm for central Florida, Tampa, Fort Myers, Naples (and) all the way down to Key West," CNN meteorologist Chad Myers said.
Miami may not take a direct hit, but conditions there could get very bad. Worries grew over the weekend about the city's massive construction cranes, which are designed to withstand wind at 145 mph but could see gusts north of 180 mph. Some of the cranes have had their locks released to spin freely in the wind, in hopes that will reduce the chance of one being knocked over.
This large construction crane in Miami spins in the wind as gusts from Hurricane Irma continue to increase https://t.co/9RdJyMW9nl pic.twitter.com/QoZ0eIRMRx

— CNN (@CNN) September 9, 2017
On the southern tip of Florida, locals who stayed behind took selfies and jokes near a giant sign. But soon left as sprays a dozen or more feet high wracked the shore.
Well here's a live stream of the hurricane coming ashore, and the people standing there to watch it happen: https://t.co/HAzDCBF3cA

— David Wong (@JohnDiesattheEn) September 9, 2017