This month has been marked with a staggering number of geological and meteorological catastrophes. Powerful hurricanes have pummelled the Gulf of Mexico and the Caribbean, and a spate of earthquake events rocked Mexico. Now, geologists worry that seismic activity in Indonesia will lead to a powerful volcanic eruption.
A 10,000-foot peak on the Indonesian island of Bali has begun rumbling and quaking. The volcano, Mount Agung, erupted back in 1963 and claimed over a thousand lives. Residents and visitors to the popular destination have begun to flee ahead of the seemingly impending disaster—the Associated Press reports that evacuations have hit nearly 50,000.
Volcanic earthquakes began on August 10, according to the Smithsonian. The Center for Volcanology and Geological Hazard Mitigation (PVMBG) in Indonesia created a 3-kilometre exclusion zone surrounding Agung in the weeks that followed, which eventually increased to 6, then 7.5, and now 12 kilometres (7.5 miles). The active volcano is 72 kilometres (45 miles) away from Bali's tourist destination, Kuta, reports the AP.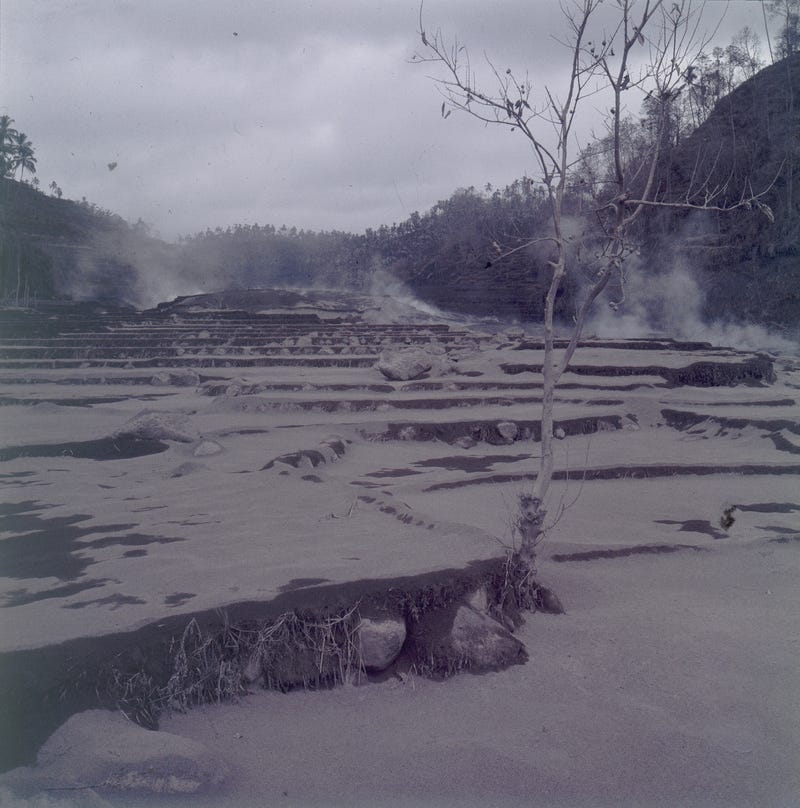 The aftermath of the 1963 eruption (AP)
Agung's 1963 eruption was catastrophic—its staggering death toll came from pyroclastic flows, 400 to 1,000 degree Fahrenheit clouds of gas, rock, and lava moving at speeds faster than 50 miles an hour that buried and burned everything in their path. Pyroclastic flows accompanied the Mount St. Helens eruption and buried the city of Pompeii. Agung's 1963 blast also brought lahars, mudslides from water mixing with the volcanic material.
The 1963 eruption disrupted air traffic and sent gas into the atmosphere, temporarily lowering the global average atmospheric temperature by between .01 and 0.4 degrees Celsius, Australian National University geologist emeritus Richard John Arculus wrote in The Conversation.
Arculus added that technological improvements have greatly improved seismologists' ability to predict volcanic eruptions. " A primary line of evidence is the frequency and locations of earthquakes beneath the volcano, caused by upward flowing magma," he wrote.
United States Geological Survey geophysicist Michael Poland explained to Gizmodo via email that "predicting eruptions is a significant challenge. We can certainly detect the onset of unrest at a volcano, and track changes in that unrest over time. The increase in seismicity there is easy to chart and points to a volcano that is showing some of the classic indicators of a system that is about to erupt. The timing and style of potential future eruptions, however, remains quite difficult to forecast." It's possible that Agung will go back to sleep, and there are examples in history of these alerts being false alarms. Volcanology is getting better at predicting eruptions, but it's still not an exact science.
Of course, "Because of the high population density in Indonesia, most volcanoes there have the potential to cause significant loss of life and property," he said. At this point, we have to wait and see what happens. But based on the evacuations, and the past experiences of a nation accustomed to volcanism given its location on the geologically-active Pacific Ring-Of-Fire, there's definitely cause for worry. [AP]