Unless they're trying to intentionally bury some news, most tech companies know by now to get out of the way whenever Apple hosts an event. However, it seems Qualcomm was feeling a little lonely and maybe a bit unloved, so it decided to go ahead and publish a blog post listing all sorts of "Android firsts" today, which we can only guess was an effort to remind people that Qualcomm still exists.
But the funny thing about all this is that, despite having a helping hand in bringing about many of these innovations, a lot of the Android firsts that Qualcomm listed look off—or potentially just plain wrong. Even worse: Apparently an earlier version of the page had even more inaccuracies, and despite putting up a revised chart, there are still a lot of entries that aren't quite right.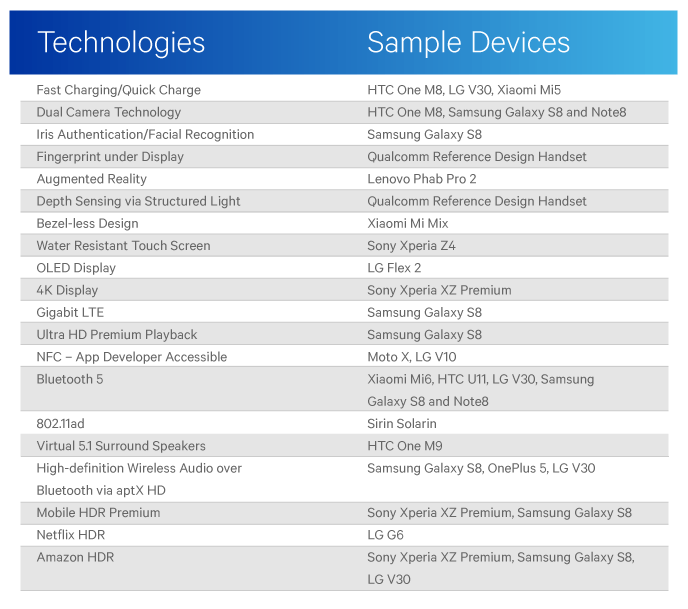 Image: Qualcomm
The first thing that jumps out are listings for "Fingerprint under Display" and "Depth Sensing Via Structured light," which are attributed to Qualcomm reference design handsets (AKA tech demos). Neither of these technologies have made it to consumer devices yet, which makes it a bit awkward for Qualcomm to claim them as Android firsts.
Then there's the listing for the first water-resistant touch screen, which is attributed to the Xperia Z4. That's kind of odd, because the Z4 only existed in Japan (it was called the Z3+ everywhere else), and it wasn't any more water resistant than the Xperia Z3 or Xperia Z2 that came before it. Then you throw in the fact that Sony just settled a class-action lawsuit about how waterproof its phones actually were, and you really have to wonder if that phone was the right handset to highlight.
Even the entry for bezel-less phones is odd. The Xiaomi Mi Mix is certainly a pretty sleek phone, but its bezels aren't actually that much smaller than Sharp's Aquos Crystal, which also ran Android and came out almost two years earlier. If you're going to make a list of firsts, you better get it right.
All the categories for Mobile HDR, Netflix HDR, and Amazon HDR are pretty silly too; they are all just different flavours of the same thing. At this point, you might as well starting naming paint colours that had never been seen before. Hey, I'm pretty sure the Galaxy S8 was the first phone to come in orchid grey! Why don't we add that one to the list, too.
Or maybe this is all just a cheap shot at Apple while the two companies battle it out in court over multiple licensing and patent disputes. Look, Qualcomm, you are a multi-billion pound company that holds many of the patents essential to modern phones and telecommunication. No one is going to forget you exist, or how you contributed to technology, but can't share you the spotlight with someone else for a day? [9to5 Mac]
---
More Gadgets Posts: