It might look the same, but the latest smartwatch from Apple sounds like it will be a lot more powerful. Today, at an event held in the brand new Steve Jobs Theater on the soon to open Apple Campus, Jeff Williams, Chief Operating Officer at Apple showed off the Apple Watch Series 3, which features a new processor that should make it faster and more power efficient, but, more crucial, mobile connectivity.
The latter is considered a major boon, as with mobile support the new Apple Watch will not need a phone in order to pull off crucial smartwatch tasks like texts, voice calls, and weather forecasts. The new connectivity should also allow the Series 3 to do things like allow wearers to chuck the phone and navigate via Apple Maps, listen to music on one's wireless headphones, or even order takeaway.
Most smartwatches with mobile support are huge thanks to the need to pack in antennas and other necessary components, but the Series 3 will be the same size as the Series 2. That's accomplished by doing cool things like making the whole display the antenna.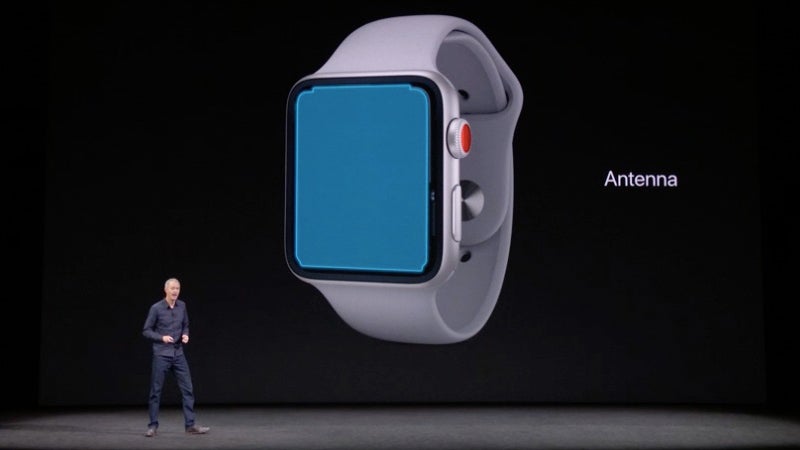 LTE has previously been excluded from Apple wearable for alleged battery reasons. A little antenna constantly calling into the ethers for data will drain a device that already has only 24-48 hours of solid use. The new processor, plus a rumoured change to the Apple Watch's display supposedly finally made the LTE Apple Watch possible.
Besides mobile support, the Series 3 has a new processor with a claimed 70 per cent improvement in speed. It also includes the new W2 wireless chip. Apple introduced the W1 last year in its Earpods and other headphones from Beats, and was a huge improvement over Bluetooth in other devices, the W2 might double down on those advances. Apple has also introduced a new grey color in ceramic, and a bunch of new bands.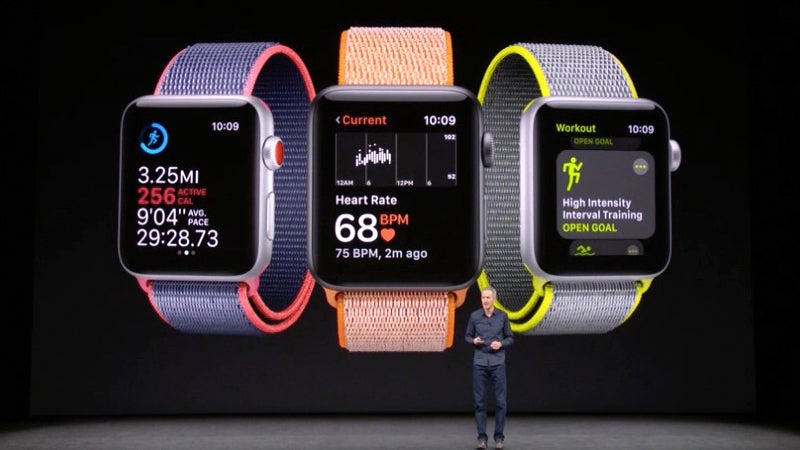 The Apple Watch is available in two different case sizes, 38mm and 42mm. Pricing starts at £329:
Apple Watch Series 3 (GPS only) will be available in gold, silver or space grey aluminium cases with a Sport Band starting at £329.
Apple Watch Series 3 (GPS + Cellular) will be available in gold, silver or space grey aluminium, or silver or space black stainless steel paired with a variety of bands starting at £399.
Apple Watch Nike+ starts at £329.
Apple Watch Edition in grey or white ceramic will be available starting at £1,299.
For the fashionistas, Apple Watch Hermès starts at £1,149.
Meanwhile, the Apple Watch Series 1 is available in silver or space grey aluminium cases paired with a Sport Band starting at just £249.
And Apple is going to need a cool factor if it hopes to fend off Fitbit, who is launching its own smartwatch, the Ionic, next month. While that watch won't have LTE it will have nearly a week of battery life.
---
Everything Else From Apple's iPhone X Reveal Event