Google just revealed the worst kept secret of the past few weeks, showing off the Pixel 2 and the Pixel XL. No surprises here really, but let's see what they have to offer.
First thing is that there are two phone, which isn't a surprise. There's the 5-inch Pixel 2 and the 6-inch Pixel 2 XL The Pixel 2 is Full HD POLED, while the Pixel 2 XL is QHD POLED. It's not quite bezel free, but it's not too bad considering how phones used to be the phone looks quite nice. It still supports the same 18:9 aspect ratio supported by the likes of the Galaxy Note 8.
Both phones come with Oreo straight out of the box, naturally, with a Qualcomm Snapdragon 835 processor, 4GB of RAM, and a choice of 64G or 128G of storage. Presumably that storage won't be expendable, because Google hates microSD cards.
The body is mostly aluminium, though both phones retain the visor from last year's Pixel phones. That's that dark strip on the back, made from glass. Google proudly boasted about how that glass is curved to make it meld into the rest of the body. Looking from this angle and there are no major surprises. The fingerprint scanner is in the same place, though the power button now has a special colour, which is designed to be playful.
As everyone has expected for ages, the Pixel 2 is ditching the headphone jack in favour of USB-C. As was the case with the iPhone 7, Google is throwing a USB-C to 3.5mm adaptor in the box so you can continue to use your old headphones. No word on any adaptors that have 3.5mm and a second USB-C just yet.
Also in there are front-facing stereo speakers, Bluetooth 5 support, and IP68 water resistance. Also in there was a feature pinched from HTC, letting you squeeze the phone to open up the camera. Obviously it'll come running Android Oreo, and Google promised that Pixel devices will be the first phones to receive Android updates. It can also hear and identify music when you're not using the phone, which might be helpful in certain very specific situations.
Fast charging is in there, and while no specific percentages were mentioned Google promised 15 minutes of charging will offer seven hours of use.
As rumoured the Pixel 2 will also come with Google Lens, which is just another version of what was once called Google Goggles. It's like Bixby Vision on the Samsung Galaxy S8, letting you use your camera to automatically identify things. Presumably this will come with Google Translate built in, otherwise someone made a huge mistake. It can rip text from photos, though, which is nice. A preview of Lens will be coming to Pixel users.
The Pixel 2 comes with a 12MP rear camera, complete with HDR and improved optical image stabilisation. It also comes with Portrait Mode, which sounds damn near the same as Apple's Portrait Mode. The only difference is that Google's doesn't use two cameras, instead it uses machine learning and something called dual pixel technology. Dual pixel uses two different perspective to create the images, which is basically doing the dual-camera functions without the extra lens. Because of this Google confirmed that Portrait Mode would also be available on the front-facing camera.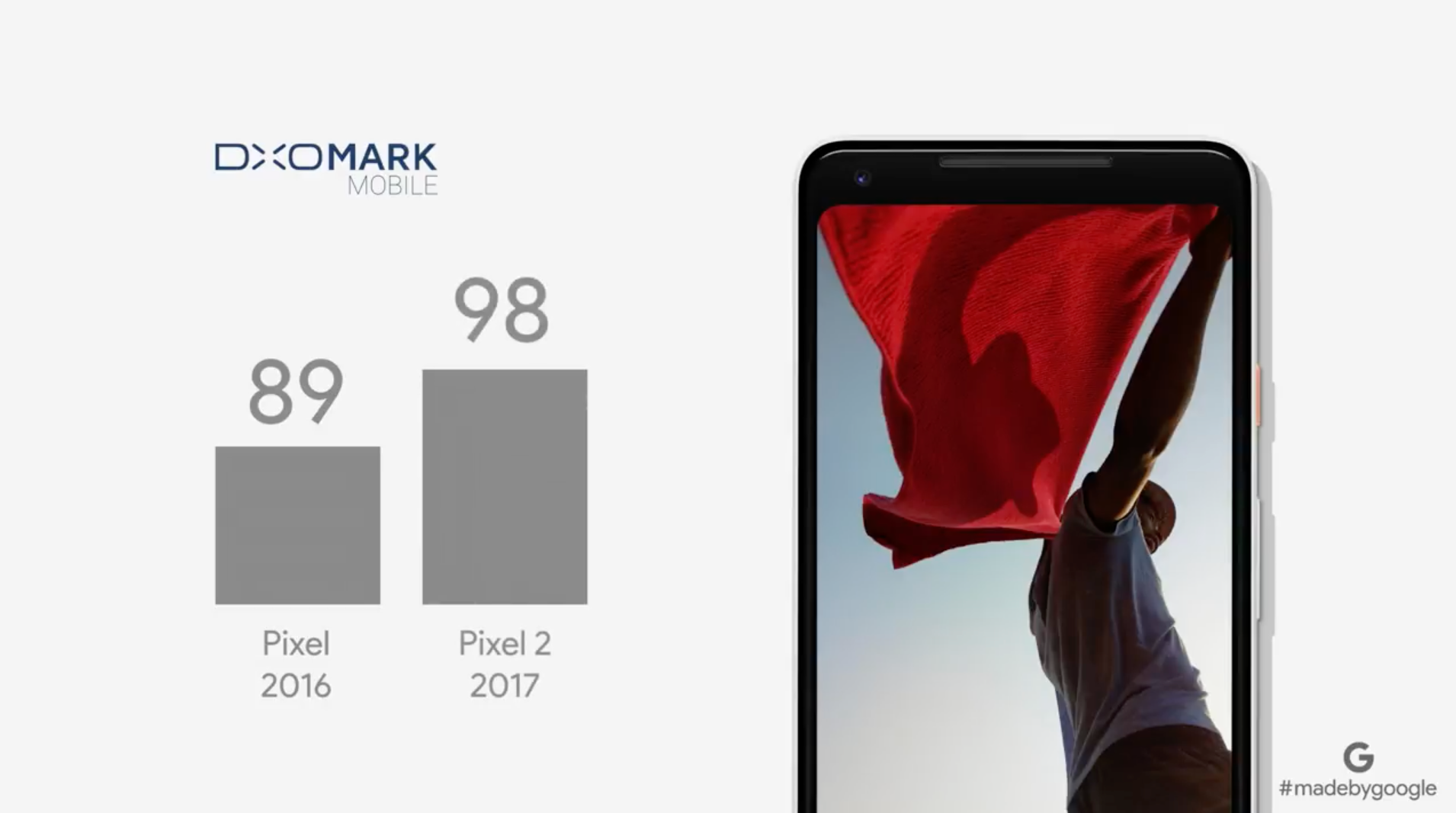 Google also took the time to brag about the camera's DXO score, something notable about last year's Pixel, saying that this year's camera got an unprecedented score of 98. That's a big improvement over last year's 89.
Video also come with active image stabilisation, motion photos, and a GIF mode. Hardly unique, but it's an improvement. Pixel 2 users will also continue to get free unlimited photo and video storage in google Photos, all full size. That means any 4K videos or HDR pictures you take will be backed up in the cloud, without degrading.
Google also promised iPhone users would be able to transfer everything from their phone (including iMessages) in less than 10 minutes.
Colour wise you'll be able to get the Pixel 2 in Kind of Blue, Just Black, and Clearly White. Har har, Google, we see what you did there. The Pixel 2 XL is sadly only available in Just Black, or Black and White.
Pixel 2s will cost from £629 and the Pixel 2XL will start at £779. That's in 64GB, while 126GB variants will cost £100 more (£729 and £899 respectively). Pre-orders are open now, and anyone who pre-orders will also be able to get a free Google Home Mini. No release date yet, but we'll update when that information is available.
More from Google's Pixel 2 Reveal: