The Natural History Museum of London has announced the winners of the 2017 Wildlife Photographer of the Year Competition. Highlights of this year include bioluminescent termite mounds, hoards of giant spider crabs, a juvenile gorilla lounging on the forest floor—and an absolutely heartbreaking image of a poached black rhino.
This year's competition received over 50,000 entries from 92 countries. The winning images were chosen by a panel of judges and evaluated according to their creativity, originality, and technical excellence. As part of the annual competition, 100 photographs will be put on display in the museum at the 53rd Wildlife Photographer of the Year Exhibition which opens on Friday. Here are some of our favourite winning images.
Winner, Wildlife Photographer of the Year 2017: "Memorial to a Species" by Brent Stirton, South Africa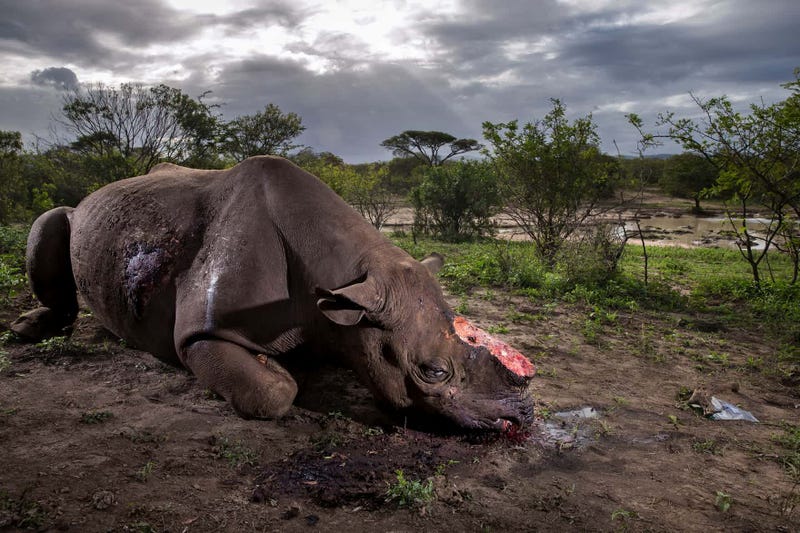 Image: Brent Stirton
At one point, black rhinos were the most numerous of the world's rhino species, but they're now endangered on account of poaching and the illegal international trade of rhino horn. This award-winning shot of a dead, dehorned black rhino captures the brutality and senselessness of poaching.
"To make such a tragic scene almost majestic in its sculptural power deserves the highest award. There is rawness, but there is also great poignancy and therefore dignity in the fallen giant," noted competition judge Rox Kidman Cox in a statement. "It's also symbolic of one of the most wasteful, cruel and unnecessary environmental crimes, one that needs to provoke the greatest public outcry."
Winner, Young Wildlife Photographer of the Year 2017: "The Good Life" by Daniël Nelson, Netherlands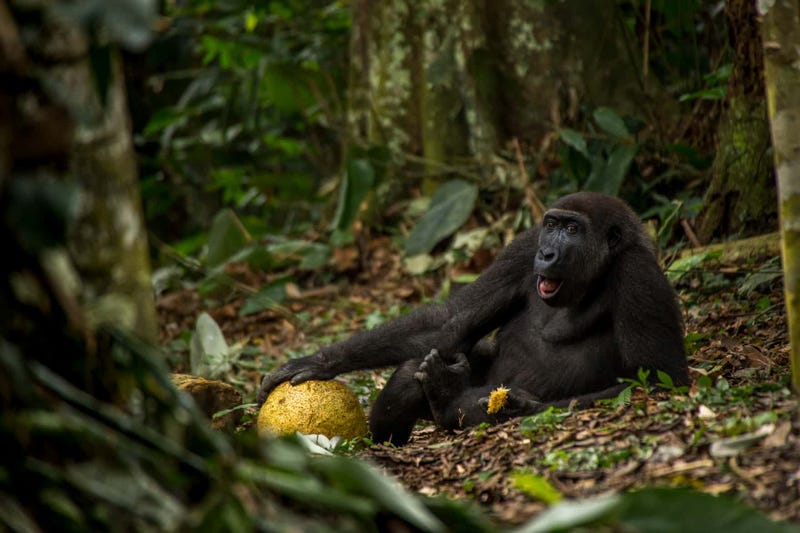 Image: Daniël Nelson
This portrait of a young western lowland gorilla was captured by Daniël Nelson in the Republic of Congo. The great ape can be seen lounging on the jungle floor while munching on some African breadfruit. The scene looks serene, but these endangered gorillas are under threat from mining in the region.
Winner of the "Animals in Their Environment" Category: "The Night Raider" by Marcio Cabral, Brazil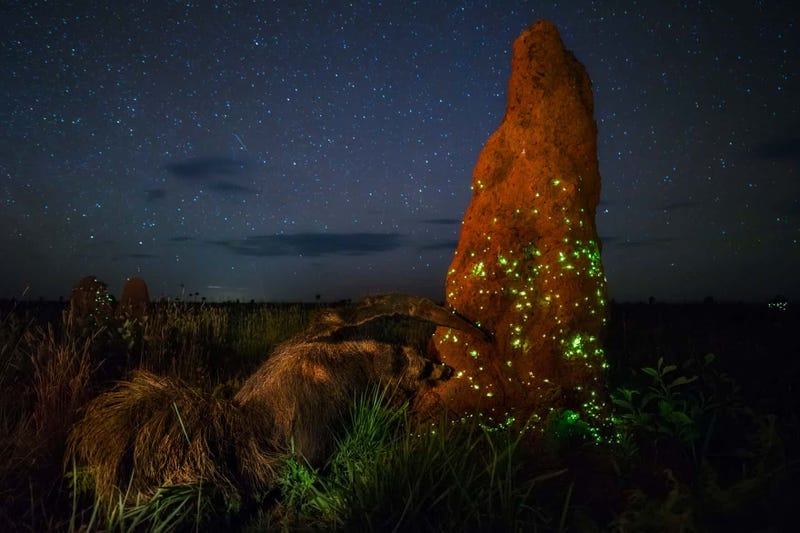 Image: Marcio Cabral
There's a lot going on in this photo taken by Marcio Cabral in Brazil's Cerrado region. Click beetle larvae embedded on the outer layers of the termite mounds are glowing in a bioluminiscent green, which they do to lure in their prey—flying termites. Meanwhile, a giant anteater is also going for the termites, sticking its snout and nose into the mound to reach the termites inside.
Winner of the "11-14 Years Old" Category: "Stuck In" by Ashleigh Scully, USA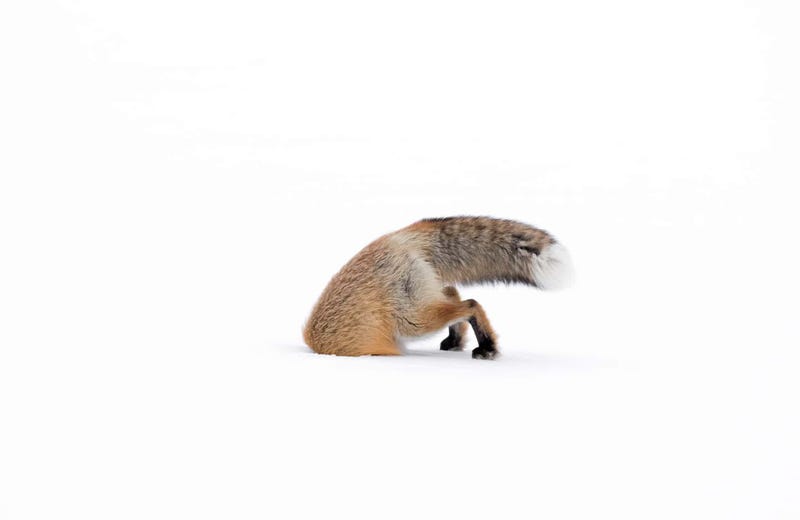 Image: Ashleigh ScullyTween Ashleigh Scully took this photo of an American red fox in Yellowstone National Park, which in her own words, "illustrates the harsh reality of winter life in Yellowstone."
Winner of the "Behavior: Invertebrates" Category: "Crab Surprise" by Justin Gilligan, Australia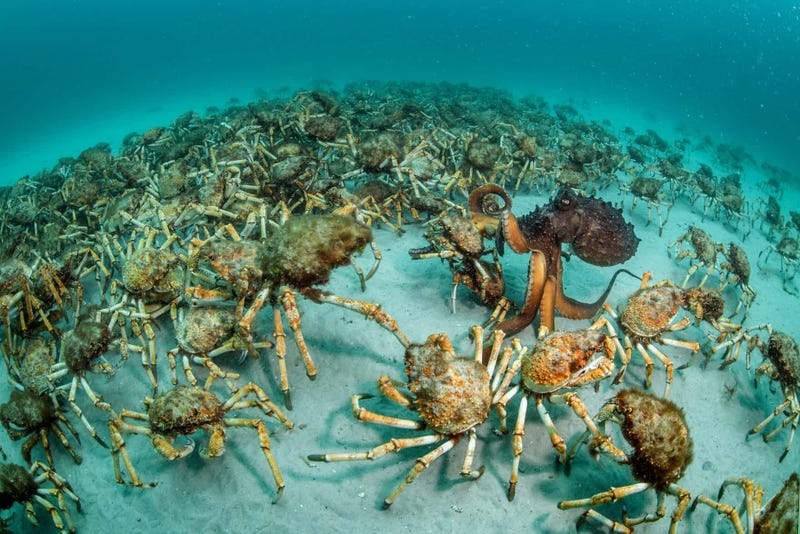 Image: Justin Gilligan
If you look carefully, you can see a Maori octopus intermingled within this large aggregation of giant spider crabs. Photographer Justin Gilligan captured this photo while documenting a kelp transplant experiment for the University of Tasmania.
Winner of the "Earth's Environment" Category: "The Ice Monster" by Laurent Ballesta, France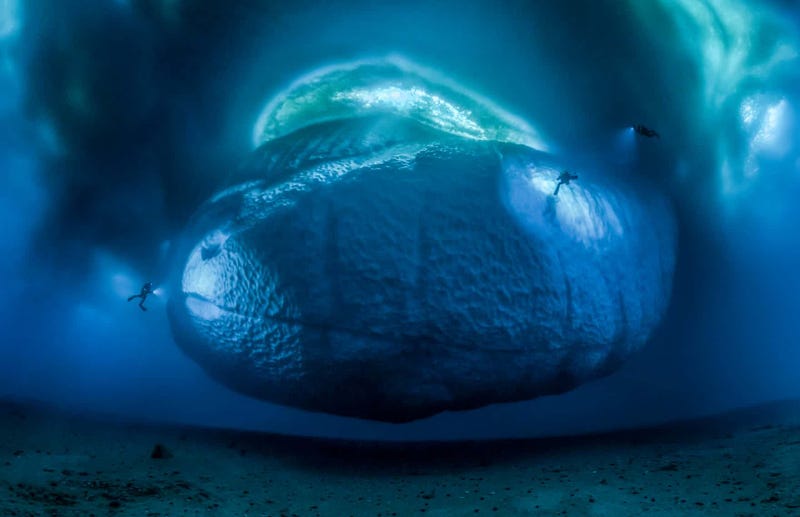 Image: Laurent Ballesta
This otherworldly photo shows the submersed portion of a small iceberg floating near the Dumont d'Urville science base in east Antarctica. It took photographer Laurent Ballesta three days to capture the scene.
Winner of the "Wildlife Photojournalist: Single Image" Category: "Palm-Oil Survivors" by Aaron "Bertie" Gekoski, UK/USA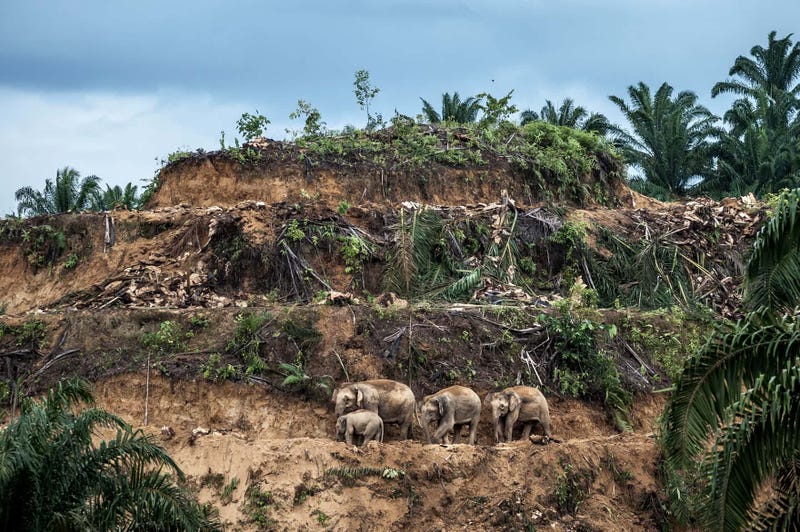 In this image taken by Aaron "Bertie" Gekoski, three generations of elephants are seen crossing the terraces of an oil palm plantation in Borneo that's being prepped for re-plantation.
Winner of the "Black and White" Category: "Polar Pas de Deux" by Elio Elvinger, Luxembourg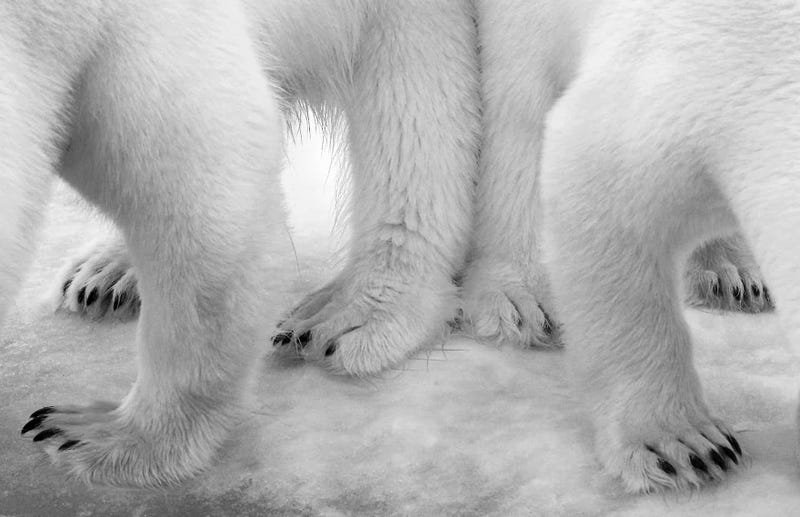 Image: Elio Elvinger
When a mother polar bear and her two-year-old cub approached her ship, Elio Elvinger couldn't pass up the opportunity to take a photo. The animals were attracted to leakage from the ship's kitchen as it was anchored off Svalbard in Arctic Norway. "I was ashamed of our contribution to the immaculate landscape," she said, "and of how this influenced the bears' behaviour."
Winner of the "Behaviour: Amphibians and Reptiles" Category: "The Ancient Ritual" by Brian Skerry, USA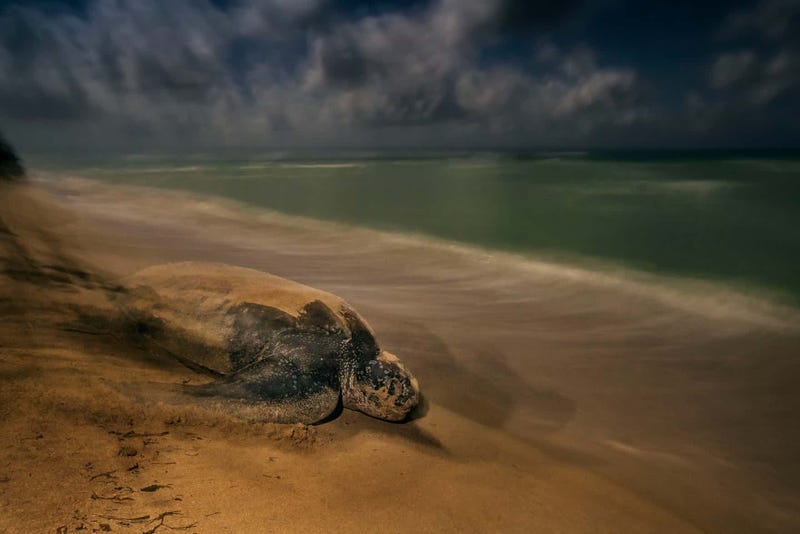 Image: Brian Skerry
A female leatherback turtle slinks towards the ocean after laying her eggs, in an ethereal photo captured by Brian Skerry while in the US Virgin Islands. [Natural History Museum]