Last year, Snapchat became a "camera company," changed its name to Snap, and unveiled its first piece of hardware: camera sunglasses called Spectacles. Today, Snap is evolving yet again. That AR dancing hot dog, the star of its last earnings call, is now officially an $80 (£60) halloween costume available on Amazon.
Snap's polyester sausage comes in two pieces: a "tunic" with "sleeves and hands, and pants with attached shoe covers." Available for about two-thirds the price of a new pair of Spectacles, the hot dog is "made of 100% beef" but, the company notes, "never starts it!" And, as we'd be remiss not to point out, everything at Snapchat is absolutely fine.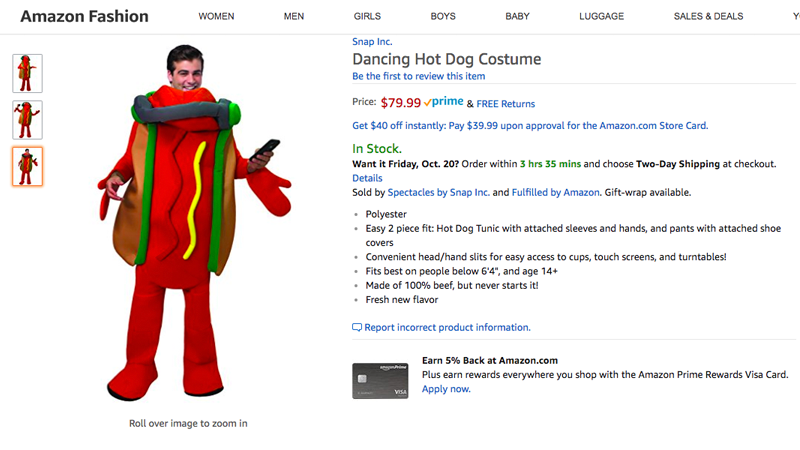 Speaking to Gizmodo, a Snap employee confirmed that they are indeed the ones selling the meaty cosplay, which also comes with pretend headphones and removable gloves for quick access to your phone. We have reached out to company for further comment and will update this post if and when we hear back.
According to the costume's Amazon page, the costume comes in a "fresh new flavour." Also, Snap is totally fine. There is no reason for investors to overthink the company's next earnings call, on November 7, where it will surely have plenty more good things to say about its "first augmented reality superstar."
Sadly for us, it's not available on Amazon UK, so your dreams of dressing up like a hot dog will have to wait for another time.