When it comes to mirrorless cameras, especially pro-grade ones, Sony's full-frame Alphas are king. Panasonic's Lumix GH5 and Olympus' OM-D E-M1 Mark II come close, but both of those have Micro Four Thirds sensors, which for a lot of picky people puts them out of the running. And when Sony released the A9 earlier this spring, we said said shooting with Sony's £4,500 flagship felt like cheating. But the new A7R Mark III might be even better, because despite costing more than a thousand pounds less, it's arguably a much more versatile camera overall.
All photos: Sam Rutherford/Gizmodo
To start, the £3,200 A7R III features a 42.4 megapixel sensor, which gets dangerously close to medium format territory and is double the resolution of the 24.2MP A9. But then Sony takes that one extra step with a new Pixel Shift shooting mode that shots four photos while moving the sensor one pixel each time so that you can combine all the shots using Sony's new Image Edge software into a single monstrous 170-MP composite shot.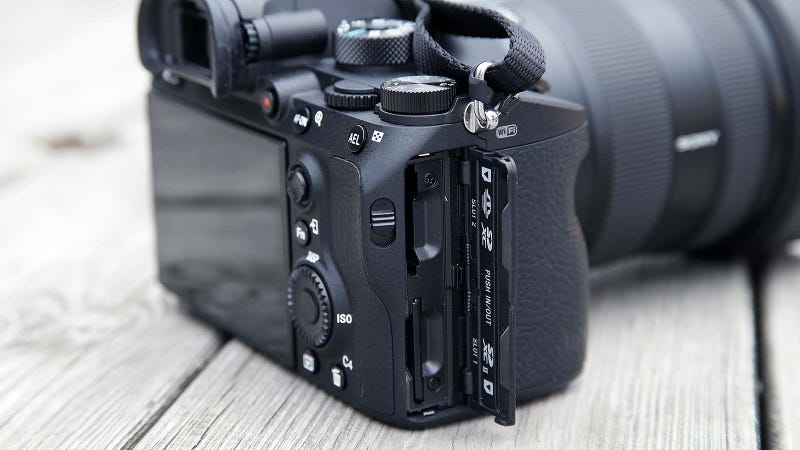 Sony has also added a new joystick to the A7R III up and to the left of the traditional d-pad (where you thumb naturally rests) so you can better utilise the camera's 399 phase-detect AF points and 425 contrast AF points. But the real craziness is that you might not need use the joystick at all, because Sony says its auto-focus tracking system is twice as good as before, even when it comes to its unique eye-tracking feature. With eye-tracking, the camera is no longer relegated to just looking for faces, it's helps Sony's mirrorless fend off tech like Canon's dual-pixel AF or Nikon's 3D tracking feature. And when you combine all this with the A7R III's 10 frames per second continuous shooting that includes the ability to track and adjust focus and exposure between every shot, that's when the real fun starts.
And after the camera got announced yesterday morning, I had a chance to check out the A7R III for myself, along with Sony's new $1,300 (£990) 24-105mm f/4 G OSS zoom lens.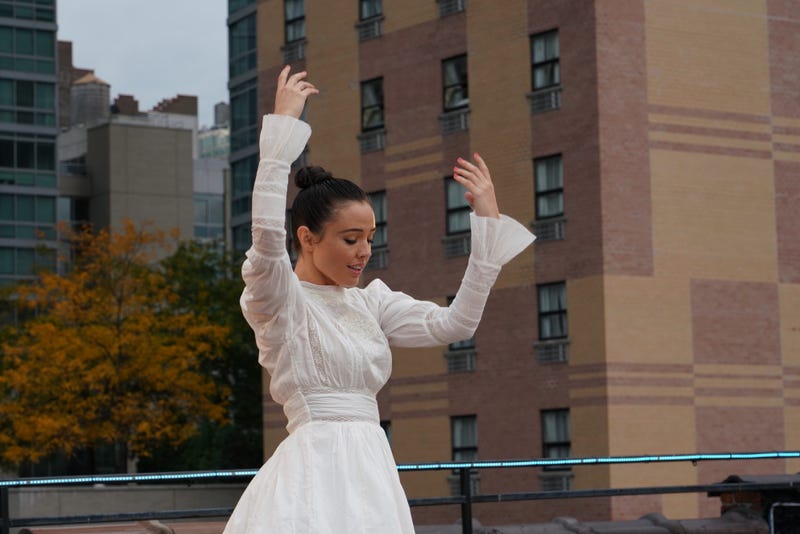 Note: Our publishing platform does some annoying compression on photos, so if you want some cleaner looking images to pixel peep, click here.
Now you've got to remember, that these demos were set up by Sony precisely to showcase the A7R III's new features. But still, I couldn't help being impressed. One of the first things I tried was the A7R III's eye tracking feature, which works by holding down the centre button on the d-pad and then shooting like normal. After automatically locking on, I marvelled as it tracked a ballerina as she danced across the stage, even taking care to switch between eyes depending on which one was closest to the camera. Even when things got in the way, more often than not, the camera's eye tracking would pick right back up when her face came back into view.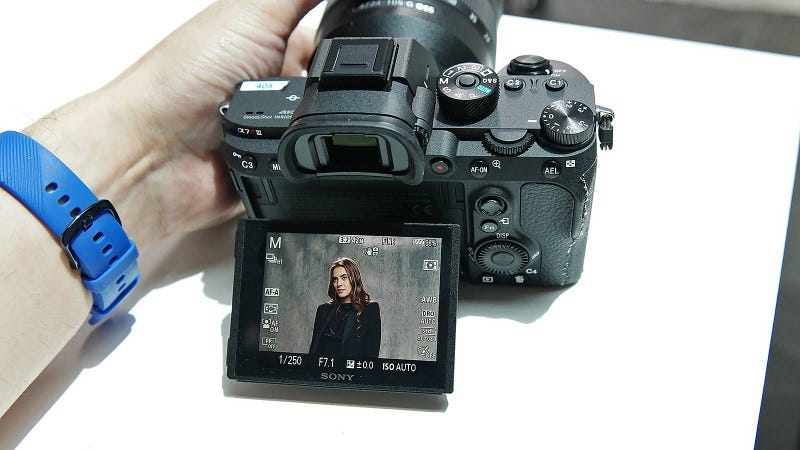 For portraiture, the A7R III might be even more well suited, as its high megapixel count lets you see every last detail while catching every single micro expression. It makes you just want to keep shooting, which is something that often had me running into the camera's buffer. Sony says its processor, the same one you get on the A9, is even faster. However, especially when shooting in RAW, when the camera capped out after 28 continuous shots, I still found myself waiting around a little longer than I'd like between bursts. You can help alleviate that by capturing full-res JPEGs instead, which bumps the buffer up to 76 shots, but that's not a real solution for people trying to take advantage of the A7R's 14-bit uncompressed RAW capability. I also noticed that while you can still change settings like modes, or aperture and shutter while the camera is processing buffered photos, you often won't be able to dive into the full settings menu unit it's done.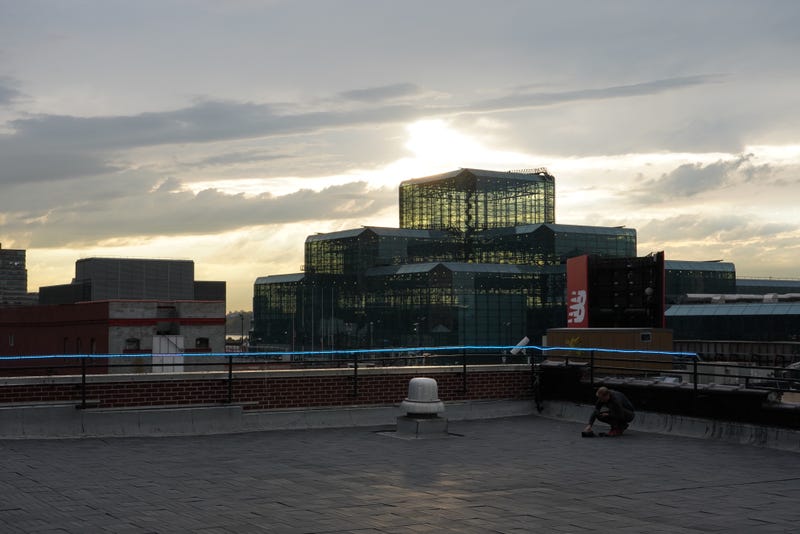 Shot at f/14 at 1/250th of a second on ISO-800.
When I decided to turn away from the hosted demos, I snapped a quick shot of the sun passing behind the Javits Centre to test out the A7R III's dynamic range, which is the difference between the darkest and brightest point the camera can capture. Sony says the A7R III offers 15-stop of dynamic range, and even when viewing the unedited JPEG version, I loved how the camera captured so much details in the clouds. Although, I was hoping for a little less grain and maybe a little more detail closer towards the sun.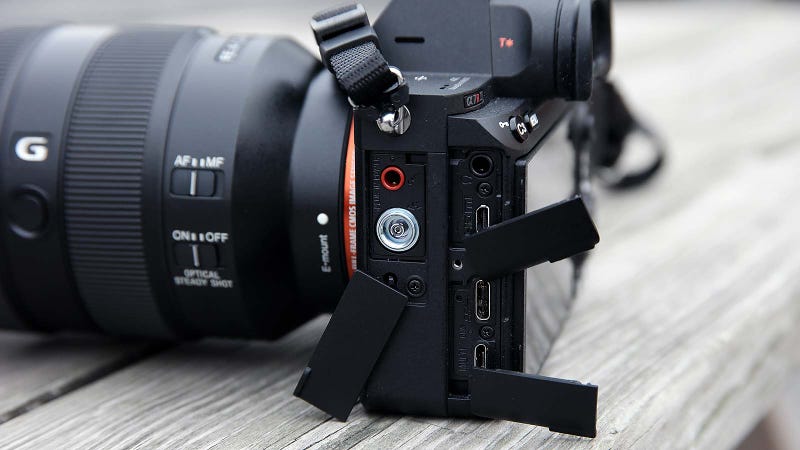 Kudos to Sony for including a USB 3.1 Type-C port along with HDMI, micro USB, headphone and audio in, which should make for fast data transfer and speedier tethered shooting.
When you want to be a little less obtrusive, you can even switch the A7R III into silent shooting mode while still keeping its 10fps continuous shooting. And Sony isn't joking, it is totally silent. The only way I knew the silent electric shutter was still rolling was seeing the tiny blip of black screen between each shot. This mode seems ideal for wedding photos or similar scenarios, when the slightest noise can change the feeling of a room. But call me old-school cause after testing it out, I switched the camera right back into standard mode.
And before I left, the last thing that impressed me was the battery life. Even after shooting almost 3,000 photos consisting of a mix between just JPEGs and RAW + JPEG, the battery still had over 40 per cent left. This is because the A7R III has switched over to using the battery from the A9, which has a 2.2 times larger capacity than the battery in older A7R II.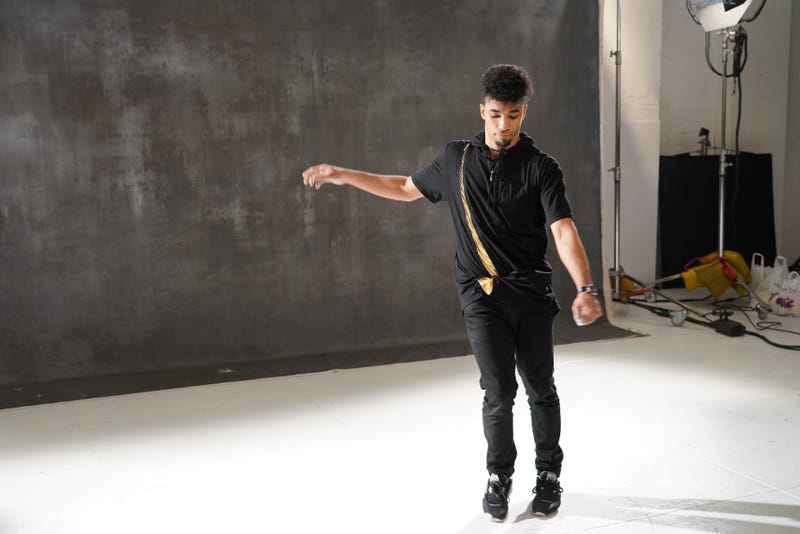 The A7R III also made it super easy to track this guy's dancing.
For another album containing full-res images from the slideshow above, click here.
Now for sports and action photographers, the A9 and its 20fps continuous shooting is still the best pick. But for everyone else, this is the expensive Sony you should be looking at. But I got to say, even for me, someone obligated to carry a camera to every meeting or event, this thing is overkill. I'd probably never be able to put everything it has to use, but that's exactly what makes it so fun.
To see full resolutions versions of the photos in both slideshows, you can go here, and here. Pre-orders for the A7R starting today, with shipments due out sometime in November.