At long last, Sonos is ready for small talk. The wireless speaker company—whose gloss has dulled as Amazon, Google, and soon Apple, have released increasingly decent "smart" speakers over the last couple of years—is finally releasing a speaker with built-in voice commands. It's called the Sonos One and it comes with Amazon's Alexa assistant built in. In 2018, Sonos says it will support Google's Assistant, too.
If you're enticed by what appears to be a Play 1 speaker with microphones and Alexa squeezed in, the One is coming out October 24 and will cost £199. It comes in two colours: white and black.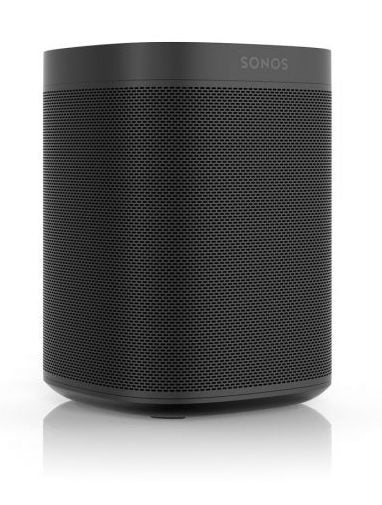 The new Sonos One. Image: Sonos
For more than a year, Sonos had promised (but failed to widely deliver) a product that integrates seamlessly with Amazon's Echo speaker. That software remained in a closed beta since late-2016. Now, as of this morning, it's available to everyone. This tie in is far less interesting now that Sonos has announced it's own Alexa-powered speaker.
But the Sonos event today is about more than just speakers. The company once led the industry with its Wi-Fi-powered music-streaming boxes. But today, as connected gadgets replace our doorbells, TVs, lightbulbs, and routers, Sonos has decided to morph from a closed, control-everything company to an open, partner-focused company. To wit, Sonos has a new "Works with Sonos" badge, and today it announced partners like Logitech, Samsung SmartThings, and HDL. The company is also adding full support for Apple's Airplay 2 protocol eventually, in 2018.
And there's a new Sonos app, out today, and ostensibly designed to help Sonos customers manage more smart devices. Hopefully it'll also fix the rather clunky music streaming experience the company has offered to date.
Like most corporate press events these days, Sonos' big moment today was dampened by months of leaks, including an August change to Sonos' privacy policy which teased support for more than one "smart" assistant. That month, an FCC filing also teased an upcoming Sonos device with the sort of "far-field" we'd expect in the Sonos One. And last night, a final leak even claimed the speaker would be named Bootleg—it would have been a wonderfully ironic turn for a company that's worked for years to win over audiophiles.