Speaking at a science conference in Ottawa on Thursday, Canada's newly appointed governor general, Julie Payette, directed some harsh comments towards climate sceptics, astrologists, and believers of "divine intervention." Critics complained that it's not the Governor-General's place to get involved in such matters, but Prime Minister Justin Trudeau defended the speech.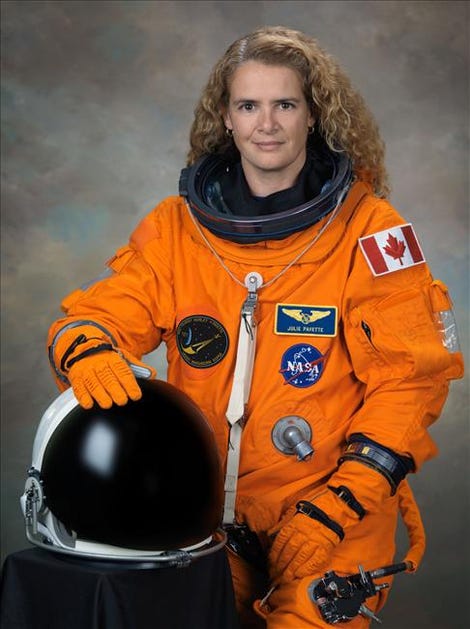 Astronaut Julie Payette of the Canadian Space Agency. (Image: CSA)
That Julie Payette, 54, would be a such staunch supporter of science is hardly a surprise. The computer and electrical engineer flew on two Space Shuttle missions (in 1999 and 2009), logging 25 total days in space. She was appointed Governor-General on July 13th, 2017 by the Trudeau government, and she hasn't wasted time in making her mark—particularly when it comes to the promotion of science.
At this week's Canadian Science Policy Conference, Payette argued for greater public acceptance of science, saying it's time for Canadians step away from false beliefs such as astrology and divine intervention, while speaking out against people who insist that human activity isn't responsible for climate change.
Such language isn't typical of a Canadian Governor-General. As a state-appointed representative of the Queen, it's a position of mere symbolic importance. As Governor-General, Payette is supposed to be an impartial overseer of the democratic process, and not get involved in politics or spiritual matters. That said, there's nothing in the Canadian constitution that precludes the Governor-General from speaking out. And indeed, this latest Governor-General is not like the others, and she's not holding back.
"So many people...still believe—want to believe—that maybe taking a sugar pill will cure cancer...and that your future [and your personality]...can be determined by looking at planets coming in front of invented constellations," she said during the speech. In a clear reference to Creationists, Payette said we're "still debating and still questioning whether life was a divine intervention," or whether it came from the natural, random process of Darwinian natural selection.
Check out @GGJuliePayette at #CSPC2017 Gala Dinner https://t.co/kmXg3foGfn

— MichaelCampbell (@MapledMike) 1 November 2017
On the topic of climate change, Payette said: "Can you believe that still today in learned society, in houses of government, unfortunately, we're still debating and still questioning whether humans have a role in the Earth warming up or whether even the Earth is warming up, period?"
This isn't the first time that Payette has dared to address climate change, having mentioned it in two of her three previous public engagement (including her acceptance speech as Canada's new Governor-General). As Canada's new GG, she appears to have taken up climate change as a main cause.
Later, Prime Minister Pierre Trudeau praised Payette's speech, saying she stands in support of science and the truth. "We are a government grounded in science," he said. "Canadians are people who understand the value of science and knowledge as a foundation for the future of our country."
Critics from both the media and within politics wasted no time in attacking the speech, which they criticised for its overreach and insensitivity.
"Those who read and write horoscopes would be entitled to take offence," said reporter Aaron Wherry in CBC News. "[And] however strongly one feels about the science of evolution, religious belief might generally be considered sacrosanct, or at least a topic that the appointed occupant of Rideau Hall should avoid commenting on."
Alise Mills, a political strategist for the Conservative Party, said Payette's speech inappropriately ventured into politics, and that it was mean spirited. "I definitely agree science is key but I think there is a better way to do that without making fun of other people," she said.
Conservative leader Andrew Scheer blasted into the Prime Minister for his support of the speech. "It is extremely disappointing that the prime minister will not support Indigenous peoples, Muslims, Jews, Sikhs, Christians and other faith groups who believe there is truth in their religion," he said in a statement posted to Facebook. "Respect for diversity includes respect for the diversity of religious beliefs, and Justin Trudeau has offended millions of Canadians with his comments‎."
In his condemnation, Scheer is obviously reading way too much in Payette's speech, but this episode shows how difficult it is to advocate for science and "the truth" (in Trudeau's words) without impinging on people's personal beliefs. Payette's tone may have been harsh, but in this bewildering era of anti-science, her words were a breath of fresh air. [CBC News]
---
More Politics Posts: