Thanks to Lenovo's expertise in making 2-in-1 laptops, which let you use it as a laptop or a thick tablet, you can now get a relatively inexpensive machine that doesn't make you feel like you picked your computer up from the prize counter at Chuck E. Cheese's. The £799 Lenovo Yoga 720 might not be the slickest 2-in-1 Lenovo's made this year — the Yoga 920 is nearly perfect all around — but my god is it nice for the price.
All images: Alex Cranz/Gizmodo
Generally, I'm reluctant to recommend a Windows laptop for under £800. Windows devices cheaper than that tend to be disappointing. They're thicker, heavier, and often have older processors that will make them a nightmare to use in a year or two. The £799 Yoga 720 is just on the cusp of being too budget to bother. The 7th Generation i5 7200u processor is fast enough for your regular web browsing and photo editing, but the 4GB of RAM and 128GB SSD will likely show their age by the end of 2018. Thankfully, Lenovo sells another sub-£1000 model that will be a little more future proof: The £949 Yoga 720 with an 8th Generation i5 processor, 8GB of RAM, and 256GB SSD. If you can spare the additional £150, it's a much better buy.
But the cheaper Yoga 720 is still a dang fine machine! On WebXPRT 2015, a nice synthetic benchmark that tests how well a computer browses the web, and how deftly it processes images and spreadsheets, the Yoga 720 pulled a score of 400, putting it right in line with pricier laptops like the £1409 Razer Blade Stealth (402) and $1200 (£899) LG Gram 14 (432). It didn't perform quite as well in Geekbench 4, where its multi-core score of 7402 lagged far behind the 7859 of the LG Gram and the exceptional 8298 of the Razer Blade Stealth.
It also didn't do as well on our battery test, in which we stream a video endlessly with the display set to a brightness of 200 nits. The LG Gram 14 lasted 9 hours and 44 minutes, while the Razer Blade Stealth lasted 8 hours and 39 minutes. The much cheaper Lenovo Yoga 720 lasted 8 hours and 11 minutes. That's not the best battery life ever, but it's more than enough to binge some TV for a while.
It should be noted, again, that the Yoga 720 costs hundreds of pounds less than those two laptops! That might be a more than acceptable trade-off for you. And if you can get past the slight performance drawbacks, you'll find it's a budget laptop that only very rarely feels budget. Cheaper laptops usually mean uglier displays, but the 13.3-inch 1080p touch display is damn gorgeous for the price, with rich deep blacks, and vibrant colours.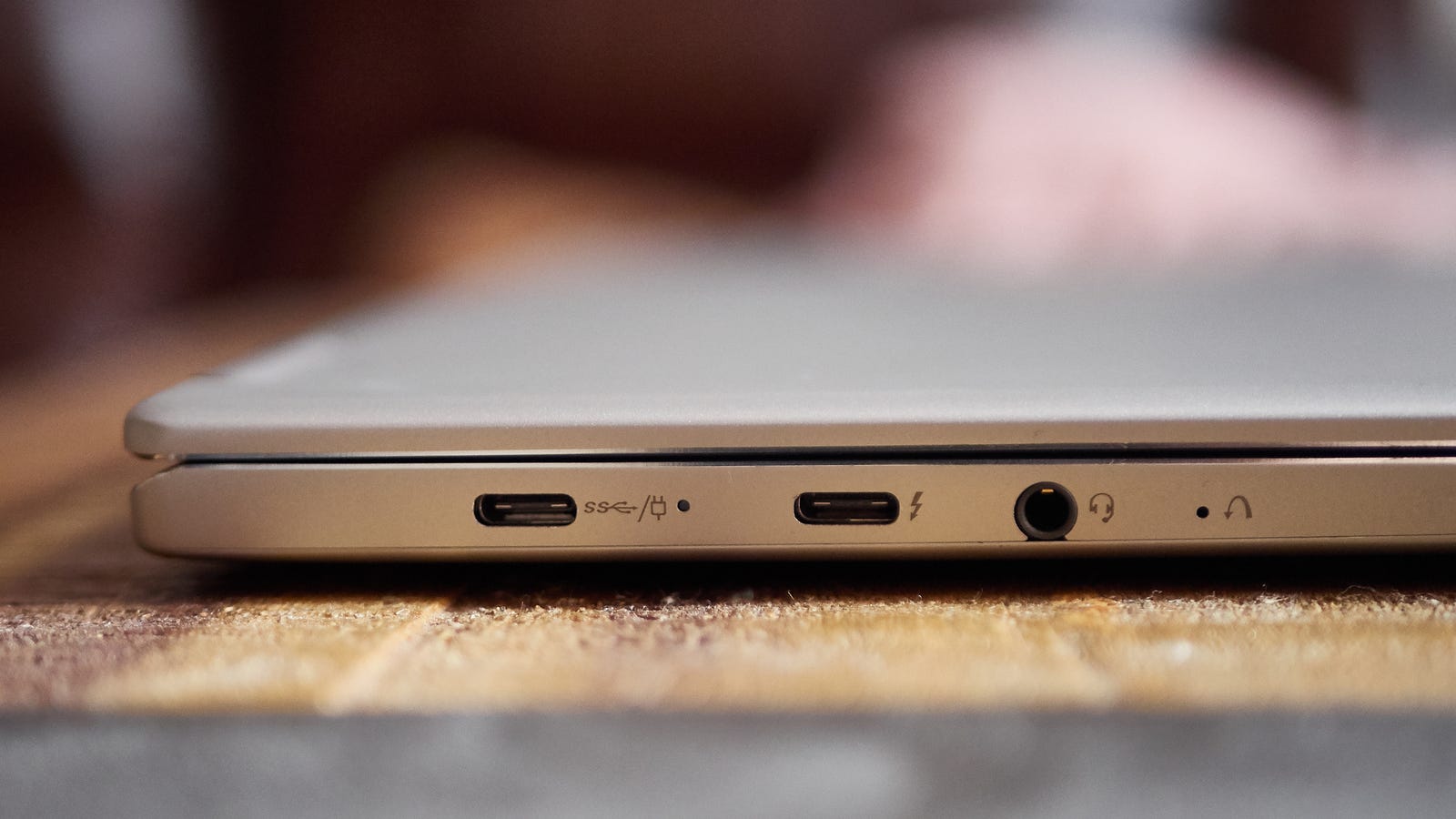 Using USB-C to charge means it's a lot easier to find a charger.
The touchpad is another place cheaper laptops cut corners, and while this touchpad isn't nearly as nice as the one found on something like the Lenovo ThinkPad X1 Carbon, and while it definitely requires some tinkering and practice to get used to, it never made me want to remove my own hands. It's responsive and smooth enough.
The Yoga 720 is also incredibly thin and light for a laptop this cheap. It weighs just 2.9 pounds and measures just 0.6-inches at its thickest point. It's definitely bigger and heftier than something like the aforementioned LG Gram 14, but it doesn't feel like the clunky behemoth you'd expect. Instead, it feels almost like the 13-inch MacBook Pro I normally lug around. That device is just as thick and actually a few ounces heavier.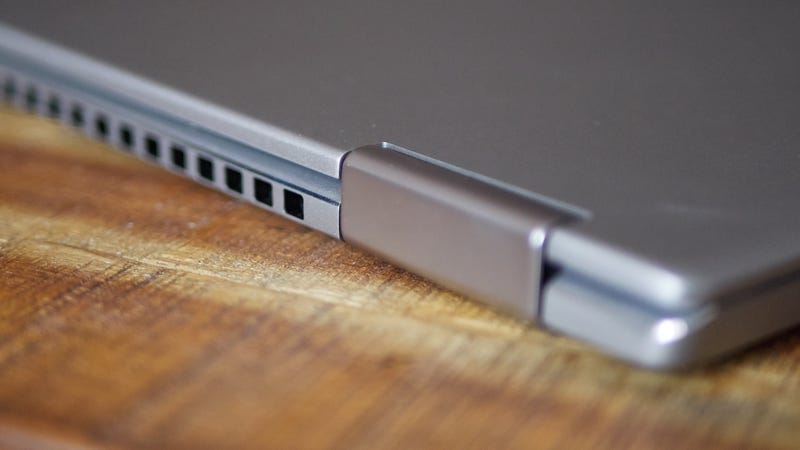 There are a lot of vents to keep the processor cool, which means plenty of nooks for crumbs.
But despite being super thin, and light, and scant on the plastic casing found in cheaper laptops, the Yoga 720 is unmistakably the budget Yoga device. It doesn't use the fancy hinge found on the pricier Lenovo Yoga 920, and the vents for its cooling fans are so big I'd worry about stuff finding its way in. It also has that flex at the centre of the keyboard that's far too common on cheaper laptops. If you mash the keys you'll watch the whole centre of the keyboard bend with your press. The keyboard itself also has an irritatingly mushy feeling, which is appalling, as Lenovo is generally known for making the best keyboards in the laptop game.
But those are the compromises you'll have to make for a laptop that only costs £749. That's the same price as an iPad Pro with a keyboard. If there's a student or parent in your life in need of something affordable, then this might just be one of the best cheap laptops you can buy.
README
It's not quite as fast and the battery life isn't as good as comparably spec'd laptops, but it's also much cheaper
The Yoga 720 is incredibly thin and light for a laptop this cheap, and the build quality is far better than you'd expect for the price range.
The keyboard could be improved.
It charges via USB-C, which is just really, really nice.
SPEC DUMP
Windows 10 Home • 2.5Ghz Intel Core i5-7200U • 4GB RAM • 128GB SSD • 13.3-inch 1080p IPS Multitouch Display • Intel HD Graphics 620 • 48Wh battery • Bluetooth 4.1 • 802.11 AC wi-fi (2x2) • 2 x USB-C Port with Thunderbolt • 1 x USB 3.0 Type A port • HD 720p camera • headphone jack • Fingerprint reader • 2.9lbs • 12.2 x 8.4 x 0.6 inches