Picking up a bargain online is a buzz any time of year, but as the holiday season approaches it's particularly important to get your shopping game on point—whether you want to find the perfect gifts for the family or you're chasing the biggest discounts, these are the mobile apps and browser extensions to have installed as you enter the fray.
---
Retail apps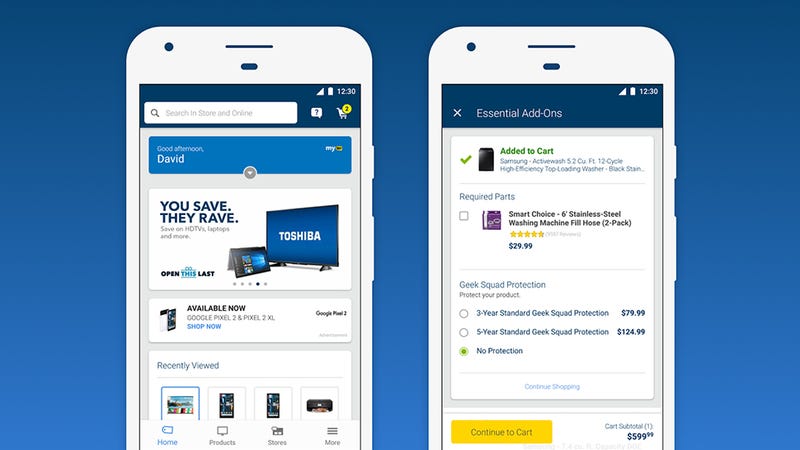 Chances are your favourite retailer has an app, so seek it out and get it installed first of all—you've got Amazon (Android, iOS), Argos (Android, iOS), John Lewis (Android, iOS), and Marks and Spencer (Android, iOS) for starters, and there are many more.
Admittedly you maybe don't want to clutter up your phone with too many of these dedicated apps, but for the shops you use most frequently, they're worth installing. You (usually) get fast, intuitive access to the virtual shelves, instant alerts about deals and potential savings, live stock updates, and a smooth checkout and shipping process.
The Amazon app, to take one example, lets you scan barcodes on items in the real world to see the product's price and extra details on the Amazon site, which can be very handy when you're trying to find the best deals.
---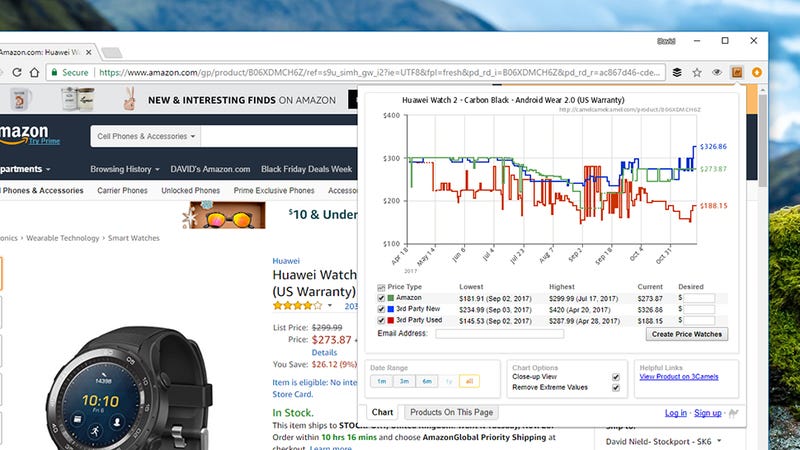 The oddly named CamelCamelCamel does one job and does it well: Tracking prices on Amazon. If an item you're interested in gets a discount, then this browser extension means you'll be among the first to know about it.
We're not privy to the decision-making and algorithms that lie behind the prices on Amazon, but we do know that they fluctuate a lot on certain goods, so having something like CamelCamelCamel on hand can be very useful in catching a deal—especially during holidays and sales.
As well as push alerts if there's a price drop worth knowing about, the extension lets you track prices over time (up to a year in the past), helping you pick the right moment to pull the trigger on your purchase.
---
Vouchercloud works like an aggregator for online and in-store deals, so you can get all of your discount coupons and offer codes in one place for easy access. From fast food to garden chairs, you've got a comprehensive selection of stores to pick from.
The likes of Debenham's, River Island, The Body Shop, H Samuel, Pizza Express and Frankie & Benny's are supported inside the app, and codes can be brought up on screen ready for scanning or printed out before you leave the house.
You can set up the app to alert you to the latest deals, and another neat trick is the way it can use your phone's location to flag up special offers and sales in your current area on a map.
---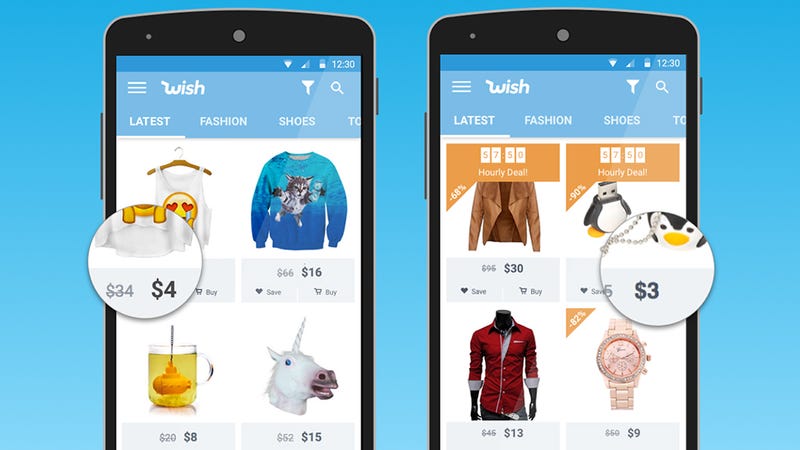 Wish brings together a tonne of products and special deals in one app so you can jump straight to what you're looking for more easily. That makes it a good antidote if you're feeling overwhelmed by the prospect of your Christmas shopping.
The app's tagline is "shopping made fun", and while that might be a bit of a stretch for some, it's certainly got the potential to make the whole experience less frustrating. A host of categories are covered, from health and beauty to tech and clothing, and you can score discounts of between 50-80 percent across the board—though some categories have better deals than others.
There is a catch. Those discounts are often possible because you're buying from lesser-known or international retailers—double-check the details inside the app, especially regarding shipping times and user reviews. You'll also need to register an account (Wish is available on the web too) before you do any browsing.
---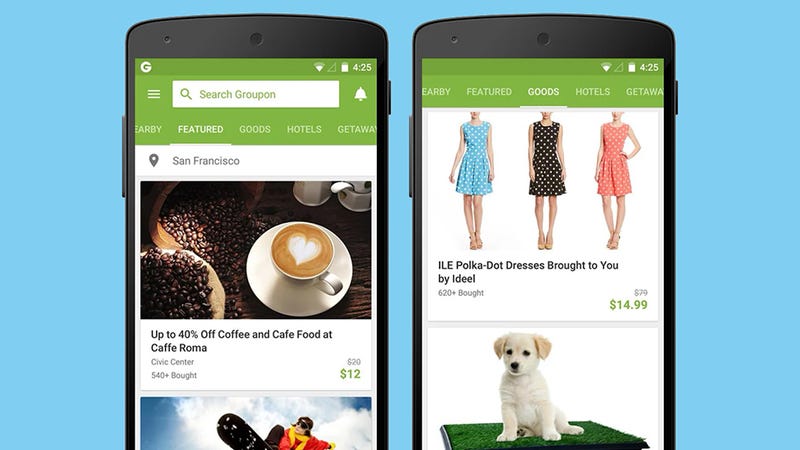 Groupon's had its ups and downs over the years, but the app is still worth installing for the eager shopper and bargain hunter—it doesn't always deliver the goods in terms of useful discounts, but you should still find more hits than misses.
Of course it stretches beyond retail shopping to holiday offers, gym memberships, and so on, but if you're in the market for something in particular then it's worth firing up the Groupon app to see if any savings are available.
It certainly makes tracking and redeeming offers very straightforward, right from your phone, and you can configure push alerts if you want to be pinged whenever there's a deal available in your areas of interest.
---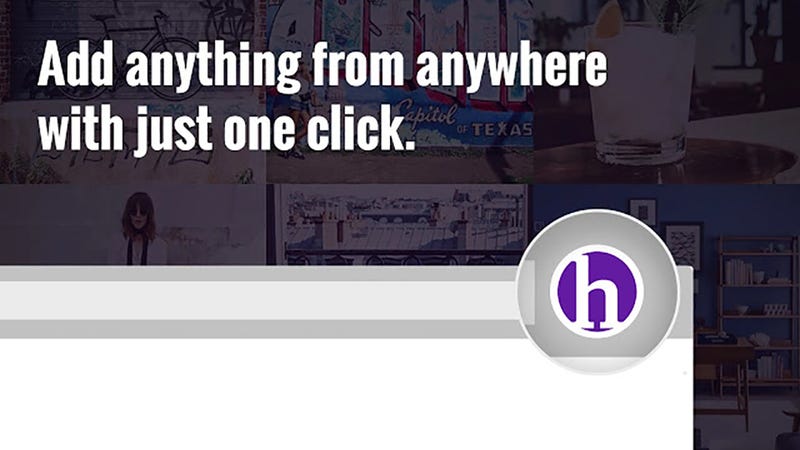 Hintd is basically an extended wish list manager—you set up lists of the stuff that you're interested in buying, and then Hintd lets you compare prices and look up special offers available across the web.
The Chrome extension doesn't do anything except let you bookmark items you want to save for later, so you do the actual list management and price comparisons through the Hintd website or the accompanying iOS app.
If you're stuck for inspiration then Hintd also provides lists of desirable goods curated by the experts, as well as lists of what's trending in particular categories, so you can see if the tastes of everyone else align with your own.
---
Pouch works by sitting quietly in your browser until you reach a particular checkout and then searching the internet to find whatever discount codes are relevant to your purchase.
A host of stores are supported, including Tesco, Currys, Ocado and Amazon. It saves you the trouble of having to hunt around the web for offers yourself, or sift through your inbox for any relevant coupon codes.
---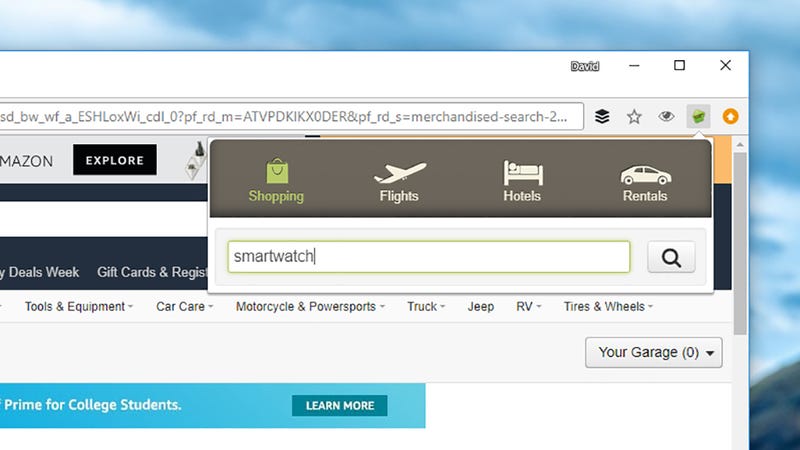 Know for sure if you're about to overpay for a particular item with InvisibleHand, which tracks prices across more than 20,000 retailers and will warn you if there's a cheaper price available on something you're in the process of buying.
Just like Pouch, InvisibleHand can also scour the web for coupon codes and discount offers on the site you're currently shopping on, so you've got to ways of saving money as you do your browsing. The plug-in can't apply codes automatically, but it's still simple and intuitive to use.
InvisibleHand is also worth installing for tracking flights, hotels, and rental cars too, if you feel like spending all the money you've saved while shopping on a vacation.