Whether you write for business or pleasure or both, you want your prose to be at the very least comprehensible and free from typos—and as usual, there are apps for that. These are some of the best tools we've come across for keeping your writing as neat, as tidy, and as impactful as possible.
---
Grammarly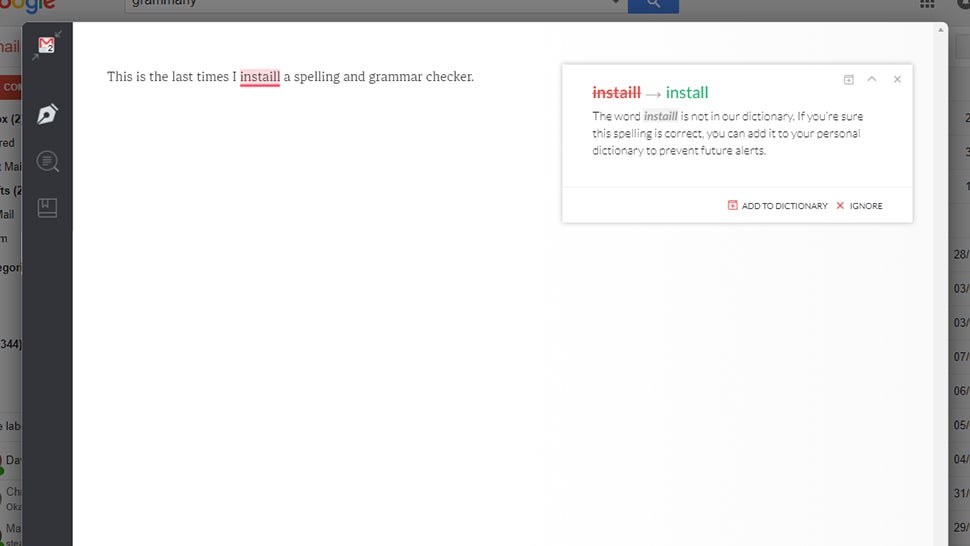 Image: Screenshot
What we like about Grammarly is that it plugs in no matter where you write—on the web, on Windows, or your phone. So whether you're crafting an email in Gmail or working on an essay in Word, it's got your back spotting spelling and grammar mistakes.
It goes beyond the standard flagging that any old spelling and grammar checker will offer, and actually understands the context of what you're writing and makes suggestions accordingly—and when there are strict rules about punctuation and sentence structure, Grammarly explains exactly why you might want to make the changes it's suggesting in a smoothly animated drop-down menu.
Grammarly isn't perfect, because it's not compatible with Google Docs, and to get the more nuanced checks and suggestions you need to sign up for a premium account, for $11.66 (£8.72) a month.
---
Hemingway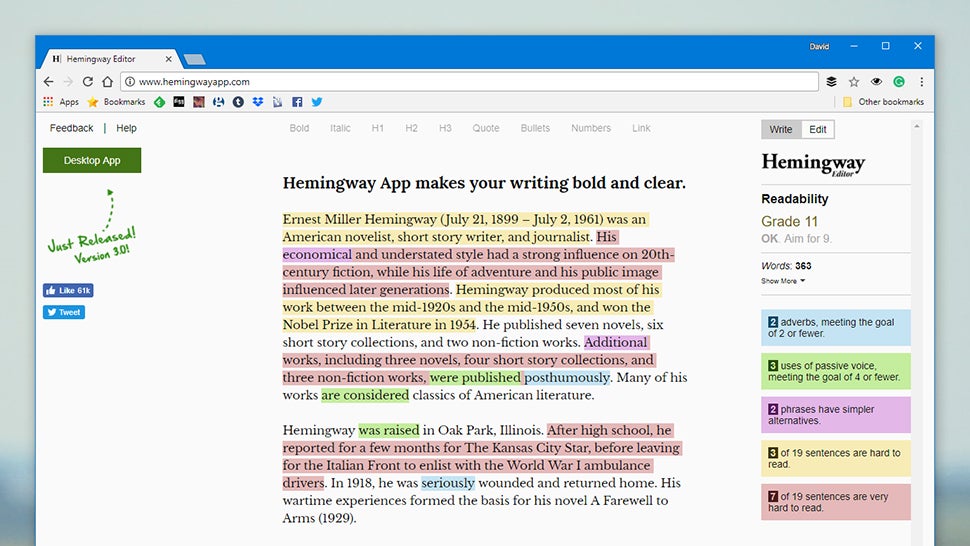 Image: Screenshot
Ernest Hemingway was famous for never using ten words when one would do, and if you need to prune your own bloated text down to size, then the Hemingway web app or desktop program ($19.99/£14.96) is perfect for the job.
Despite offering a wealth of useful suggestions, Hemingway manages to stay easy on the eye and simple to use. It doesn't have a neat browser integration like Grammarly, but it's still a valuable resource for writers, even if you don't take all of its suggestions.
And that's part of the appeal of Hemingway—it gives you a different take on what you're written. Your prose also gets a readability score.
---
Readable.io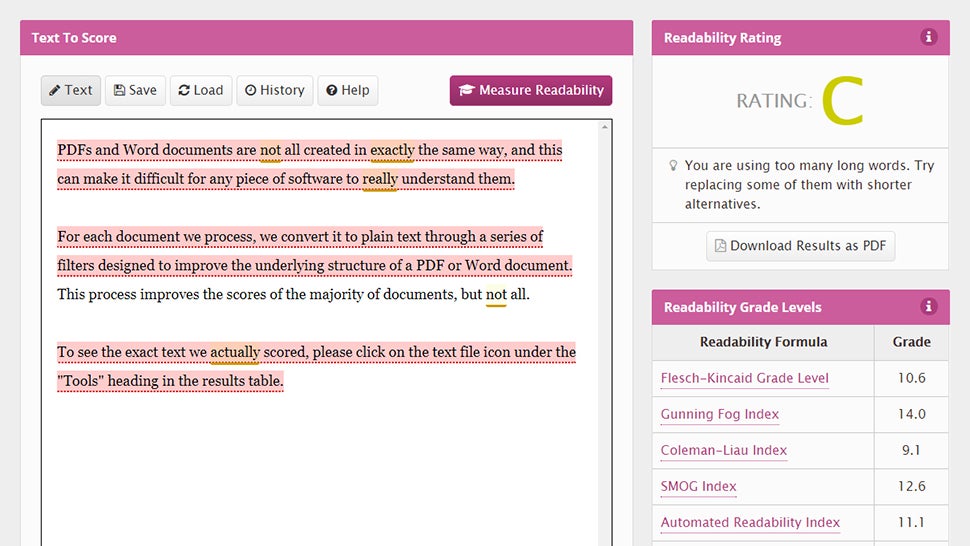 Image: Screenshot
Speaking of readability, Readable.io is a very handy tool we've come across for gauging just how comprehensible a piece of text is. Besides using several readability measurements, your writing also gets rated for density and sentiment.
Okay, you don't get a neat browser extension or application add-on, but pasting your text into the Readable.io website isn't too much of a chore, and it blitzes through your text in seconds. As with Hemingway, problematic sections are flagged with coloured highlights, so it's easy to see at a glance just where your writing stumbles.
You don't get as many smart suggestions as you do with Hemingway, but you can get access to a host of extra features—like URL analysis and the option to upload large files, including Word documents—by going premium for $3 (£2.24) a month.
---
Ginger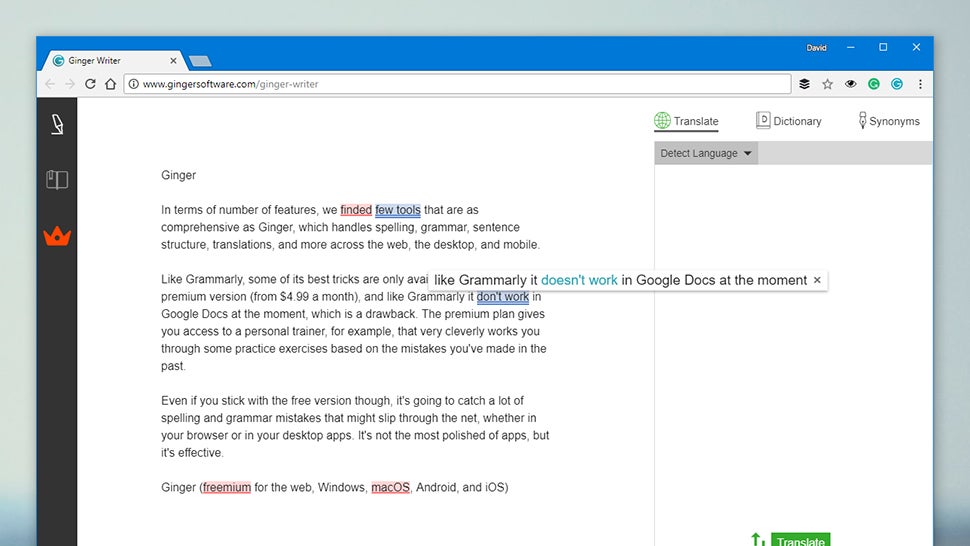 Image: Screenshot
In terms of number of features, we've found few tools that are as comprehensive as Ginger, which handles spelling, grammar, sentence structure, translations, and more across the web and desktop
Like Grammarly, some of its best tricks are only available in the paid-for premium version (for $4.99/£3.73 a month), and also like Grammarly it doesn't work in Google Docs at the moment, which is a drawback. The premium plan gives you access to a personal trainer, for example, that very cleverly works you through some practice exercises based on the mistakes you've made in the past.
Even if you stick with the free version though, it's going to catch a lot of spelling and grammar mistakes that might slip through the net, whether in your browser or in your desktop apps. It's not the most polished of apps, but it's effective.
---
OneLook Reverse Dictionary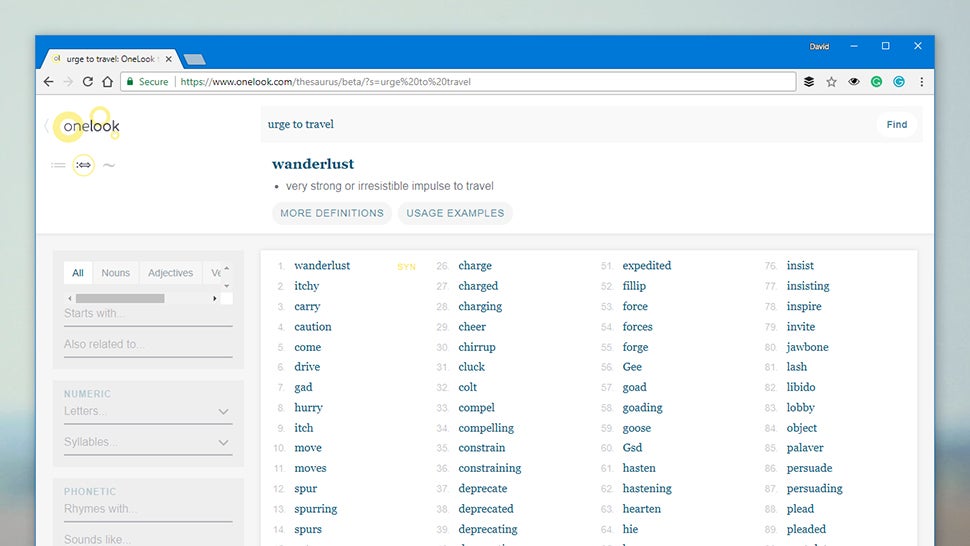 Image: Screenshot
A reverse dictionary is a handy tool for any writer, letting you look up words based on their definitions, and OneLook is the one we've got bookmarked in our browser. It also works as a straightforward thesaurus, providing synonyms and related words.
So, type in "urge to travel", for example, and you get back "wanderlust"; or enter "search for food" and you get back "forage". The site returns a whole host of possibilities for each query, which you can narrow down based on the number of letters, the number of syllables, or even a phonetic rhyme.
Whether you've got a word on the tip of your tongue that you can't quite identify, or you don't want to use the same word for the tenth time and need a decent alternative, OneLook won't let you down. There's even a plug-in for Google Docs.
---
Google Dictionary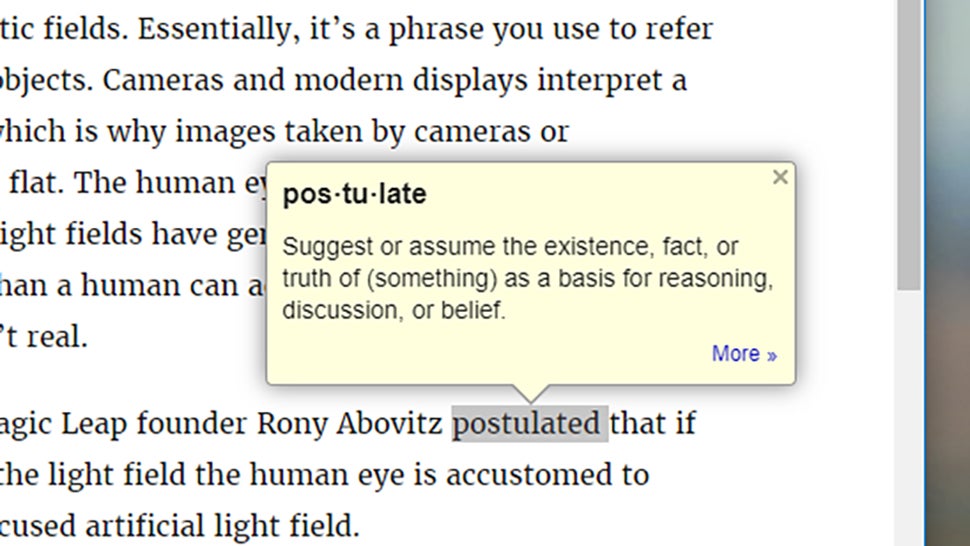 Image: Screenshot
One of the first extensions we put on any new Chrome installation, Google Dictionary isn't flashy or packed with features—it just brings up the definition of a word when you double-click on it. It sounds basic but it's incredibly useful.
When you're scanning text and see a word you don't understand, you can enlighten yourself in seconds. The extension manages to be simple and compact in a way that other similar add-ons can't manage, and it recognises names and products as well as normal dictionary words.
---
More Apps Posts: