Yesterday saw the official start of the annual Consumer Electronics Show in Las Vegas, bringing with it one of the busiest weeks in the tech media calendar - and a load of brand new gadgets and concepts that we might be able to enjoy over the next few months and years.
It can be difficult to keep up with everything, so we've put all our CES coverage here in one place. Remember to bookmark it, though, because we'll be updating it as the week progresses. Alternatively you can also check out the CES tag page and see all our coverage in a slightly different format.
It's likely to be pricey, but we want it.
---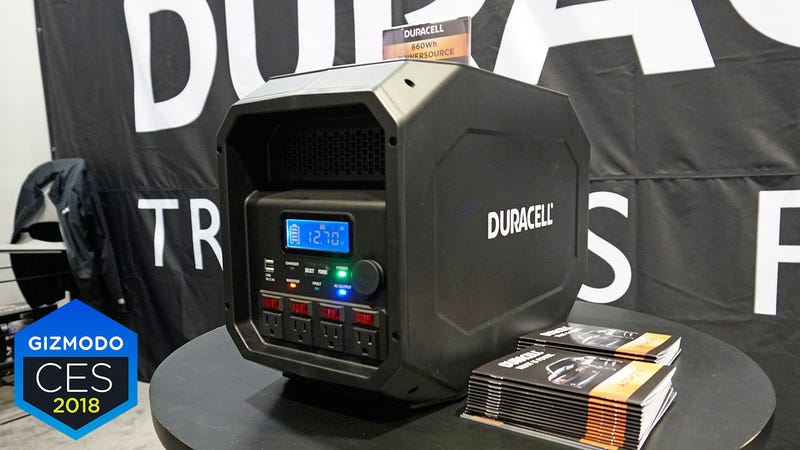 Boasting 660Wh of power, this beast is designed to keep basic appliances in your home running in the event of a power outage.
---
Even embossing and stitching can all be faked using the printer's innovative Mofrel technology.
---
When paired with an Android phone, Mobile Connect can make calls, check notifications, and even mirror your phone's screen right on your laptop.
---
I'm not ready to install tiny microphones all over my house that can listen to my grumbles.
---
In years past, the Panasonic booth has been a treasure trove of neat things. This year, it's a cool looking plastic box that you can sit in.
---
The real killer feature will be when fans and game designers use the Chroma Workshop to affect how lights function when you're playing a game.
---
---
It bumps tunes, and it keeps your milk cold.
---
A new piece of VR tech reminded me why the headsets are much more than gimmicks.
---

Listen to something interesting without clogging up your ears.
---

Big companies might not have completely abandoned the idea, but they won't be the first to get it right.
---

Earin is part of Will.i.am's tech company i.am+ now.
---

It's a tiny bootable drive that could make your computer ridiculously fast.
---
The Daydream-powered Lenovo Mirage Solo is the first VR headset to cross that 100 per cent wireless finish line.
---
Hyperkin's hardware improves on Nintendo's original Game Boy in countless ways, without affecting the classic gameplay many of us remember.
---
With this latest offering, Dell is getting dangerously close to producing an ideal all-rounder laptop.
---
The SmartSleep headband supposedly reinforces deep, slow-wave sleep activity to maximise the amount of rest and recovery your brain gets overnight.
---

It was hard not to fall in love with the company's record-breaking 88-inch OLED TV featuring glorious 8K resolution.
---
---

---

Razer's take on the dumb idea has just enough polish, even in this concept stage, to actually feel kind of cool.
---

It is a cruel fate to live so far from Aibo, whose dorky little yips warm the heart with their robotic inflection.
---

It attaches with magnets, and connects via USB. What more could you want? Maybe a slightly lower price.
---

Alcatel is planning on bringing the price of phones with extra-wide displays down to just $100 in the US — that's about £74.
---

Meaning it'll be easier to build Cortana-centric smart gadgets in future.
---

An app for a transport system that doesn't actually exist yet.
---

The new A8F series is decidedly more traditional.
---

Sadly this is just a prototype, with no information pricing or availability.
---

I wouldn't hold your breath for YouTube returning to Amazon devices any time soon.
---

There's a good reason to get excited for what the future of bionic buds holds.
---

Looxid VR is a mobile headset that's taking the next big step.
---

The device is expected to launch in early Q2 2018—so late March or early April.
---

Trying to keep all of your toys perpetually charged is the biggest downside of a gadget addiction, but there are ways to cope.
---
CLOi does not have time for your nonsense.
---
The Roku Entertainment Assistant is a voice-controlled digital assistant focused on controlling devices like TVs, speakers, and, of course, sound bars.
---
These new developments have the power to completely transform the modern VR experience.
---
The DJI Copilot drive can ingest and back up your media all by itself, letting you leave your laptop at work.
---
Sorry, millennials.
---
But don't worry, the GH5's exceptional 4K video capture isn't going away.
---
Introducing the Kitchen Hub.
---

4K can do one, apparently. It's affordable, so it's time for the TV-makers to move onto bigger things. Literally.
---

It's a feature I wish the unit had had from day one.
---

Yes you read that correctly. The exhibition is called ARTGASM.
---

Paranoia can be a strong selling tool.
---

It's fuelled speculation that a headset with better resolution is on the way.
---

If Intel, who is already hurting from this security snafu, doesn't want to find itself playing second fiddle, it will need to step up its game.
---
Helite is known for making airbags for motorcyclists, but now it's developed something to protect the elderly from falls.
---
With a flashy press conference and some impressive looking demos, Byton is clearly talking a big game.
---
---

Samsung's claim is bold, but in a closed door demo, the proof seemed to be there!

Boy does it feel futuristic.
---

When your mum isn't around to nag you to apply suncream, your phone can do her job.
---

Intel and AMD might be fierce competitors for decades, but that hasn't stopped the two chip makers from teaming up.
---

The Osmo Mobile 2, announced today, looks like it improves on almost every point of contention.
---

Roll up, roll up! It's the most advanced, absurdly skinny telly you've ever seen.
---

Are you currently living in Bag End? Then the HU80KA's colossal screen size probably isn't for you.
---

Lots of new tech is incoming next week.
---

While LG has announced the new TVs today, we won't actually get to see them until next week.
---

Travel to one of 20 pre-set Vegas locations in a car that drives itself around. What a time to be alive.