When you think classic American design and cycling, you might think of the Schwinn bike, which looks like it was designed by an aerodynamics-obsessed automotive engineer. Schwinn has long since updated its bike designs, but the company pays homage to its past with an indoor bike that's oozing with retro charm.
The company's indoor cycling bikes have become a staple in spin classes across the US, but they tend to look like exercise machines you'd find in a fitness-focused laboratory setting where an athlete's performance is pushed to its limits while being monitored like a lab rat. In other words, there are probably other people like me who are too intimidated to climb aboard and try (fail) to keep up with the rest of a spin class.
But the Schwinn Classic Cruiser looks like something my grandmother would ride every morning, which means it's exactly what I'm looking for in a fitness machine.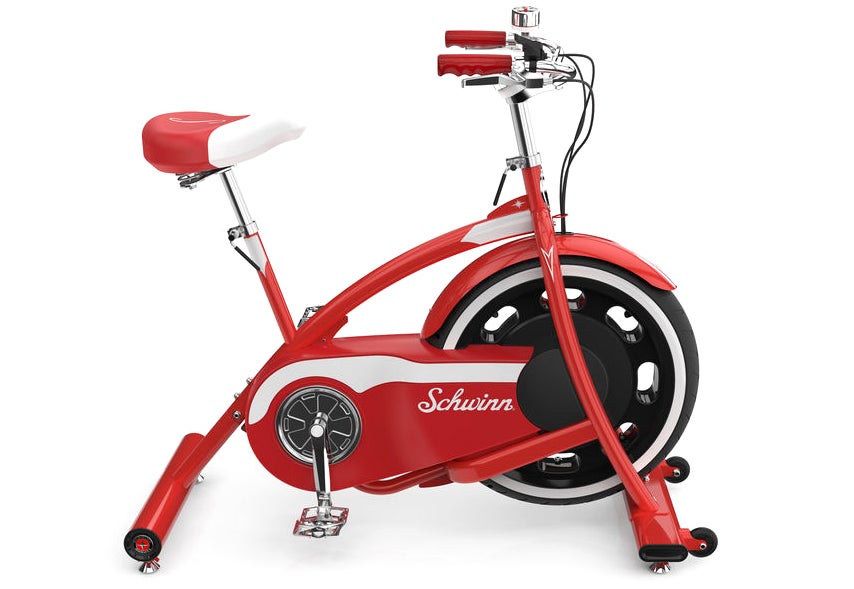 But don't assume everything about this indoor bike dates back to the '50s. Its retro design belies a bunch of modern features and functionality including Bluetooth connectivity so you can upload your ride metrics to a free Schwinn app, or other cycling apps like Ride Social. It's also got seven levels of resistance, pre-programmed workouts, a tablet holder, and a calorie tracker which is the metric most of us lazy indoor cyclists actually care about. Unfortunately, it's only available in the US at the moment, but fingers crossed we'll be able to get our  hands on it in the future.
At $800 (£577), it's considerably pricier than your average spin class ride, but if you're actually motivated to climb aboard it and ride every morning, it might be money better spent than joining a gym. [Schwinn via Dude I Want That]
---
More Design Posts: