We just wrapped up a killer year in TV, and it looks like 2018 is poised for similar excellence, thanks to all the long-awaited series returns (for both new seasons and midseason cliffhanger resolutions) and enticing brand-new shows. Here's your guide to what's on the horizon (along with a few that will have aired by the time you read this).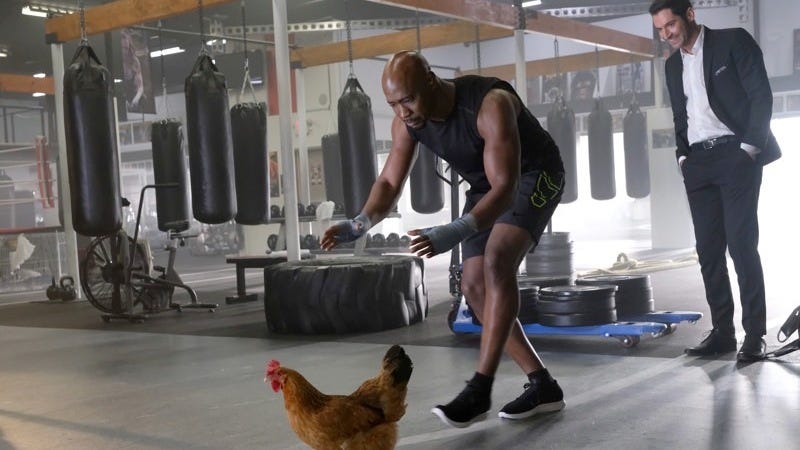 Amenadiel (D.B. Woodside) and Lucifer (Tom Ellis) are up to... something in the midseason premiere. Credit: FOX
Lucifer
Midseason premiere: 2nd January, Amazon Prime
After the midseason finale, which revealed the appropriately Biblical identity of the "Sinnerman" slayer who's been lurking on the fringes, Lucifer eased back into its third season with another one of its more lighthearted standalone episodes. This time, we got a flashback to the Devil's arrival in the City of Angels, long before he started larking around with the LAPD.
The Good Place
Midseason premiere: 5th January, Netflix
Just when we think they've painted themselves into a corner, the writers for The Good Place remind us how talented they are. Everyone on this show is amazing, but D'Arcy Carden really kicked it up a notch last year with her increasingly human depiction of the lovable yet unpredictable AI Janet.
The Good Place
Star Trek: Discovery
Midseason premiere: 8th January, Netflix
Where did Captain Lorca point the Discovery when he fiddled with that "final jump" and sent the ship in the opposite direction of Starfleet and safety? Is Lt. Stamets ever going to recover from what he's been through? And most importantly, is Lt. Tyler a Klingon in disguise, or what? These questions may or may not be answered in the second half of what's so far been an intriguing but oft-frustrating premiere season.
The Gifted
Midseason premiere: 14th January at 9:00 pm, Fox
Gizmodo US put this on their 2017 list of best shows, so you can bet we're excited to see what the mutants (and their friends) get up to next. The Strucker family has already gone through a ton of drama and horror in just half a season, so we hope they get some good news soon. Probably not though, considering the X-Men villains who recently popped up.
Riverdale
Midseason premiere: 18th January, Netflix
The ending to the big Black Hood mystery didn't thrill us, but perhaps there's more to the story. One thing's for sure, Riverdale High is about to get a lot more busy with the arrival of Southside High transfers. We look forward to more red lipstick, awkward dance scenes, secretive moms, bad dads, and Jughead eating everything in sight in the second half of the season.
Black Lightning
Series premiere: 23rd January, Netflix
The Arrowverse line-up is about to be shaken up by introducing a retired superhero who lives outside its continuity: Black Lightning, who not only finally gets a live-action adaption, but is also bringing along his heroically-inclined daughters for the ride. Not being connected to the other DC TV series means Black Lightning should be able to tell its own story, and we couldn't be more excited for it.
Agents of SHIELD
Season 5 premiere: January, E4
The first half of the season has already aired in US, and if you gave up on Agents of SHIELD a while ago, you've been missing out—and it's time to get back in the fold. So far this season's been a little less intense than last season, but our friends in the US have still been loving watching the team do their thing in outer space... in the future. E4 has a habit of opefully we should see it on our screens before too long.
Altered Carbon
Series premiere: 2nd February, Netflix
By now you've probably seen some of the images and trailers touting Netflix's take on Richard K. Morgan's cyberpunk classic. It looks absolutely gorgeous, and it has a killer mystery to match. A soldier (at first Will Yun Lee, then Joel Kinnaman) wakes up after his apparent death in an unfamiliar body, the beneficiary of technology that allows human consciousness to be uploaded into a new "sleeve" when the old one expires—and is soon tasked with solving a freaky futuristic mystery.
Stargate: Origins
Series premiere: 15th February, MGM's new digital platform Stargate Command
We recently got a new teaser that gave us our best look yet at the latest instalment in the Stargate series, and as the title suggests, it'll travel back in time to explore the adventures of young Catherine Langford. It's got kind of a swashbuckling, Indiana Jones vibe—except with, you know, crazy alien technology.
The Tick
Midseason premiere: 23rd February, Amazon
It's been months since the first half of The Tick reboot came to Amazon, but there's still plenty of time to binge-refresh those six episodes in anticipation of the second half. When you do, you'll recall the midseason finale ended with Arthur being kidnapped—just as he and the Tick were getting into their superhero groove. Also, the Terror is most definitely alive, which is surely gonna shake things up.
The Walking Dead
Midseason premiere: 26th February at 9:00 pm, Fox
The Saviours escaped the elaborate trap Rick set for them and his son Carl has been bitten by a zombie (although he's not quite dead yet), so Rick lost a hell of a lot on the midseason finale. But overall this current season has been thrilling enough that, despite some irritating contrivances, has made us actually eagerly for the show's return.
The Walking Dead
Once Upon a Time
Midseason premiere: 6th March (TBC), Netflix
The "soft reboot" seventh season continues with more fairy-tale drama in the big city.
Jessica Jones
Season premiere: 8th March, Netflix
Though we finally got a trailer for the second season of Jessica Jones, we still don't know much about where the grumpy curmudgeon is headed. What we doknow is that Jessica's usual mood pretty much sums up our feelings about 2017—so this is absolutely the best thing to debut early in 2018. Also, David Tennant's Purple Man is back to haunt Jessica, although presumably he's just in her mind. Presumably.
Lost in Space
Series premiere: May, Netflix
A whole new generation is about to learn the catchphrase "Danger, Will Robinson!" when Netflix reboots this 1960s series about a family of space colonists who become stranded on a distant planet with their helpfully cautious robot. So far the most exciting thing about this series is the casting of Parker Posey as the villainous Dr. Smith, but it'll be interesting to see what tone the show takes—will it be as campy as the original?—and how it's otherwise updated for contemporary audiences.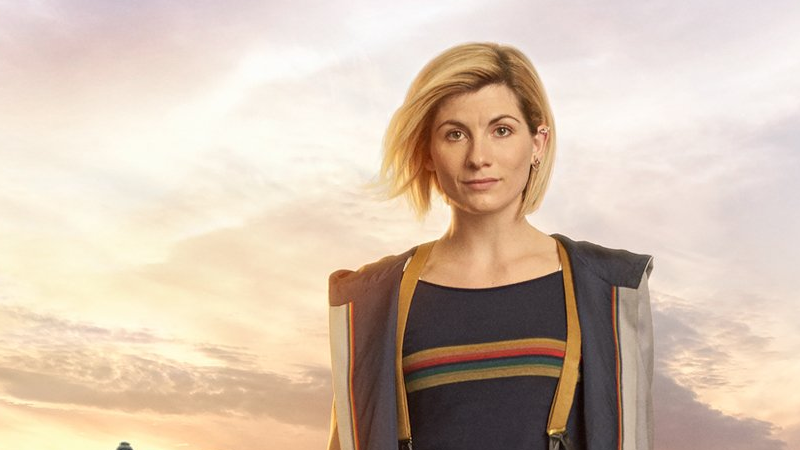 Doctor Who
Season premiere: Autumn, BBC
Jodie Whitaker will break new ground for the iconic series when her run as the Thirteenth Doctor begins. This 11th season will also be the first to feature Chris Chibnall as head writer and executive producer, after the exit of Steven Moffat and Brian Minchin.
---
Being in the UK, it means a lot of stuff that has an imminent air date in the US is still a bit of a question mark over here. Here's everything else we know is coming - and hopefully soon - just without a fixed date yet.
Supernatural
Season premiere: Early 2018, E4
Danneel Ackles (wife of Jensen "Dean Winchester" Ackles) guest stars, as the show continues to do what it's done since 2005, and will continue to do forever and ever and ever...
Arrow
Midseason premiere: Early 2018, Sky 1 (January in US)
After learning there was a mole hiding in their ranks, Team Arrow is fractured. Again. But hey, at least we've basically broken away from the flashbacks.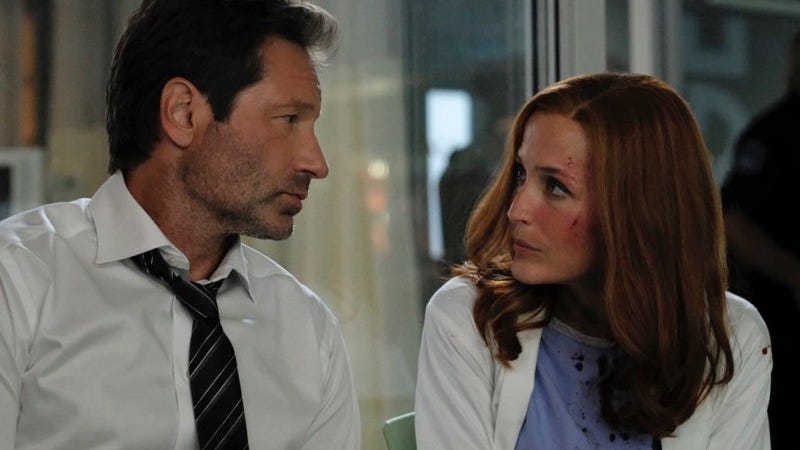 Mulder (David Duchovny) and Scully (Gillian Anderson) in the season premiere episode of The X-Files. Image: Robert Falconer/FOX
The X-Files
Season 11 premiere: No set date, Channel 5 (January in US)
Feelings were mixed on season 10 of The X-Files, and our feelings about last night's premiere were mixed as well. Hopefully things will improve quickly, although we have some concerns. We already know Monica Reyes, the Cigarette Smoking Man, and some other familiar faces will be back, and none other than Mr. I-See-Dead-People himself, Haley Joel Osment, will star in a Skinner-centric episode.
Legends of Tomorrow
Midseason premiere: Early 2018, Sky 1
Legends of Tomorrow has really been leading the pack of superhero shows, but we're extra-excited leading into the midseason premiere, considering Matt Ryan's excellent magician-asshole John Constantine arrived at the end of the last episode. Fingers crossed he'll stick around for the full season—and maybe beyond.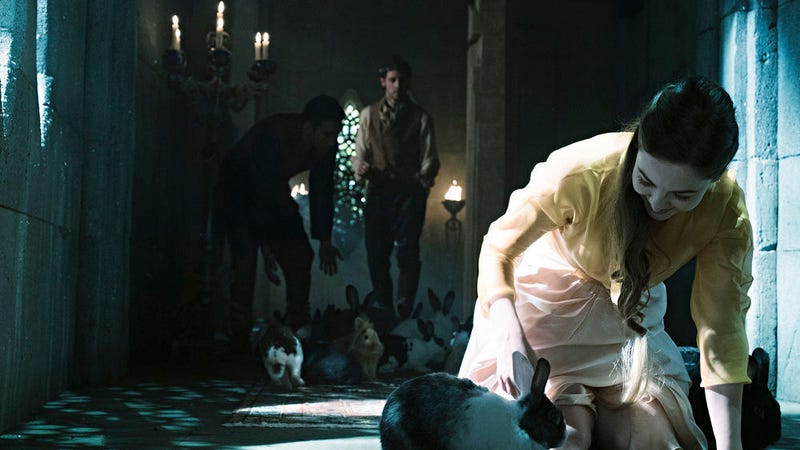 Brittany Curran as Fen in the season premiere of The Magicians. Image: Eric Milner/Syfy
The Magicians
Season premiere: No set date, 5Star (January in US)
The Magicians haven't been feeling so, well, magical after losing their powers last season. But now they're bringing sexy back, heading out on an epic quest to restore magic to all the realms. Unfortunately, they've still got a secret fairy takeover of Fillory to deal with. Will magic bring balance, or destroy them all? There's no current date set, but 5Star is currently replaying series two, so hopefully that's a sign of things to come.
Supergirl
Midseason premiere: No set date, Sky 1 (January in US)
Three words: Legion. Of. Superheroes.
---
And here's the stuff that even the Americans don't have a date for yet, all expected at some point this year.
Castle Rock
Stephen King and J.J. Abrams cooked up this horror series that draws faces, places, and themes from King's stories, set in and around the author's reliably eerie fictional town of Castle Rock, Maine.
The Chilling Adventures of Sabrina
Netflix
Originally set to join Riverdale on the CW, the Archie Comics adaptation—which puts a much darker, more occult-focused spin on the teenage witch character than the 1990s Melissa Joan Hart sitcom ever did—recently jumped to Netflix. So far, no word on casting or whether or not there'll be a sassy talking cat in this version, but if it's based on the recent (excellent) comics, Satan should be pleased.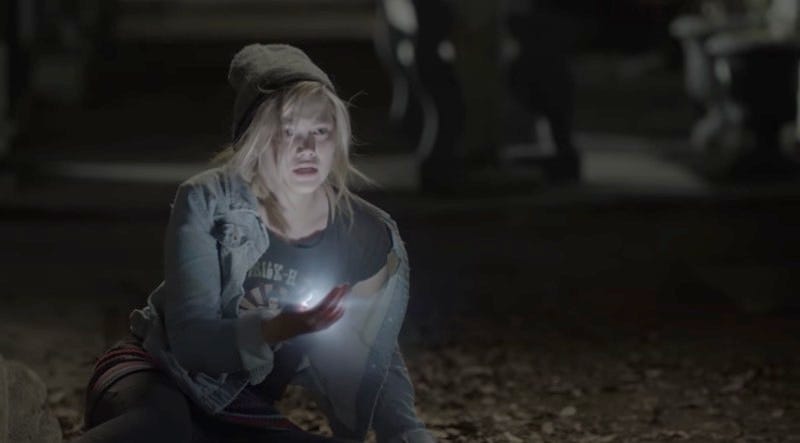 Image: Freeform via YouTube
Cloak and Dagger
Marvel superheroes meet Freeform's trademark young-adult angst in this drama about the title duo. The trailer looked surprisingly good, though the show does appear to take some liberties with the characters' comic-book origin stories.
Daredevil
Netflix
We're curious to see how life picks up for Matt Murdock after the explosive finale of The Defenders. He's been beaten up, shot, and otherwise mauled so often we don't know how he's still standing—but we expect a lot more of the same for season three.
Fear the Walking Dead
AMC from BT
Last year, Fear the Walking Dead cleared the field with a giant flood and the fates of several main characters were left hanging in the balance. This year, new showrunners are likely to steer the show in a new direction for season four, especially with the addition of cast members Jenna Elfman, Garret Dillahunt, and, most importantly, Lennie James—who'll be taking his Walking Dead character, Morgan, back in time to cross over with this show.
Gotham
Netflix
Here's the least insane thing that happened on the midseason finale for what's one of the most insane shows on TV: A fistfight between Alfred and young Bruce Wayne, after which Alfred is fired from his job at Wayne Manor. Alfred, fired? What's next? We can never predict on Gotham, and that's why we dig it.
iZombie
Netflix
iZombie doesn't get as much attention as it should. It's a quality zombie story with lots of laughs and tons of heart, and Rose McIver also doesn't get enough credit for the plethora of personalities she takes on week to week. But the big news for season four is that not only does the world know about zombies, but the undead have also claimed Seattle.
Killjoys
Syfy
The show will wrap up after its fifth season, so while there's an endgame in sight for the scifi bounty hunters in the upcoming season four, there's still plenty of time to get mixed up in some new interplanetary adventures.
Kingdom
Netflix
"In this zombie thriller set in Korea's Joseon dynasty..." is all we need to hear to get us hooked on this eight-episode series. We will accept your offer of historical-drama zombies, Netflix, with great and curious pleasure.
Luke Cage
Netflix
Luke is great and all, but thanks to a mishap in The Defenders we're getting a Misty Knight closer to the version of the character in the comics this second time around. We can't wait..
The Man in the High Castle
Amazon
Amazon's alternate-history Philip K. Dick adaptation—which imagines a timeline in which the Nazis triumphed in World War II—will get even more adventurous in its third season, as more characters learn more about the existence of alternate universes.
The Umbrella Academy
Netflix
We're still unclear how this adaptation of Gerard Way and Gabriel Bá's Dark Horse comic will play out, considering how different the casting makes it sound. But it stars Ellen Page, which is rad.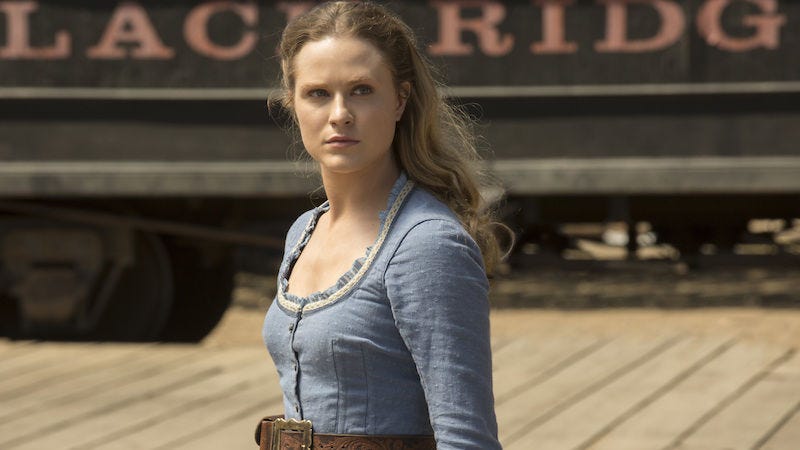 Image: HBO
Westworld
Sky Atlantic
In 2016, Westworld became an instant pop cultural phenomenon; by the end, we were all convinced that we might be secret robots, too. All that season one last-act chaos—Dolores is now a stone-cold killer; Maeve is now the smartest computer in the Wild West; freakin' Samurai World exists?—will no doubt have plenty of repercussions going forward, and we can't wait to pick our jaws off the floor week after week reacting to wherever the writers take the show next.