With Rocket League having already arrived on the Nintendo Switch, Psyonix and Mattel have teamed up to create the second most portable version of the game. The Hot Wheels Rocket League RC Rivals set brings Rocket League into the real world with a pair of tiny RC cars you use to knock a giant ball into your opponent's net.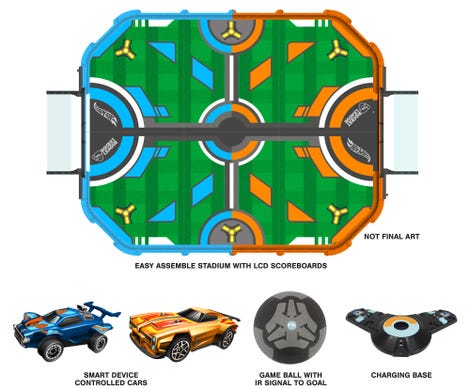 In lieu of dedicated remotes, the RC Rivals set uses a free accompanying app, downloaded to mobile devices like smartphones and tablets, to control each vehicle which are modeled after the Octane and Dominus cars featured in the actual game.
Touchscreens are far from being the ideal way to control RC cars, particularly when precision driving is needed to play a modified car-based version of soccer. But for portability, it does means there's two less things you have to carry (or power) when you fold up this miniature arena and head over to a friends.
Scoring appears to be automatic, handled by a ball that uses an infra-red signal to talk to an included LCD scoreboard so you can focus more on driving and less on what the tally is. The Hot Wheels Rocket League RC Rivals set won't be available until later this year, but it's expected to cost around £150 which is definitely expensive, but still cheaper than going the Switch route to play. [Hot Wheels]