Sometimes the best thing to do is just doodle. That's how longtime Aardman director Nick Park came up with the idea for the company's latest stop-motion animated film, Early Man. He knew he wanted to do something about cavemen but that was as far as the idea went. Then he started drawing.
"I was doodling a caveman with the typical club, wielding [the] club and hitting a rock." Park told Gizmodo. "And that started me thinking about baseball, bats, sports and suddenly thinking about all the tribal nature of sport. Like, in the UK, football is a religion, really."
Park continued to explore the idea.
"I started thinking about just the invention of football," he continues. "What if it came to mankind in the form of a meteor? What if a bunch of idiotic but lovable cavemen wanted to get their valley back from the mighty sophisticated bronze world and couldn't fight against them but had to play a game instead? And the whole thing started to go from there."
Which is, exactly what Early Man, starring Eddie Redmayne, Tom Hiddleston, and Maisie Williams, is about. A group of stone age cavemen is forced out of their homeland by a conquering world of bronze. Then, one of the cavemen Doug (Redmayne) challenges an evil leader (Hiddleston) to a game of football to decide the fate of their land. Williams' character Goona is a shop owner living with the conquerors, who've mastered bronze. She winds up helping the cavemen.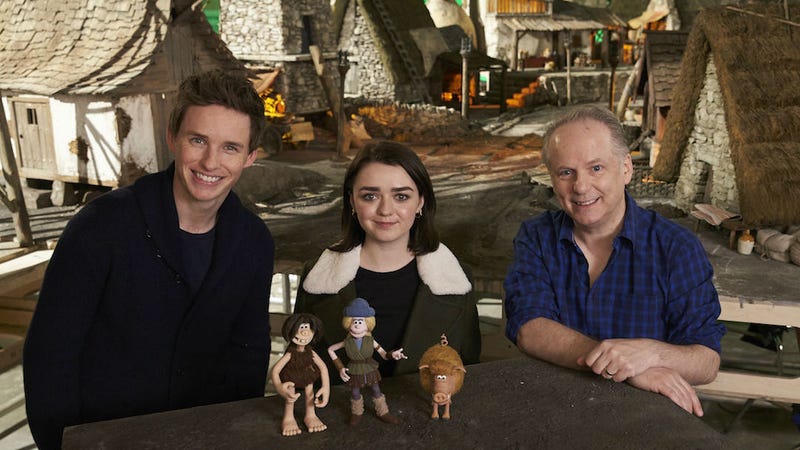 Park describes the idea of making Early Man a football movie as a "lightning strike" moment. That's ironic because, in the meticulous world of stop-motion animation, rarely does anything happen that fast. He'd know too. Park has been with Aardman since 1985 and in that time he and his colleagues won four Oscars for Wallace and Gromit movies, made multiple hits like Chicken Run and, now, have Early Man. As you'd expect after over 30 years in the business, Early Man is Aardman's most ambitious film to date. As such, stop-motion could only tell part of the story.
"We have this massive studio about the size of a football pitch, divided into lots of different sets with a very high ceiling. But it's not big enough to do some of some of the scenes in this film," Park said. "We weren't just going to build massive, giant prehistoric landscapes, volcanoes, lava. We didn't even experiment doing everything in camera but it just became too much."
That's not to say the film gets away from that iconic Aardman aesthetic though. All of the primary characters are hand animated in a process that dates back to the days of Ray Harryhausen and captures only 3 seconds per day... on a good day. Plus the production built plenty of large sets, such as the football pitch needed for some of the films' most elaborate scenes.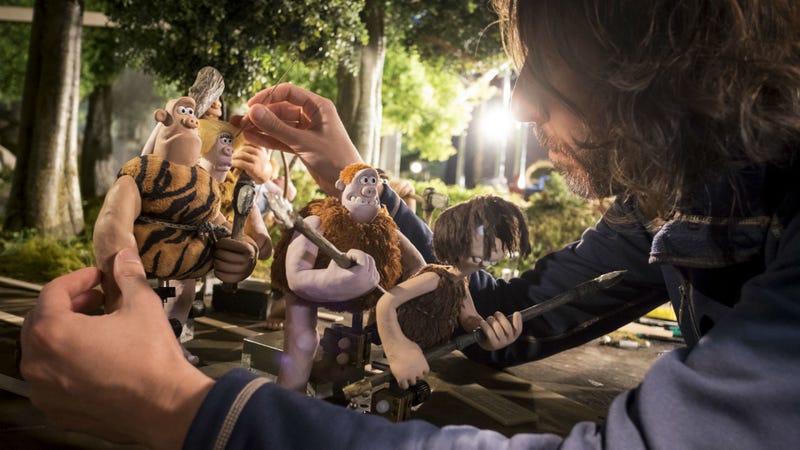 "I was keen to keep all the principal character animation in stop frame, even in the big game in the end," Park said. "We built the actual football pitch but it was 30 feet long. So any figures that are in the middle we couldn't even reach them."
And while Park admits Early Man has more digital work than another previous Aardman films, he tried to balance that by making sure the animators kept the characters as tactile as possible. "I didn't want the animators to be too refined but rather really embrace the fact that this [was] stop frame [animation] in clay," he said. "Fingerprints are really okay. I didn't want the animation too refined because it has a kind of humour and a charm that comes out of it. So it's like pulling in both directions towards the traditional and towards the future, which I guess was what the film was kind of about."