As feared, oil from a sunken Iranian tanker has reached the shores of over a dozen southern Japanese islands, Japanese Coast Guard officials have now confirmed to Reuters and AFP.
The Sanchi sank on 14 January after colliding with a Hong Kong-registered freighter in the East China Sea, spawning four giant oil spills. Packed with 1,000 tonnes of diesel fuel and 110,000 tonnes (810,000 barrels) of ultra-light crude condensate, it's considered the worst oil tanker disaster in decades. Much of the fuel evaporated after the ship caught fire and sank, but the slicks raised fears of an environmental catastrophe. Three bodies were recovered during the incident and the 29 missing Sanchi crewmembers are now presumed dead.
The first traces of oil washing up on Japanese shores started to appear on 28 January, when greasy sludge was found on the beaches of Takarajima island. Oil was spotted on the shores of the Okinoerabu and Yoron islands in the Amami chain (a part of the Ryukyu Islands) on 8 February. Upwards of 21 islands in southwestern Japan have now reported oil on their beaches, reports Reuters, including Amami-Oshima and Okinawa—which are known for their beautiful beaches and extensive reef systems. In all, nearly 100 tons of oil have been cleaned up by residents, according to AFP.
The Japanese Coast Guard has linked this oil to the Sanchi, telling Reuters that it's was "extremely likely" that the oil found on Okinoerabu and Yoron came from the ship given the similarity of the oil and "the fact that there has not been any marine disaster involving oil spill in the nearby sea area." Samples of the heavy fuel taken from the two islands contained similar components to the fuel used by the tanker. The oil that's washing ashore was used as fuel for the Sanchi; it's not the ultra-light crude condensate the ship was transporting. Samples taken from other islands have shown different characteristics, but the Coast Guard says that could simply be due to Sanchi oils spilling from different tanks and equipment. That said, the Coast Guard told AFP that the investigation is ongoing and that "it's premature to reach any conclusion about the oil coming to other islands."
A large oil slick near the tanker continues to linger, and is parked about 200 miles (315 km) west of Amami-Oshima island (an island at the edge of the East China Sea), but the Coast Guard says is steadily evaporating.
As early as 17 January, Japan's environment ministry said it was unlikely that any oil would reach Japanese shores. That was a strange prediction to make given the proximity of the spill to Japan, and given that simulations produced by the National Oceanography Centre showed a high probability that the oil would eventually reach southernmost regions of Japan.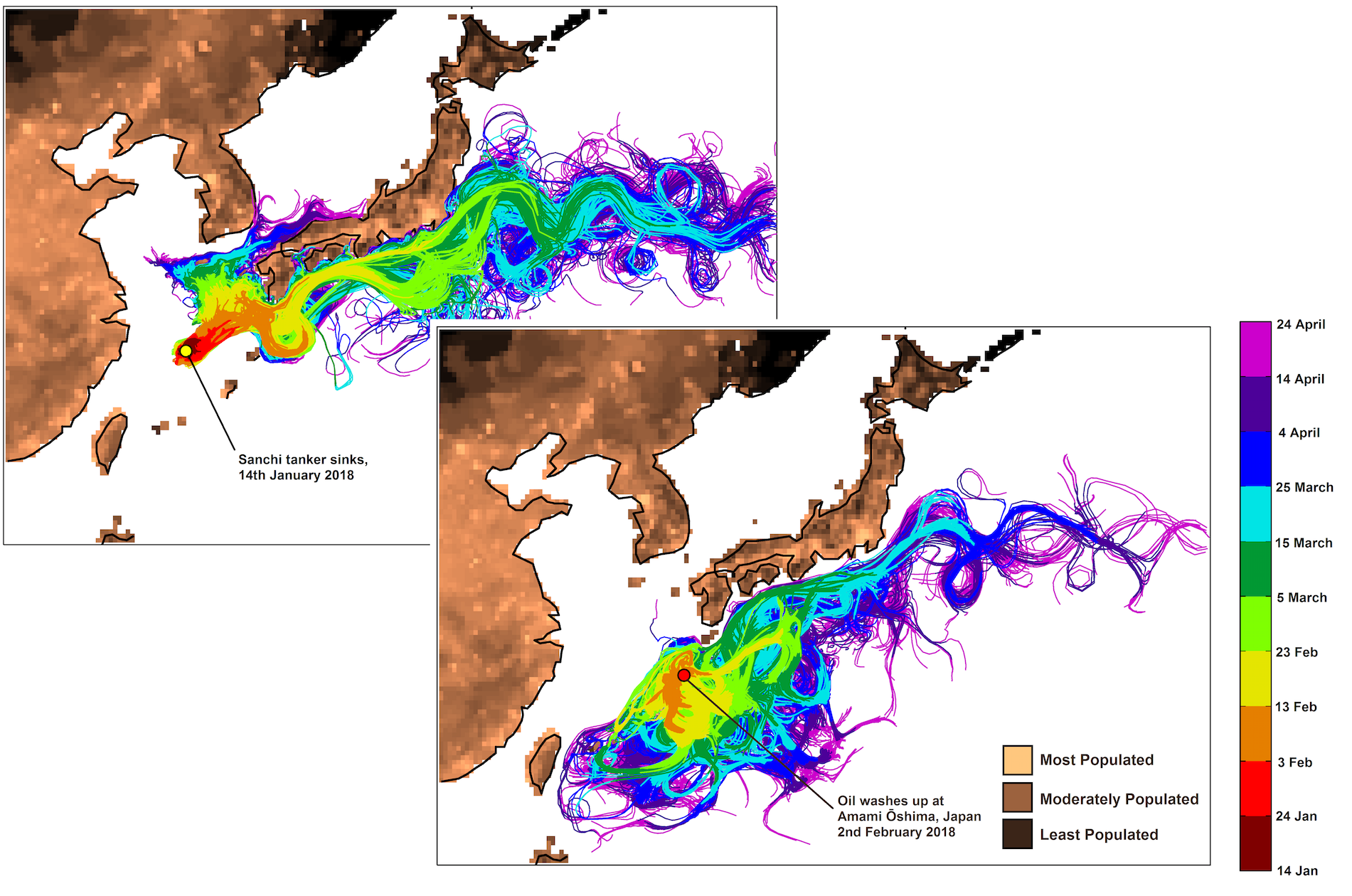 Sanchi oil spill modelling, early February, 2018. (Image: National Oceanography Centre)
Updated simulations produced by the NOC in February (shown above) suggested the oil would reach the coral reefs in the Ryukyu island chain, which has proven to be the case. The environmental impact of the spill is still not known, and it could take months, if not years, to properly assess any damage done. [Reuters, AFP]
---
More Environment Posts: