Well here's something you don't see every day: a bag containing 27 pairs of human hands. The grisly discovery was made on a river island near the Siberian city of Khabarovsk, and local police are now investigating.
At first, a single hand was discovered. But then, nearby, the motherlode was found—a bag containing no less than 54 severed hands, as reported in the Siberian Times. Photos of the scene show the hands spilled out into a single pile, and then organised into 27 matching pairs and placed in rows. It's super gross.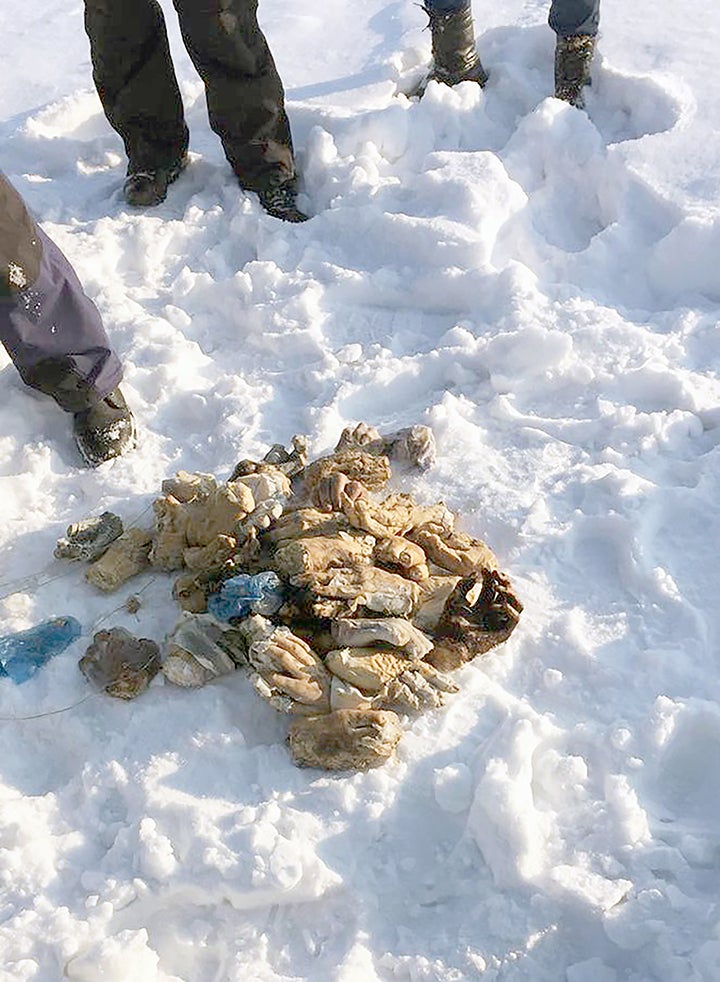 Yep, that's a pile of severed hands all right. (All photos: Siberian Times)
The bag of hands was discovered on an island in the Amur River near Khabarovsk, a city of 590,000 in southeastern Russia close to the Chinese border. The island is in the Beshennaya channel of the Amur River, a popular fishing destination for Khabarovsk residents.
Investigators have managed to lift a pair of fingerprints belonging to one of the hands. No information was given about the age of the hands or when they may have been discarded, but the images suggest they are reasonably fresh. Local police have no leads at this point, but two theories are being bandied about.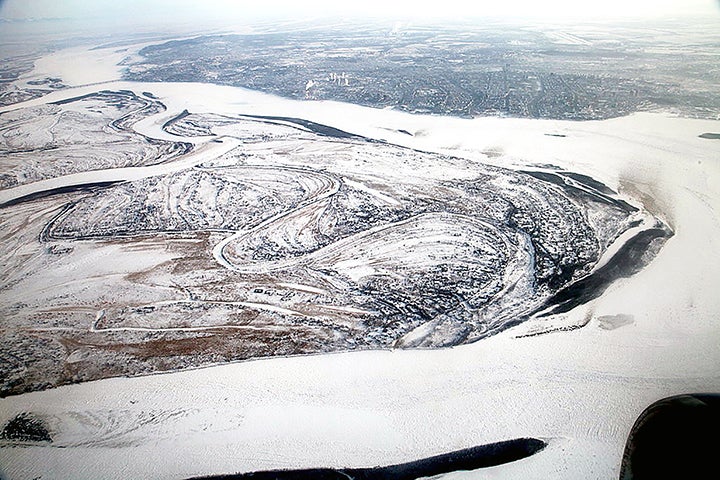 An aerial shot of the island where the bag was found.
The hands were likely cut off in a medical institution, perhaps as medical amputations (weird and unlikely given they were found in matching pairs), or they were chopped off cadavers as practice for medical students. Indeed, as local media is reporting, medical bandages and hospital-style plastic shoe covers were found next to the remains. Normally, amputated limbs are incinerated, but maybe someone got cheap or lazy, collected the hands in a bag, and then discarded them on the remote island in hopes no one would be the wiser.
Officials from the Investigative Committee of the Russian Federation, an agency responsible for criminal investigations, released a statement via Telegram explaining that the hands were likely dumped by a forensics laboratory in Khabarovsk.
"The biological objects (hands) found are not of a criminal origin, but were disposed of in a manner not provided for by law," writes the committee. "[Our] investigators will work to establish all the circumstances of the incident. Based on the audit results, a legal assessment will be made of the actions of officials of the forensic medical institution in the city of Khabarovsk responsible for the disposal of said biological objects." [The Siberian Times]
---
More Wtf Posts: