While conducting an inventory of archived documents, curators at Union College in Schenectady, New York, discovered strands hair attributed to George Washington, #POTUS1, in an envelope inside a leather book.
Archivist Daniel Michaelson found the book, titled Gaines Universal Register or American and British Kalendar for the year 1793, at the Schaffer Library. The leather-bound book was a popular almanac, containing various facts and figures, and belonged to Philip J. Schuyler, the son of a Union College founder.
Further examination of the book by John Myers, a catalogue and metadata librarian, revealed a small envelope between its pages. Written on the envelope were the words, "Washington's hair, L.S.S. & (scratched out) GBS from James A. Hamilton given him by his mother, Aug. 10, 1871." And sure enough, when Myers looked inside he found several strands of grey hair tied together with a thread.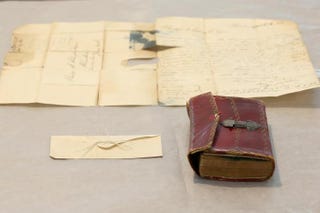 The hair was found inside an envelope, which was inside a compact leather-bound book. (Image: Union College)
"This is a very significant treasure," said India Spartz, head of Special Collections and Archives, in a statement. "It's a tremendous testament to history and our connection to some of the most important historical figures."
That the discovered hair once sat atop George Washington's head is completely plausible. James A. Hamilton was the son of Alexander and Eliza Schuyler Hamilton (Alexander, of course, was the first U.S. Secretary of the Treasury), and it just so happens that George and Martha Washington were close to the couple. Taking, sharing, and passing down locks of hair was common practice at the time. Also, the handwriting on the envelope closely matches that of James A. Hamilton.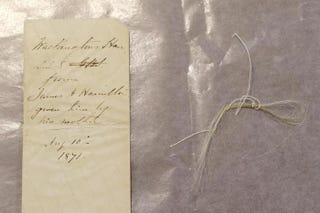 The note that accompanied the hair. (Image: Union College)
In a rather unscientific analysis, the hair also looks like it could have belonged to Washington. Contrary to popular belief, the nation's first president did not wear a wig. When he was young, Washington's hair was a reddish-brown, but he powdered it regularly, as it was the style at the time. But by the time he became president, his hair had faded to the greyish-white seen in the Union College sample.
The Union College archivists are now preserving the lock of hair and plan to put it on public display. It's not known if the curators plan to try to extract some DNA from the sample, but the hair isn't likely to yield much genetic information anyway, as a shaft of hair doesn't contain any nuclear DNA. [Union College]