First reported by TorrentFreak, Spotify is sending users the following email about "abnormal activity."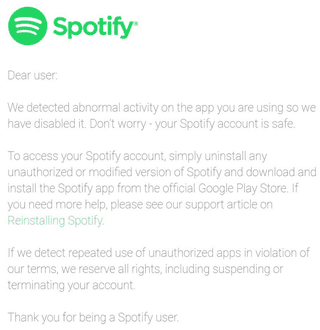 It's not clear which apps are being targeted, but TorrentFreak points out that there are numerous versions of Spotify that enable non-paying users to bypass certain annoyances, like shuffle-only play and limits on the number of tracks you're allowed to skip. The day after Spotify announced it was going public, it sent GitHub a takedown notice for a modded version of the Spotify app called "Dogfood." The notice also requested the removal of several projects that forked Dogfood's code.
Some users who received the email from Spotify told TorrentFreak they were still able to use their account to listen through a modified app, while others said the email was accurate and they were locked out of the app. Spotify's email may seem friendly, but if you're one of its recipients and your app still works, you might want to think twice about continuing to use it or you might find yourself with a terminated account.
Gizmodo has reached out to Spotify to clarify whether its email meant that subscribers' accounts have been disabled until they log in to the authentic app, or if Spotify is claiming to have disabled a modified app itself. A spokesperson replied that "the users in question were accessing Spotify through an unauthorised app, so we have disabled access through such apps."
Spotify's public filing with the SEC last week gave us a deeper look at the company's numbers than we've ever had before. It listed 71 million paying subscribers and 159 million monthly active listeners as of December 2017. Despite Spotify's claim that it still believes the "Ad-Supported Service is a strong and viable stand-alone product with considerable long-term opportunity for growth," Spotify has acknowledged that it sees its free streaming business "as a funnel" that drives "more than 60% of our total gross added Premium Subscribers."
As someone who put up with the ad-supported service for years, I can testify that the irritating restrictions Spotify put on its mobile app were enough to push me into paying. If you've been using these workaround apps and you don't want to lose your carefully curated catalogue and playlists, you might want to consider coughing up the cash. [TorrentFreak]
---
More Spotify Posts: