Gif-sharing service Giphy is back on Snapchat after an incident last month involving an extremely goddamn racist gif that slipped past moderation filters, according to the Verge.
Instagram had also pulled Giphy sticker integration after the gif, which featured a "N***** CRIME DEATH COUNTER" accompanied by a graphic of a primate and a blonde, white game show host shouting "Keep Cranking Bonzo, the Numbers Just Keep on Climbing!", made it into sticker search results for the word "crime."
This blatant RACISM @instagram @kevin is unacceptable. When you search 'crime' for gifs, a "Nigger crime death counter" appears with a MONKEY cranking it & a white guy telling the "bonzo" to watch the numbers #Instagram #blacklivesmatter @TheAffinityMag REMOVE & APOLOGIZE NOW pic.twitter.com/dOnJFBcHCW

— Lyauna Augmon (@LyaunaAugmon) 7 March 2018
Giphy told Gizmodo at the time that it had discovered a flaw in its "content moderation filters" and quickly "fixed the bug and have re-moderated all of the GIF stickers in our library," as well as reviewed all stickers manually.
After several reviews and the addition of another layer of moderation, Instagram re-enabled Giphy integration last week, and apparently those measures are good enough for Snapchat too. Gizmodo confirmed that as of Tuesday night, it was possible to add a sticker on Snapchat using Giphy with no racist results for the word "crime":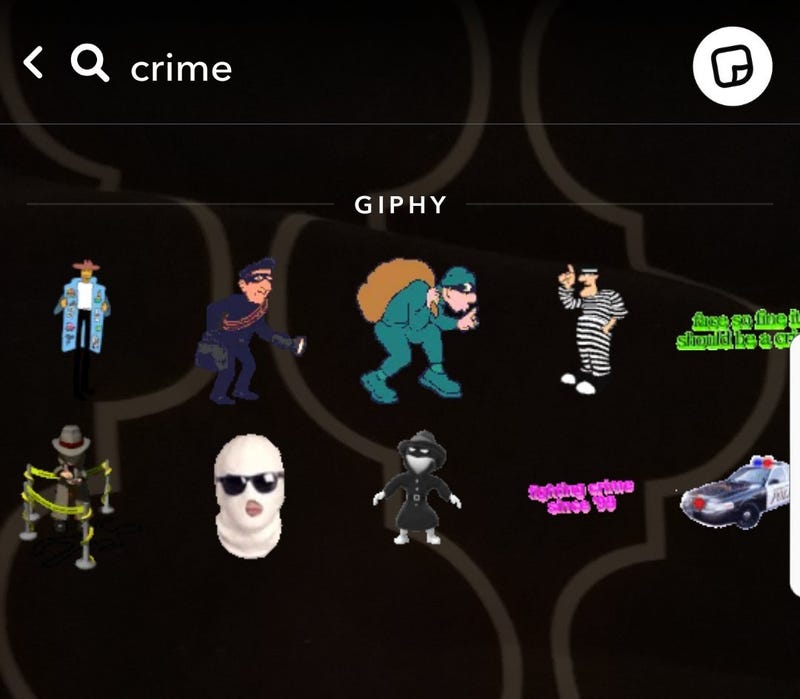 Giphy users are ostensibly prohibited from posting "abusive, obscene, offensive, or vulgar" material, but one of the risks of building a brand off of user-generated content is that said users will turn out to be jerks. Snapchat and Instagram had both only enabled Giphy integration a matter of weeks before the March incident, and time will tell whether the new changes will be enough to prevent the site from landing in future trouble. In the meantime, it seems the stupid pizza stickers and other generic animated #content shall flow freely again. [The Verge]
---
More Apps Posts: